It Just Got a Little Easier to Afford a New Car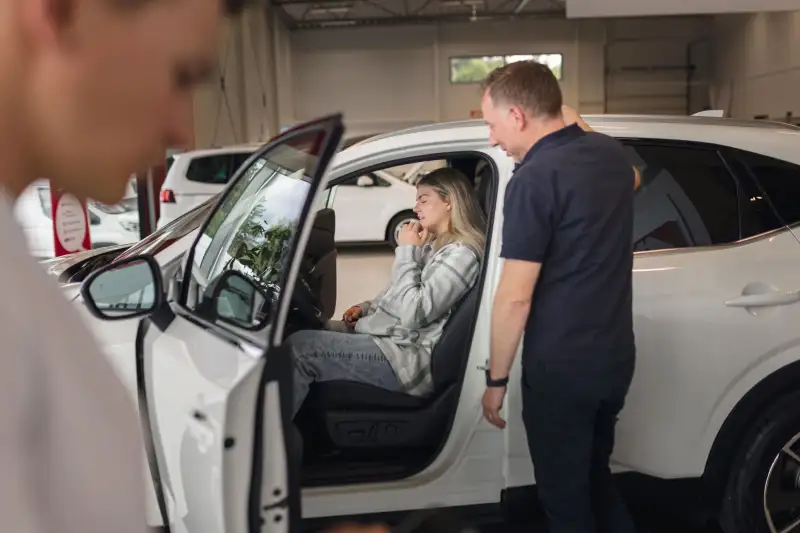 New cars became the slightest bit more affordable in January as prices declined and incentives increased.
It now takes 44 weeks of median U.S. income to purchase the average-priced new vehicle, which is a drop from 44.7 weeks the month before, according to a new report from Cox Automotive, a research and consulting firm.
The shift marks the first time in six months that new vehicles became more affordable. While the trend is promising, bear in mind that new cars remain much more out of reach to the typical buyer than they were a couple years ago, and that the decrease in costs is fairly negligible.
The typical monthly payment on a new car was $780 in January, down from a record high of $788 in December. A year ago, the typical monthly payment was $685.
Why it matters
Monthly payments have soared to a "different stratosphere" thanks to rising new car prices and high auto loan interest rates, Jonathan Smoke, chief economist at Cox, said in the report. Two years ago, it only took about 32 weeks of income to buy the average new car.
Smoke says it's encouraging that affordability finally improved in January, and he anticipates the auto market stabilizing or improving for buyers going forward.
Auto loan rates reached the highest level in two decades in January, but a decline in the average sale price of a new car and larger incentives brought monthly payments down.
In January, the average price of a new vehicle declined from an all-time high in December, falling by $310 to $49,388, according to Kelley Blue Book, a subsidiary of Cox. Average incentives from manufacturers increased to 2.8% of the average vehicle price in January, up from 2.7% the month before.
The inventory of new vehicles is steadily improving, which could be the reason for slightly lower prices and more incentives.
Keep in mind
While new vehicles are extremely expensive right now, used car prices have declined significantly in the past year, and the trend continued in January.
Used car and truck prices are down 1.9% in the past month and down 11.6% in the past year, according to the January consumer price index (CPI). That compares to a 5.8% increase in new vehicle prices in the past year.
Bottom line
New cars got slightly more affordable in January, but they're still unaffordable for many Americans. The used car landscape is more friendly for buyers, but high loan rates are still a huge obstacle.
More from Money:
The Price of the Average Electric Car Dropped Over $3,000 Last Month
You Can Now Get a Car 'Subscription' Instead of Buying or Leasing. Should You?