Poolside Cabanas, and 6 Other Things You Never Imagined at NFL Stadiums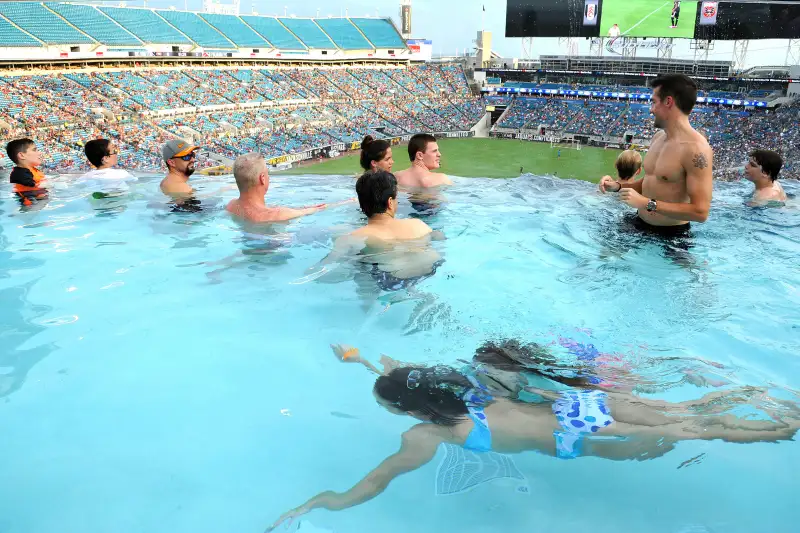 The NFL may be America's most popular sport, but that doesn't mean that every team in the league has an easy time filling stadiums week in, week out. Like college football, NFL franchises have faced increasing difficulty convincing fans that watching the game at the stadium—with crowds, traffic, lines for bathrooms and food, possibly cold and miserable weather, minimal replays, spotty wi-fi, and steep prices at every turn—is a superior experience compared with the comfort, convenience, and price-effectiveness of catching the game on one's own couch and big-screen TV.
To battle back against what might be called "the couch factor," NFL franchises have been selling fans on the stadium experience by ramping up newfangled services and amenities, mostly of the high-tech variety. The San Francisco 49ers' new Levi's Stadium is by far the techiest of the bunch, which is appropriate considering it's in the heart of Silicon Valley, but it's hardly the only venue rolling out cool, ultra-convenient, and sometimes flashy new options to make fans happy. Here are seven stadium features that fans wouldn't have imagined possible not long ago.
Take in the game poolside—inside the stadium. The Jacksonville Jaguars added a new VIP section this season: poolside cabanas where a few dozen fans paying $250 a pop enjoy food and beverages on an all-inclusive basis, as well as TVs and furniture built for lounging by the pool that overlooks the gridiron.
Order food delivery (and pay for it) via phone. Several sports venues already offer mobile food ordering as a service for fans. With just a few taps and swipes of a smartphone, fans can place an order, pay for it, get a receipt, and be notified when it's ready for pickup. In almost all cases, spectators must indeed actually leave their seats to go and pick up their orders. Levi's Stadium has another option, "In-Seat Delivery," in which runners will come to your seat and drop off your food.
Get help timing your bathroom break. The Levi's Stadium app clues fans in on wait times at nearby concessions stands and restrooms. Likewise, the New England Patriots Gameday Live app lets users check out estimated wait times at stadium restrooms, and also offers updates on traffic and parking at Gillette Stadium.
Watch highlights of all the other games. Many NFL stadiums have either upgraded their wi-fi or are in the process of doing so, in order to be in compliance with the league's minimum connectivity requirement by the end of the 2014 season. The Kansas City Chiefs, for instance, added 600 wireless access points into Arrowhead Stadium last summer, while Jacksonville is dropping $1.25 million on stadium upgrades that include revamped wi-fi. Stadium apps for the Chiefs, 49ers, Philadelphia Eagles, and many other teams allow fans to stream the NFL Red Zone Channel—where the specialty is showing every scoring play throughout the league—while they're inside stadiums.
Utilize a handheld guide to your seat. Yet again, the Levi's Stadium app leads the way with a "wayfinding" feature that'll help spectators find any spot of their choosing inside the stadium. That includes the nearest restroom or where your seat is.
Eat food that's legitimately local. Aramark, the food and beverage vendor at 11 NFL stadiums, introduced a "Tribute Menu Series" for this season, featuring menu items that pay homage to the local culinary scene, as well as the heritage of teams and the fan base. On the menu in Cleveland, for instance, is the new "Bad to the Bone Bologna" sandwich, featuring fried all-beef bologna cut into the shape of "Dawg" bones, a nod to the stadium's "Dawg Pound" seating section.
Order a couple cheerleaders. The Atlanta Falcons have a loyalty program for season ticket holders called "Memories," in which fans accumulate points by doing things like renewing ticket packages early and paying in full in advance. Points can then be traded in for a variety of memorable experiences, such as going onto the field to watch players introduced or posting a birthday message on the big screen. But the perk that's getting the most attention is a new one, which allows fans to order a seat-side visit from a pair of Atlanta Falcons cheerleaders.
"It's not like you can order them to your seat after you've had eight beers," Jim Smith, the Falcons' chief marketing and revenue officer, clarified to ESPN. "If things don't look right, we're not going there," he said. "Often, we've seen this is ordered by families whose daughters cheer and want to meet the girls."