Not Just for Moms: Trump's Budget Proposal Includes Paid Family Leave for All New Parents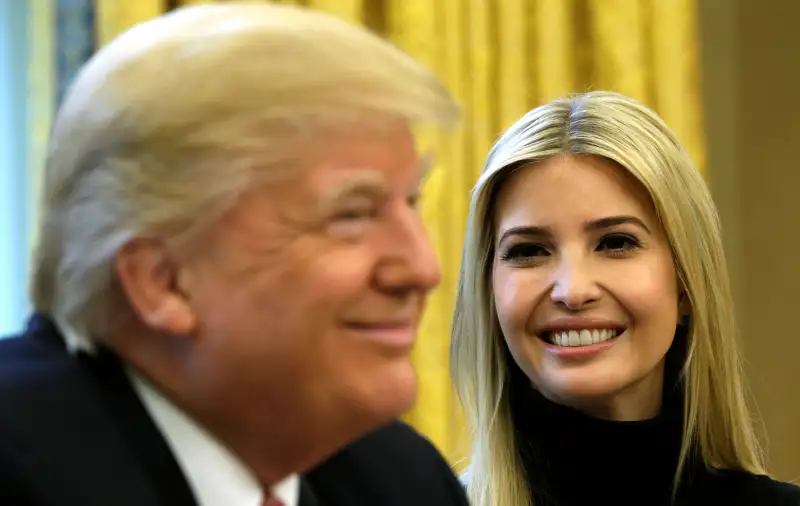 President Donald Trump is looking to make good on his campaign promise to ease the financial burden on new parents, by including paid family leave in his budget request to Congress next week.
Trump's first budget proposal as president will include the creation and funding of a program to provide all mother and fathers with six weeks paid time off after the birth or adoption of a child, two White House officials told The Washington Post. This outline makes the plan far more inclusive than the original family leave idea Trump touted during his election campaign, which excluded fathers. First Daughter Ivanka Trump has been pushing for paid parental leave.
The proposed new benefit would be paid through the country's unemployment insurance system and cost about $25 billion a year, according to the Post. The White House estimates that 1.3 million people would benefit from the proposed program, which would have no income limit, though high earners would have a capped benefit.
Trump's push marks a key departure from Republicans' traditional opposition to paid family leave, a benefit long espoused by Democrats. The concept has wide public support, with 82% supporting paid maternity leave and 69%, paid paternity leave, according to Pew Research Center, Still, it remains to be seen how the idea will fare in Congress. There is little word on exactly how it would be funded, and the president is seeking wide cuts to many programs to help pay for a big increase in military spending.
Currently, 58% of American companies offer at least some wages to employees on maternity leave, primarily in the form of disability insurance, a survey by the Society for Human Resource Management and the Families and Work Institute found. And 12% of companies offer some income to dads on paternity leave.
People who have worked at a company with 50 or more employees for at least a year enjoy the right to take up to 12 weeks of unpaid leave after the birth or adoption of a child, under the terms of the Family and Medical Leave Act. But under today's federal law, companies do not have to provide any aid. Trump's proposal would require states to operate their own paid leave programs. Three states--California, Rhode Island, and New Jersey--already offer new parents a paid leave benefit and New York and Washington, D.C. have plans to do the same starting next year.
A paid leave program would would place American families on more equal footing with those in other nations, as the U.S. is the only developed country that does not guarantee any paid leave to new parents.
Still, while six weeks paid time off would certainly be a boon to families, it is far less than what other industrialized countries offer their citizens. The smallest amount of paid leave given in 40 other nations is about two months, while places like Estonia, Bulgaria, Hungary, Japan, Lithuania, Austria, Czech Republic, Latvia, Norway and Slovakia all offer more than a year's worth of paid leave, according to data collected by the Organization for Economic Cooperation and Development.
Trump, with the help of his daughter Ivanka, has also proposed an additional benefit for working parents: a new deduction for child-care expenses. This deduction would cost $500 billion over 10 years, according to the Tax Foundation and allows individuals earning less than $250,000 a year, or married couples earning less than $500,000, to deduct child care expenses from their income taxes—up to the average cost of care in their state.