The Obamas Just Bought an $8.1 Million House Around the Corner from Ivanka Trump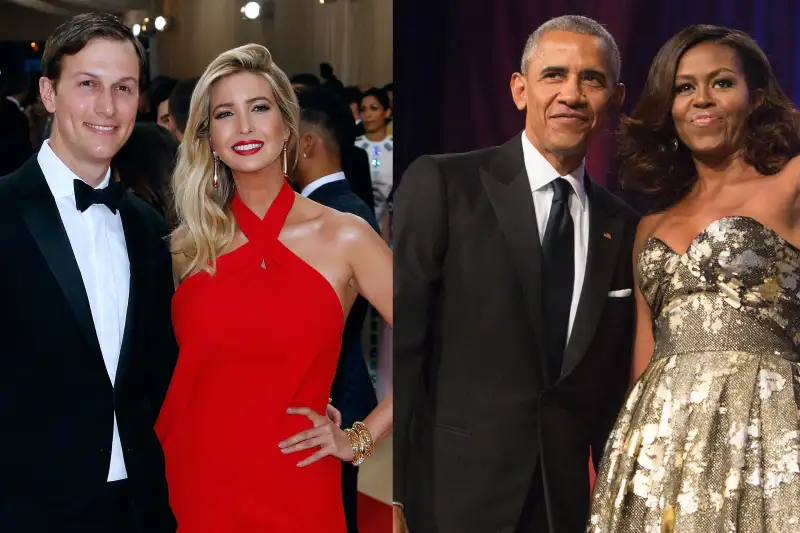 Photos by Taylor Hill/FilmMagic & Chris Klenopis/AFP — Getty Images
The Obamas are making their extended stay in the nation's capital a little more permanent.
Former president Barack Obama and former first lady Michelle have reportedly spent $8.1 million to buy the 8,200 square-foot house that they had been renting in Washington, D.C.'s posh Kalorama neighborhood.
The couple moved into the stately Tudor-style home, owned by former Clinton administration press secretary Joe Lockhart, following their eight-year stay in the White House. They plan to stay at least until their younger daughter Sasha finishes high school at Sidwell Friends.
So the house remains blue. But the same can't be said for other parts of the Kalorama neighborhood, which is becoming a growing epicenter of power for both Democrats and Republicans alike.
Literally around the corner from the Obamas stands the 6,780-square foot Colonial mansion where President Trump's daughter Ivanka and her husband Jared Kushner — both key advisers to the president — now live.
While an Obama will likely never face a Trump on the ballot again, unless Michelle runs in four years, or Malia and Ivanka face off in the future, you can judge which of these homes, both built in the roaring 1920s, wins out.
Size
Advantage: Obama
MANDEL NGAN—AFP/Getty Images
The Obama residence has 8,200-square feet of living space, and is listed as having eight or nine bedrooms, with nine and a half bathrooms, plus an au-pair suite. There's also a 10-car garage, which gives the Secret Service ample space to set up.
The Trump's property is slightly smaller, with 6,870 square feet divided among six bedrooms and seven bathrooms.
Of course, both houses combined still fall short of the 27,000 square-foot former museum that Amazon.com founder and Washington Post owner Jeff Bezos recently purchased in that same neighborhood to convert into a new single-family home.
Cost
Advantage: Trump
On paper, you'd think that the Obamas should win on this front.
They bought their new home for $8.1 million from the Lockharts, who themselves purchased the home for $5.3 million three years ago.
By comparison, Ivanka Trump and Jared Kushner reportedly pay $15,000 a month to rent their home, which was purchased by Andrónico Luksic, a billionaire from Chile, for $5.5 million last year.
So how do Ivanka and Jared come out ahead?
According to Zillow, their home is currently worth $5.3 million and should fetch about $19,800 in rent based on that price. So the couple seems to be getting a deal.
On the other hand, Zillow's "zestimate" for the true value of the Obama's new home is just $6.2 million. So they appear to be paying a premium.
Of course, the zestimates for the Obamas' new home, Ivanka Trump's house, and Secretary of State Rex Tillerson's new Kalorama mansion combined still fall short of the $23 million that Bezos paid for his home — and that's not counting renovation costs.