How Many Avocado Toasts, Goat Yoga Sessions, and Male Rompers It Takes to Buy a Home in 100 Cities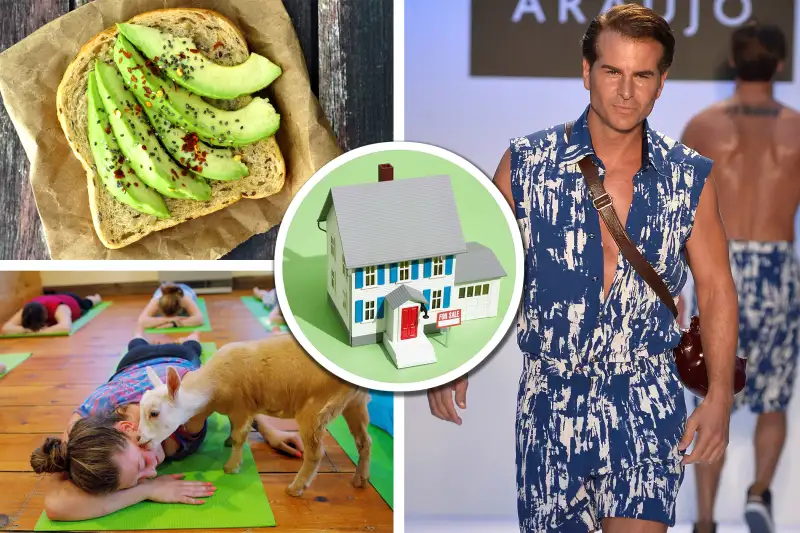 Getty Images (3); (house) Photograph by Jeff Harris for Money
There's no shortage of opinions on what millennials are doing wrong.
Recently, an Australian millionaire claimed to know precisely why young adults can't afford to move out of mom and dad's basement. "When I was trying to buy my first home, I wasn't buying smashed avocado for $19 and four coffees at $4 each," real estate mogul Tim Gurner told the Australian news show 60 Minutes.
In truth millennials are buying plenty of homes. In fact, they are the single largest group of home buyers in this country.
What's more, the notion that the only thing stopping millennials from affording real estate is that extra order of avocado toast, or that pricey goat yoga and wine tasting session is as comical as those male rompers that millennials also seem to be wasting their money on.
To show you why, Money took the median home price from each of the 100 metro areas that Trulia tracks, and calculated how many avocados, goat yoga excursions, and male rompers it would take to cover a down-payment of 20%.
Holy guacamole — you'd have to shut down Chipotles to buy the home of your dreams.
San Jose-Sunnyvale-Santa Clara, CA
Median Home Price: $977,918
No. of Avocados: 156,467
No. of Goat Yoga & Wine Tasting Sessions: 3,912
No. of Male Rompers: 2,059
---
San Francisco-Redwood City-South San Francisco, CA
Median Home Price: $1,142,164
No. of Avocados: 182,746
No. of Goat Yoga & Wine Tasting Sessions: 4,569
No. of Male Rompers: 2,405
---
Urban Honolulu, HI
Median Home Price: $657,762
No. of Avocados: 105,242
No. of Goat Yoga & Wine Tasting Sessions: 2,631
No. of Male Rompers: 1,385
---
Oakland-Hayward-Berkeley, CA
Median Home Price: $682,641
No. of Avocados: 109,223
No. of Goat Yoga & Wine Tasting Sessions: 2,731
No. of Male Rompers: 1,437
---
Anaheim-Santa Ana-Irvine, CA
Median Home Price: $671,311
No. of Avocados: 107,410
No. of Goat Yoga & Wine Tasting Sessions: 2,685
No. of Male Rompers: 1,413
---
New York-Jersey City-White Plains, NY-NJ
Median Home Price: $431,079
No. of Avocados: 68,973
No. of Goat Yoga & Wine Tasting Sessions: 1,724
No. of Male Rompers: 908
---
Portland-Vancouver-Hillsboro, OR-WA
Median Home Price: $358,812
No. of Avocados: 57,410
No. of Goat Yoga & Wine Tasting Sessions: 1,435
No. of Male Rompers: 755
---
Sacramento--Roseville--Arden-Arcade, CA
Median Home Price: $359,945
No. of Avocados: 57,591
No. of Goat Yoga & Wine Tasting Sessions: 1440
No. of Male Rompers: 758
---
Oxnard-Thousand Oaks-Ventura, CA
Median Home Price: $547,294
No. of Avocados: 87,567
No. of Goat Yoga & Wine Tasting Sessions: 2,189
No. of Male Rompers: 1,152
---
Newark, NJ-PA
Median Home Price: $341,079
No. of Avocados: 54,573
No. of Goat Yoga & Wine Tasting Sessions: 1,364
No. of Male Rompers: 718
---
Bridgeport-Stamford-Norwalk, CT
Median Home Price: $399,185
No. of Avocados: 63,870
No. of Goat Yoga & Wine Tasting Sessions: 1,597
No. of Male Rompers: 840
---
Madison, WI
Median Home Price: $233,090
No. of Avocados: 37,294
No. of Goat Yoga & Wine Tasting Sessions: 932
No. of Male Rompers: 491
---
Milwaukee-Waukesha-West Allis, WI
Median Home Price: $205,875
No. of Avocados: 32,940
No. of Goat Yoga & Wine Tasting Sessions: 824
No. of Male Rompers: 433
---
Salt Lake City, UT
Median Home Price: $291,092
No. of Avocados: 46,575
No. of Goat Yoga & Wine Tasting Sessions: 1,164
No. of Male Rompers: 613
---
Cambridge-Newton-Framingham, MA
Median Home Price: $452,674
No. of Avocados: 72,428
No. of Goat Yoga & Wine Tasting Sessions: 1,811
No. of Male Rompers: 953
---
Seattle-Bellevue-Everett, WA
Median Home Price: $475,302
No. of Avocados: 76,048
No. of Goat Yoga & Wine Tasting Sessions: 1,901
No. of Male Rompers: 1,001
---
Las Vegas-Henderson-Paradise, NV
Median Home Price: $219,733
No. of Avocados: 35,157
No. of Goat Yoga & Wine Tasting Sessions: 879
No. of Male Rompers: 463
---
Los Angeles-Long Beach-Glendale, CA
Median Home Price: $546,476
No. of Avocados: 87,436
No. of Goat Yoga & Wine Tasting Sessions: 2,186
No. of Male Rompers: 1,150
---
San Diego-Carlsbad, CA
Median Home Price: $528,318
No. of Avocados: 84,531
No. of Goat Yoga & Wine Tasting Sessions: 2,113
No. of Male Rompers: 1,112
---
Providence-Warwick, RI-MA
Median Home Price: $265,166
No. of Avocados: 42,427
No. of Goat Yoga & Wine Tasting Sessions: 1,061
No. of Male Rompers: 558
---
Silver Spring-Frederick-Rockville, MD
Median Home Price: $398,794
No. of Avocados: 63,807
No. of Goat Yoga & Wine Tasting Sessions: 1,595
No. of Male Rompers: 840
---
Lake County-Kenosha County, IL-WI
Median Home Price:$212,659
No. of Avocados: 34,025
No. of Goat Yoga & Wine Tasting Sessions: 851
No. of Male Rompers: 448
---
Montgomery County-Bucks County-Chester County, PA
Median Home Price: $298,881
No. of Avocados: 47,821
No. of Goat Yoga & Wine Tasting Sessions: 1,196
No. of Male Rompers: 629
---
Washington-Arlington-Alexandria, DC-VA-MD-WV
Median Home Price: $381,004
No. of Avocados: 60,961
No. of Goat Yoga & Wine Tasting Sessions: 1,524
No. of Male Rompers: 802
---
Fresno, CA
Median Home Price: $221,793
No. of Avocados: 35,487
No. of Goat Yoga & Wine Tasting Sessions: 887
No. of Male Rompers: 467
---
Hartford-West Hartford-East Hartford, CT
Median Home Price: $219,743
No. of Avocados: 35,159
No. of Goat Yoga & Wine Tasting Sessions: 879
No. of Male Rompers: 463
---
Austin-Round Rock, TX
Median Home Price: $271,187
No. of Avocados: 43,390
No. of Goat Yoga & Wine Tasting Sessions: 1,085
No. of Male Rompers: 571
---
Boston, MA
Median Home Price: $429,348
No. of Avocados: 68,696
No. of Goat Yoga & Wine Tasting Sessions: 1,717
No. of Male Rompers: 904
---
Phoenix-Mesa-Scottsdale, AZ
Median Home Price: $232,651
No. of Avocados: 37,224
No. of Goat Yoga & Wine Tasting Sessions: 931
No. of Male Rompers: 490
---
Tacoma-Lakewood, WA
Median Home Price: $282,167
No. of Avocados: 45,157
No. of Goat Yoga & Wine Tasting Sessions: 1,129
No. of Male Rompers: 594
---
Warren-Troy-Farmington Hills, MI
Median Home Price: $187,021
No. of Avocados: 29,923
No. of Goat Yoga & Wine Tasting Sessions: 748
No. of Male Rompers: 394
---
New Haven-Milford, CT
Median Home Price: $216,707
No. of Avocados: 34,673
No. of Goat Yoga & Wine Tasting Sessions: 867
No. of Male Rompers: 456
---
Riverside-San Bernardino-Ontario, CA
Median Home Price: $319,958
No. of Avocados: 51,193
No. of Goat Yoga & Wine Tasting Sessions: 1,280
No. of Male Rompers: 674
---
Worcester, MA-CT
Median Home Price: $241,935
No. of Avocados: 38,710
No. of Goat Yoga & Wine Tasting Sessions: 968
No. of Male Rompers: 509
---
Albuquerque, NM
Median Home Price: $179,829
No. of Avocados: 28,773
No. of Goat Yoga & Wine Tasting Sessions: 719
No. of Male Rompers: 379
---
Bakersfield, CA
Median Home Price: $190,005
No. of Avocados: 30,401
No. of Goat Yoga & Wine Tasting Sessions: 760
No. of Male Rompers: 400
---
Tucson, AZ
Median Home Price: $179,574
No. of Avocados: 28,732
No. of Goat Yoga & Wine Tasting Sessions: 718
No. of Male Rompers: 378
---
Buffalo-Cheektowaga-Niagara Falls, NY
Median Home Price: $148,246
No. of Avocados: 23,719
No. of Goat Yoga & Wine Tasting Sessions: 593
No. of Male Rompers: 312
---
Dayton, OH
Median Home Price: $112,415
No. of Avocados: 17,986
No. of Goat Yoga & Wine Tasting Sessions: 450
No. of Male Rompers: 237
---
Nassau County-Suffolk County, NY
Median Home Price: $430,052
No. of Avocados: 68,808
No. of Goat Yoga & Wine Tasting Sessions: 1,720
No. of Male Rompers: 905
---
Wilmington, DE-MD-NJ
Median Home Price: $215,622
No. of Avocados: 34,499
No. of Goat Yoga & Wine Tasting Sessions: 862
No. of Male Rompers: 454
---
Colorado Springs, CO
Median Home Price: $251,055
No. of Avocados: 40,169
No. of Goat Yoga & Wine Tasting Sessions: 1,004
No. of Male Rompers: 529
---
Albany-Schenectady-Troy, NY
Median Home Price: $202,798
No. of Avocados: 32,448
No. of Goat Yoga & Wine Tasting Sessions: 811
No. of Male Rompers: 427
---
Raleigh, NC
Median Home Price: $230,312
No. of Avocados: 36,850
No. of Goat Yoga & Wine Tasting Sessions: 921
No. of Male Rompers: 485
---
Minneapolis-St. Paul-Bloomington, MN-WI
Median Home Price: $239,216
No. of Avocados: 38,275
No. of Goat Yoga & Wine Tasting Sessions: 957
No. of Male Rompers: 504
---
Chicago-Naperville-Arlington Heights, IL
Median Home Price: $220,697
No. of Avocados: 35,312
No. of Goat Yoga & Wine Tasting Sessions: 883
No. of Male Rompers: 465
---
Wichita, KS
Median Home Price: $129,596
No. of Avocados: 20,735
No. of Goat Yoga & Wine Tasting Sessions: 518
No. of Male Rompers: 273
---
Denver-Aurora-Lakewood, CO
Median Home Price: $361,557
No. of Avocados: 57,849
No. of Goat Yoga & Wine Tasting Sessions: 1,446
No. of Male Rompers: 761
---
Camden, NJ
Median Home Price: $189,888
No. of Avocados: 30,382
No. of Goat Yoga & Wine Tasting Sessions: 760
No. of Male Rompers: 400
---
Virginia Beach-Norfolk-Newport News, VA-NC
Median Home Price: $221,711
No. of Avocados: 35,474
No. of Goat Yoga & Wine Tasting Sessions: 887
No. of Male Rompers: 467
---
El Paso, TX
Median Home Price: $112,995
No. of Avocados: 18,079
No. of Goat Yoga & Wine Tasting Sessions: 452
No. of Male Rompers: 238
---
Dallas-Plano-Irving, TX
Median Home Price: $227,414
No. of Avocados: 36,386
No. of Goat Yoga & Wine Tasting Sessions: 910
No. of Male Rompers: 479
---
Allentown-Bethlehem-Easton, PA-NJ
Median Home Price: $186,477
No. of Avocados: 29,836
No. of Goat Yoga & Wine Tasting Sessions: 746
No. of Male Rompers: 393
---
Pittsburgh, PA
Median Home Price: $135,767
No. of Avocados: 21,723
No. of Goat Yoga & Wine Tasting Sessions: 543
No. of Male Rompers: 286
---
Richmond, VA
Median Home Price: $207,735
No. of Avocados: 33,238
No. of Goat Yoga & Wine Tasting Sessions: 831
No. of Male Rompers: 437
---
Greensboro-High Point, NC
Median Home Price: $126,118
No. of Avocados: 20,179
No. of Goat Yoga & Wine Tasting Sessions: 504
No. of Male Rompers: 266
---
Baltimore-Columbia-Towson, MD
Median Home Price: $256,635
No. of Avocados: 41,062
No. of Goat Yoga & Wine Tasting Sessions: 1,027
No. of Male Rompers: 540
---
Columbus, OH
Median Home Price: $162,883
No. of Avocados: 26,061
No. of Goat Yoga & Wine Tasting Sessions: 652
No. of Male Rompers: 343
---
Toledo, OH
Median Home Price: $109,863
No. of Avocados: 17,578
No. of Goat Yoga & Wine Tasting Sessions: 439
No. of Male Rompers: 231
---
Cleveland-Elyria, OH
Median Home Price: $132,300
No. of Avocados: 21,168
No. of Goat Yoga & Wine Tasting Sessions: 529
No. of Male Rompers: 279
---
Winston-Salem, NC
Median Home Price: $132,915
No. of Avocados: 21,166
No. of Goat Yoga & Wine Tasting Sessions: 532
No. of Male Rompers: 280
---
Fort Worth-Arlington, TX
Median Home Price: $181,211
No. of Avocados: 28,994
No. of Goat Yoga & Wine Tasting Sessions: 725
No. of Male Rompers: 381
---
Omaha-Council Bluffs, NE-IA
Median Home Price: $157,061
No. of Avocados: 25,130
No. of Goat Yoga & Wine Tasting Sessions: 532
No. of Male Rompers: 280
---
St. Louis, MO-IL
Median Home Price: $147,957
No. of Avocados: 23,673
No. of Goat Yoga & Wine Tasting Sessions: 725
No. of Male Rompers: 381
---
Akron, OH
Median Home Price: $129,876
No. of Avocados: 20,780
No. of Goat Yoga & Wine Tasting Sessions: 628
No. of Male Rompers: 331
---
Charlotte-Concord-Gastonia, NC-SC
Median Home Price: $175,526
No. of Avocados: 28,084
No. of Goat Yoga & Wine Tasting Sessions: 702
No. of Male Rompers: 370
---
Orlando-Kissimmee-Sanford, FL
Median Home Price: $201,743
No. of Avocados: 32,279
No. of Goat Yoga & Wine Tasting Sessions: 807
No. of Male Rompers: 425
---
Atlanta-Sandy Springs-Roswell, GA
Median Home Price: $178,226
No. of Avocados: 28,516
No. of Goat Yoga & Wine Tasting Sessions: 713
No. of Male Rompers: 375
---
San Antonio-New Braunfels, TX
Median Home Price: $159,977
No. of Avocados: 25,596
No. of Goat Yoga & Wine Tasting Sessions: 640
No. of Male Rompers: 337
---
Little Rock-North Little Rock-Conway, AR
Median Home Price: $132,322
No. of Avocados: 21,171
No. of Goat Yoga & Wine Tasting Sessions: 529
No. of Male Rompers: 279
---
Oklahoma City, OK
Median Home Price: $139,710
No. of Avocados: 22,354
No. of Goat Yoga & Wine Tasting Sessions: 559
No. of Male Rompers: 294
---
Cincinnati, OH-KY-IN
Median Home Price: $152,064
No. of Avocados: 24,330
No. of Goat Yoga & Wine Tasting Sessions: 608
No. of Male Rompers: 320
---
Grand Rapids-Wyoming, MI
Median Home Price: $165,662
No. of Avocados: 26,506
No. of Goat Yoga & Wine Tasting Sessions: 663
No. of Male Rompers: 349
---
Rochester, NY
Median Home Price: $134,456
No. of Avocados: 21,513
No. of Goat Yoga & Wine Tasting Sessions: 538
No. of Male Rompers: 283
---
Jacksonville, FL
Median Home Price: $182,353
No. of Avocados: 29,176
No. of Goat Yoga & Wine Tasting Sessions: 729
No. of Male Rompers: 384
---
Tulsa, OK
Median Home Price: $127,526
No. of Avocados: 20,404
No. of Goat Yoga & Wine Tasting Sessions: 510
No. of Male Rompers: 268
---
Syracuse, NY
Median Home Price: $125,559
No. of Avocados: 20,089
No. of Goat Yoga & Wine Tasting Sessions: 502
No. of Male Rompers: 264
---
Houston-The Woodlands-Sugar Land, TX
Median Home Price: $175,934
No. of Avocados: 28,149
No. of Goat Yoga & Wine Tasting Sessions: 704
No. of Male Rompers: 370
---
Deltona-Daytona Beach-Ormond Beach, FL
Median Home Price: $175,895
No. of Avocados: 28,143
No. of Goat Yoga & Wine Tasting Sessions: 704
No. of Male Rompers: 370
---
Nashville-Davidson--Murfreesboro--Franklin, TN
Median Home Price: $212,671
No. of Avocados: 34,027
No. of Goat Yoga & Wine Tasting Sessions: 851
No. of Male Rompers: 448
---
Cape Coral-Fort Myers, FL
Median Home Price: $224,802
No. of Avocados: 35,968
No. of Goat Yoga & Wine Tasting Sessions: 899
No. of Male Rompers: 473
---
Kansas City, MO-KS
Median Home Price: $157,867
No. of Avocados: 25,259
No. of Goat Yoga & Wine Tasting Sessions: 631
No. of Male Rompers: 332
---
Knoxville, TN
Median Home Price: $139,009
No. of Avocados: 22,242
No. of Goat Yoga & Wine Tasting Sessions: 556
No. of Male Rompers: 293
---
Indianapolis-Carmel-Anderson, IN
Median Home Price: $138,457
No. of Avocados: 22,153
No. of Goat Yoga & Wine Tasting Sessions: 554
No. of Male Rompers: 291
---
North Port-Sarasota-Bradenton, FL
Median Home Price: $250,568
No. of Avocados: 40,091
No. of Goat Yoga & Wine Tasting Sessions: 1,002
No. of Male Rompers: 528
---
Miami-Miami Beach-Kendall, FL
Median Home Price: $270,598
No. of Avocados: 43,296
No. of Goat Yoga & Wine Tasting Sessions: 1,082
No. of Male Rompers: 570
---
Gary, IN
Median Home Price: $139,440
No. of Avocados: 22,310
No. of Goat Yoga & Wine Tasting Sessions: 558
No. of Male Rompers: 294
---
Louisville/Jefferson County, KY-IN
Median Home Price: $142,665
No. of Avocados: 22,826
No. of Goat Yoga & Wine Tasting Sessions: 571
No. of Male Rompers: 300
---
Memphis, TN-MS-AR
Median Home Price: $117,524
No. of Avocados: 18,804
No. of Goat Yoga & Wine Tasting Sessions: 470
No. of Male Rompers: 247
---
Tampa-St. Petersburg-Clearwater, FL
Median Home Price: $184,200
No. of Avocados: 29,472
No. of Goat Yoga & Wine Tasting Sessions: 737
No. of Male Rompers: 388
---
West Palm Beach-Boca Raton-Delray Beach, FL
Median Home Price: $253,719
No. of Avocados: 40,595
No. of Goat Yoga & Wine Tasting Sessions: 1,015
No. of Male Rompers: 534
---
Birmingham-Hoover, AL
Median Home Price: $130,430
No. of Avocados: 20,869
No. of Goat Yoga & Wine Tasting Sessions: 522
No. of Male Rompers: 275
---
Detroit-Dearborn-Livonia, MI
Median Home Price: $70,031
No. of Avocados: 11,205
No. of Goat Yoga & Wine Tasting Sessions: 280
No. of Male Rompers: 147
---
Greenville-Anderson-Mauldin, SC
Median Home Price: $153,993
No. of Avocados: 24,639
No. of Goat Yoga & Wine Tasting Sessions: 616
No. of Male Rompers: 324
---
Charleston-North Charleston, SC
Median Home Price: $226,158
No. of Avocados: 36,185
No. of Goat Yoga & Wine Tasting Sessions: 905
No. of Male Rompers: 476
---
Fort Lauderdale-Pompano Beach-Deerfield Beach, FL
Median Home Price: $226,528
No. of Avocados: 36,244
No. of Goat Yoga & Wine Tasting Sessions: 906
No. of Male Rompers: 477
---
Columbia, SC
Median Home Price: $129,134
No. of Avocados: 20,661
No. of Goat Yoga & Wine Tasting Sessions: 517
No. of Male Rompers: 272
---
New Orleans-Metairie, LA
Median Home Price: $176,360
No. of Avocados: 28,218
No. of Goat Yoga & Wine Tasting Sessions: 705
No. of Male Rompers: 371
---
Philadelphia, PA
Median Home Price: $148,712
No. of Avocados: 23,794
No. of Goat Yoga & Wine Tasting Sessions: 595
No. of Male Rompers: 313
---
Baton Rouge, LA
Median Home Price: $171,238
No. of Avocados: 27,398
No. of Goat Yoga & Wine Tasting Sessions: 685
No. of Male Rompers: 361