The Old Navy $1 Flip-Flop Sale Is This Saturday, and There's an Easy Way to Get a Free Pair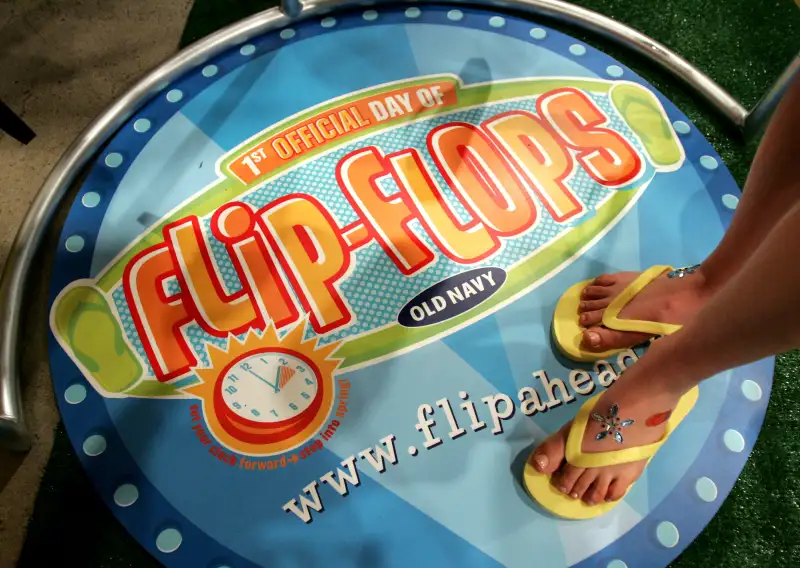 Peter Kramer—Getty Images
Flip-flops for a buck, and a chance to win $24K? Sign us up! The annual Old Navy flip-flop sale returns this Saturday, June 15, so get ready for what Old Navy has dubbed the One Dolla Balla sale.
This Old Navy sale is a perennial favorite for stocking up on cheap flip-flops for the beach, shower, or just hanging-around — for the entire family.
Old Navy $1 Flip-Flop Sale: All the Details
In stores and online at Old Navy, $1 flip flops are there just waiting to be scooped up. Once again, the Old Navy sale with $1 flip-flops takes place on Saturday only, when solid-color flip-flops are selling for one dollar each.
This year, Old Navy upped the ante by hiding golden flip-flops on its shelves and on its website. No, they're not listed on the product page; you'll want to keep an eye out for an animated golden flip-flop. If you're lucky enough to find them, you'll be entered into a sweepstakes to win a grand prize of $24,000. (Get it? $24K... Golden... OK, maybe it's a little corny, but those golden flip-flops are undeniably adorable, so we'll be browsing the Old Navy flip-flop sale with our fingers crossed.)
Sneak Peek of the Old Navy Flip-Flop Sale
To get a sneak peek (and start planning your shopping) click here. The actual sale starts at 12:01 a.m. Pacific time on Saturday, June 15, so you might want to set your alarm for just before 3 a.m. if you're on the East Coast. The $1 flip-flop deal is only good while supplies last, so you'll want to be quick about it.
If you're shopping online, you can score Old Navy $1 flip-flops with the promo code BALLA at checkout. And even though you really can't complain about the price of $1 flip-flops, you can get a free pair if you buy more than $24 worth of stuff during Saturday's Old Navy sale. Free shipping at Old Navy is available on purchases of $50 or more.
We'll be scooping up this trendy blush-pink pair (which you might remember sold out last year pretty much immediately) and this rich almost-black-but-not-quite brown shade. We're also loving the fun color combos with contrasting straps, like this pair in a very of-the-moment deep yellow set off with bold pink.
For the kids, grab this sunny yellow and royal-blue-neon-green combo. (Protip: Flip-flops that are half-buried in the sand are way easier to find if you buy the brightest colors you can get your hands on). Most Old Navy flip-flops are on sale for $2 each in the days before the big $1 sale day on Saturday.
$1 Flip-Flops Are Just The Beginning
If you need some inspiration for what else to put in your cart to reach the $24 minimum purchase so you can score free flip-flops, check out some of Old Navy's seriously on-trend online-only exclusives like this high-necked sleeveless midi dress — on sale for just $29 and which is an awesome way to dress up those blush-pink flip-flops.
Or consider this vibrant floral maxi dress in a bright yellow-and-pink print that, oh look, just happens to be a perfect match to those two-tone flip-flops. We're also loving the heck out of Old Navy's swimsuits this year, like this adorable watermelon-print halter bikini top and high-waisted (read: super-flattering) bottoms.
If you've ever shopped the Old Navy flip-flop sale, then you probably already know the following tips: Log on early to Old Navy; $1 flip-flops are only available until they sell out, and trust us, they will — just like they do every year. If you're buying in-store, you're limited to 10 pairs; online, you're limited to five pairs per transaction.
We've included affiliate links into this article. Click here to learn what those are.