Old Navy's Crazy $1 Flip-Flop Sale Is This Saturday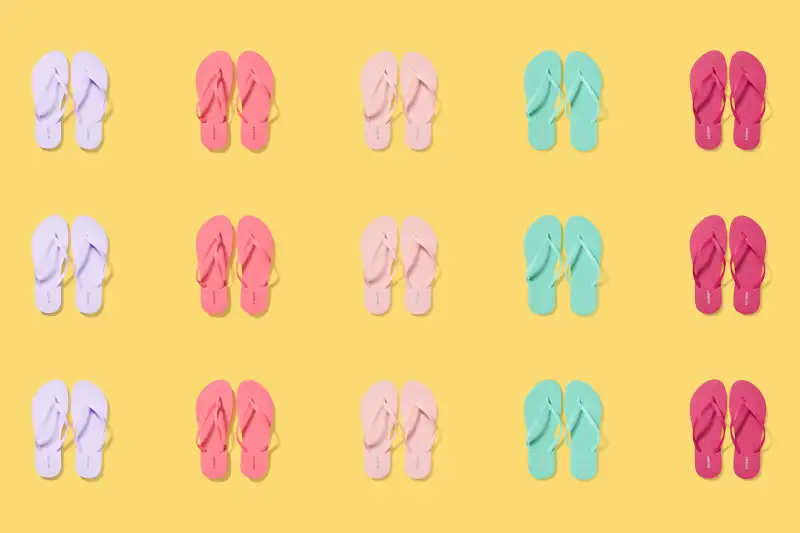 Blowing out a flip-flop? No fun. (And yes, many of us know it does happen outside of a Jimmy Buffett song.) A flip-flop blowout sale, on the other hand, is an awesome way to get into a summery mindset — especially when you can score an armload of cheap kicks without even having to go to the store.
On Saturday, June 24, Old Navy is holding its annual one-day-only sale: All solid-color flip-flops for men, women, and kids are just $1, a sweet discount from their normal price of $3 to $4 per pair. The company says the sale covers "basic" and "fashion" colors — which for women includes gold and silver if you want bling for a buck and, of course, "millennial pink."
What's especially exciting this year is that for the first time ever, the sale is being held online as well as in-store. In other words, you can snag $1 flip-flops without leaving the couch, and you're not limited to whatever the Old Navy at your local mall has in stock.
We know what you're thinking, but sorry, you cannot buy hundreds or thousands of pairs of $1 flip-flops to hoard them for eternity or perhaps flip them for a profit. Both online and in-store, there is a limit of 10 pairs per customer during the $1 sale. Also, take note that there is generally a $50 minimum purchase to receive free shipping on Old Navy online orders.
Old Navy's $1 flip-flops are available in whole sizes from 5 to 11 in women's, and 6/7 to 12/13 in men's, as well as girls' and boys' sizes. If you're buying online and aren't sure which size you need, Old Navy's senior director of women's accessories Jennifer Halter Baceda has some advice. "Because flip-flops are such a simple construction, they are easy to fit," she says. "If you are in-between sizes, it generally works to size up."
Ankle-strap varieties, as well as printed and graphic flip-flops aren't included in the $1 promotion, but if you want to show your love for waves or wine, they're still a good deal at $4-$5 each.
Even if you're not in the market for flip-flops, you can still take advantage of this sale to do something nice for those less fortunate. Many shelters and other charitable organizations that accept donations of clothing and shoes would welcome a few brand-new pairs of flip-flops. Old Navy's Baceda says the most popular shoe size for women is size 8, and the most popular sizes for men are 10 and 11.
We've included affiliate links into this article. Click here to learn what those are.