If You Want to Make Real Money as a Panhandler, Get a Dog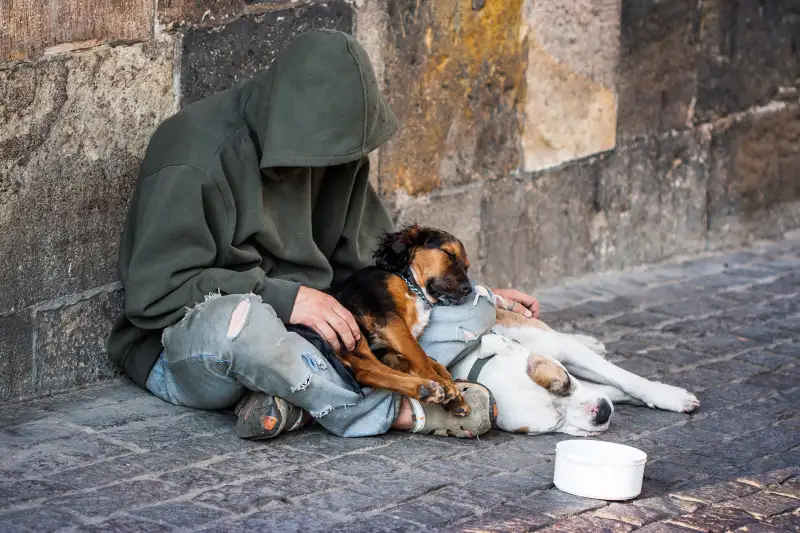 The debate about whether or not it's a good idea to give money to panhandlers was sparked anew this week in New York City. First, as the Daily News reported, NYPD Commissioner Bill Bratton said that if New Yorkers truly want to get rid of panhandlers, they should simply stop giving to them.
The New York Post followed up with the tale of a panhandler who sets up shop regularly near Grand Central Station—and claims to pull in as much as $200 per hour thanks to the generosity of strangers.
Previous research indicates that the average panhandler makes perhaps $25 a day by begging for change on a city street. So what's the secret of the guy who bragged to the Post that he'll easily make $400 in two hours on a typical Friday morning?
Clearly, having a good location—a spot with lots of foot traffic, ideally frequented by many benevolent souls—is crucial. But apparently it also helps big-time to panhandle in the company of man's best friend. In the case of Will Andersen, the panhandler featured in the Post story, the presence of his dog, a 9-year old pooch that looks a bit like a beagle and is named Rizzo, easily doubles the daily haul. "People are more generous because I have a dog, 100 percent," Andersen explained. "They throw me a dollar and say, 'That's for the dog,'"
On this point, Commissioner Bratton is in full agreement. "That's an additional inducement to people to give," Bratton said regarding the presence of pets with panhandlers. "You can see that repeated in a number of locations around the city, with the animals."
While panhandling with pets may work brilliantly as a money-making strategy, it's actually not legal in some parts of the country. "I got calls and I got emails from the Las Vegas Humane Society… from tourists that were here complaining about itty bitty kittens and itty bitty puppies being used for the purposes of panhandling," Chris Giunchigliani, the commissioner of Clark County (Nevada), explained in 2012. The situation led Giunchigliani to push a ban on panhandling with pets in the main location it was being done—the famous Las Vegas Strip. The ban became law a few months later.
MORE: Brother, Should You Spare a Dime? How to Handle a Panhandler