5 Inspiring Career Lessons From Pat Summitt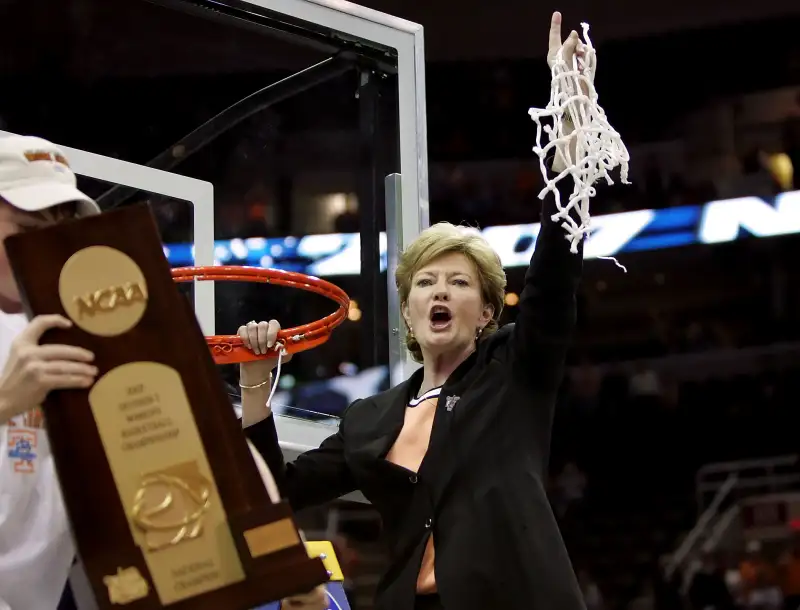 Tuesday, legendary basketball coach Pat Summitt, the winningest coach in NCAA history, died at the age of 64 after battling early onset dementia. Summitt was a singular figure in women's (and men's) sports, mentoring hundreds of students over her 38-year career and inspiring countless women in innumerable ways.
As a coach, Summitt was guided by a set of principles she called the "Definite Dozen." It includes maxims like "Take Full Responsibility," "Make Winning an Attitude," and "Handle Success Like You Handle Failure."
If there's a through line, though, it's best represented by the very first of the Dozen: "Respect Yourself and Others." No one did more to elevate women's basketball than Summitt, and it all hinged on respecting players, respecting opponents, and respecting the game. Writes Kate Fagan, a columnist for ESPN,
Here's how Summitt lived by her values, and what you can learn from them.
Develop and Demonstrate Loyalty
Summitt was the living embodiment of how far loyalty and consideration for others can take you. She coached at the University of Tennessee for 38 years, and players credit her with popularizing the saying, "Once a Lady Vol, always a Lady Vol."
But it wasn't just to her employer that she showed loyalty. "No matter who needs her—from the last person on the bench to a manager to whoever—she knew everybody by name and treated them as if they were her own," three-time WNBA MVP Candace Parker told ESPN.
Countless others have expressed the same sentiment. "She was the ultimate leader who led by example with strength, character and integrity but also with care. She loved her family and players with a fierceness equalled only by that renowned stare of hers," Joan Cronan, UT's director of women's athletics, said in a statement.
Summitt describes the principle best on her website. "Surround yourself with people who are better than you are. Seek out quality people, acknowledge their talents, and let them do their jobs. You win with people."
Make Hard Work Your Passion
"Here's how I'm going to beat you. I'm going to outwork you. That's it. That's all there is to it," Summitt wrote in her book Reach for the Summitt.
For Summitt, "work hard" wasn't just a tired phrase plastered on a poster in the locker room. It was a mantra she lived every day, beginning when she worked on her family's farm as a child.
"When you grow up on a dairy farm, cows don't take a day off. So you work every day, and my dad always said, 'No one can outwork you,'" Summitt told ABC News in 2011.
Players—really everyone who knew her—concur. "She taught me hard work. She's the hardest-working woman I've ever met in my life," Parker told ESPN. "She just didn't just say things; she did what she said."
Part of it is discipline. "Discipline helps you finish a job, and finishing is what separates excellent work from average work," reads Summitt's website. With an 84% win rate over four decades, Summitt would know.
And once you do the work, the money and prestige will follow. (As Sean Gregory writes over at Time, Summitt was the first women's basketball coach to make $1 million per year.)
"She paved the way," Kim Mulkey, head women's basketball coach at Baylor University, told ESPN, according to Gregory. "We have the salaries we have today because of Pat Summitt, we have the exposure we have today because of Pat Summitt. She wasn't afraid to fight."
Be a Competitor
"You can't always be the strongest or most talented or the most gifted person in the room, but you can be the most competitive," Summitt once said. And she took UT's competitiveness to new heights.
Encouraged by ESPN journalist Carol Stiff, Summitt and UT scheduled a game against the University of Connecticut for the first time (the two teams wouldn't normally face each other in the regular season). The programs were ranked 1 (UT) and 2 (UConn) in the country, and the game caused a phenomenon in the sports world, according to Stiff. UConn came out victorious, but it kicked off one of the greater rivalries in college basketball.
Why would Summitt take on such a tough opponent when her team was already slated to play two other games in the next few days? "For the good of the game," Stiff remembers Summitt saying. You wouldn't find a bigger competitor (or advocate for the game) than UT's head coach.
She always encouraged her players to be better competitors, as any good manager should.
"I think you can challenge people, but you don't want to break people down. But you've gotta, sometimes, just pull them aside and say, you know, 'You're OK, but you could be better,' " she told NPR in 2013.
Handle Success Like You Handle Failure
Summitt became head coach at UT at the ripe old age of 22. In almost four decades on the job, she never had a losing season. Despite that, Summitt never stopped tweaking her coaching style, and she always strived to do better.
That led her to more than 1,000 regular season wins, 16 SEC championship titles, and eight national championships. Still, Summitt put in the work.
"You can't always control what happens, but you can control how you handle it," her website reads. "Sometimes you learn more from losing than winning. Losing forces you to reexamine. It's harder to stay on top than it is to make the climb. Continue to seek new goals."
Never Give Up
While this isn't explicitly one of Summitt's Definite Dozen, it's an unspoken thirteenth principle that underlies everything she's accomplished. Tough day in the office? Go home, rest up, shake it off. Receive some bad news? Take a deep breath, keep going.
"There's not going to be any pity party. We're going to fight, and we're going to fight publicly," she wrote in a letter on the Pat Summitt Foundation's website after her Alzheimer's diagnosis.
"I don't want to sit around the house;" she told ABC News. "I want to be out there. I want to go to practice. I want to be in the huddles. That's me."