7 Ways for New Dads to Man Up on Paternity Leave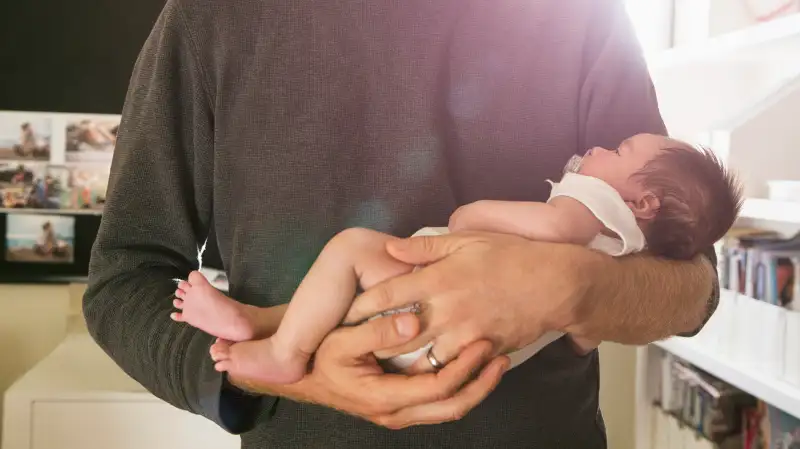 Lucy von Held—Getty Images
In some ways, my two-week parental leave felt like an exercise in survivalist existence.
Mrs. Tepper and I spent the vast majority of those cold, dark winter days bunkered in our two-bedroom apartment with a seven-pound eating machine, venturing outside only on rare occasions for food and essential supplies (like diaper cream).
Yet those 14 days also functioned as a way station to our new life.
We got to know each other as a family. We learned to feed the tyke -- which doesn't come as easily as you'd think -- as well as bathe him, clothe him and hold him just so. We decoded which sounds represented hunger and which ones meant sleepiness.
And then, after two weeks, I went back to work.
Thankfully Mrs. Tepper was allowed a six-month leave from her job -- mostly paid. During that time, while my role transitioned from co-starring to supporting, my wife became Luke's primary caregiver and the parenting pressure intensified. She was the one getting up in the middle of the night when Luke woke up crying, primarily because of the nature of our differing leave benefits.
Which is weird.
Dads these days exhibit a kind of cognitive dissonance. Men say we want to spend more time with the kids, and that parenting should be a 50/50 responsibility of both parents, according to a Boston College Center for Work and Family study that surveyed 1,000 fathers in nearly 300 companies. But even so, unequal parental leave policies -- many of which tie maternity leave to short-term disability -- often leave couples in "traditional" arrangements with the wives primarily responsible for childcare.
We end up in these roles even when we don't mean to. If dads really want what we say we want -- more time with the kids, for instance -- then it's time for a serious look in the mirror. And a good place to start is paternity leave.
Dads & Paternity Leave
Netflix and Microsoft have both made recent headlines by expanding paid parental leave; in Netflix's case, dads can take as much time as they need during the first year following a birth or adoption.
Yet major tech companies aside, paternal leave is still a rare occurrence. Only 17% of employers offer the benefit, according to the Society for Human Resource Management -- a figure that's essentially unchanged over the past few years.
And even when dads do take leave, per the Boston College research, they take only one day of leave for every month that moms take. In fact, 42% of dads return to work after one week, and 81% go back to the office after two. When men were offered six weeks of paid leave, almost half took less time than they were allowed, Boston College found, and more than a quarter only took two weeks.
Just like women before them, men find disadvantages in putting their families first.
In a report released last year in the Harvard Business Review, which surveyed thousands of Harvard Business School graduates, one male alum said, "I struggle with balancing family and work life, and so far my reputation is suffering both at work and at home."
An MBA student in another study told researchers, "that when he took leave to care for his newborn after his physician wife had taken hers, he received phone calls and emails throughout the day from coworkers who expected him to keep working."
Part of the problem is that our work culture is suffused in self-sacrifice. "There is a culture of overwork," says Fairleigh Dickinson professor Scott Behson, author of The Working Dad's Survival Guide. "People believe the only way to get ahead is to prove your dedication to the company."
7 Rules
But if men should be taking more leave, what can we do to make it happen -- and to do it in a way that doesn't sabotage our careers? One perhaps obvious option is to get some tips from our wives, mothers, and female friends and colleagues, who've long been forced to negotiate the demands of both home and office.
Beyond that:
Start early. Nine months should be ample time to chat with your boss or human resources department about their existing paid leave policies -- and perhaps to lobby for a policy change. (In addition to surveying fathers, Boston College also interviewed 30 large organizations, 18 of which offer paid paternity leave. It found that 85% of the total group "had not developed a 'business case' for paternity leave or parental leave.")
"Show them what companies like Google, Facebook and Bank of America are doing," says Simon Isaacs, co-founder of dad site Fatherly.com. "These are leading companies that understand [that] to recruit and maintain the best talent, providing these benefits is essential." You can also check out Fatherly's 50 Best Places to Work for New Dads.
Lay the groundwork. In addition to chatting with HR, create a handoff plan to ease your absence. Coordinate with your superiors and peers, and let everyone in the office know who's covering what elements of your job, and which emergencies warrant a call at home.
Management isn't a big fan of disruption, so the more you set this into their routine the better off you'll be, says Kenneth Matos, senior research director at Families and Work Institute in New York. Spell things out, he says: "My work is clearly found on the server here, and Bob knows what I'm doing there." Make it easy for them.
Get advice. Reach out to other new parents in the office to find out how they handled their leave. If you're one of only a few men who've taken time off, go ahead and ask the others for advice. It's often helpful to "hear how others have navigated this brave new world of fatherhood," says Isaacs.
Set a good example. If you're in a position of responsibility, set the tone for other new fathers. Toms Shoes chief executive Blake Mycoskie took three months of paternity leave after the birth of his son, and spoke publicly about it.
"If you're a manager or a supervisor or a team leader you have to role model these things," says Behson. That means people in positions of influence need to take their paternity leave and work from home occasionally.
Take your leave. Simple enough, though perhaps the hardest part.
In a highly competitive workforce, it's not crazy to worry that anytime you leave the office you might be falling behind colleagues. So, some dads may need to realign their priorities when they become fathers.
Chances are you're not going to get the corner office if you're taking your kid to soccer practice at 3:30 p.m. But there are other payoffs -- and it's possible to have a satisfying career without eschewing your personal life.
Tell your story. "Some of people's resistance to paternal leave is that they don't know what you're doing," says Matos. "There's an old-school concept of parenting: The mother is taking care of the baby, so what are you going to do?"
Paternity isn't a vacation: More than 90% of new dads change diapers and care for the new child, while more than 80% shop for groceries, clean the house and do laundry, per the Boston College study. So when you return to the office, talk about your experiences. You don't have to beat people over the head with how much harder your life's become or how proficient you are with a Diaper Genie. but don't shy away from telling folks just what you wound up doing.
Get over yourself. Yes, you're valuable to our employer. But you're also valuable to your child -- and your department probably won't fall apart without you for a couple of weeks, or even months.
If we all want to become the type of fathers we imagined that we'd be, then we need to alter some of our behavior. Embracing paternity leave is a step in the right direction.