An Arkansas Lawyer Bought 1,500 Pairs of Shoes From a Payless Going Out of Business. Now She's Donating Them to Kids in Need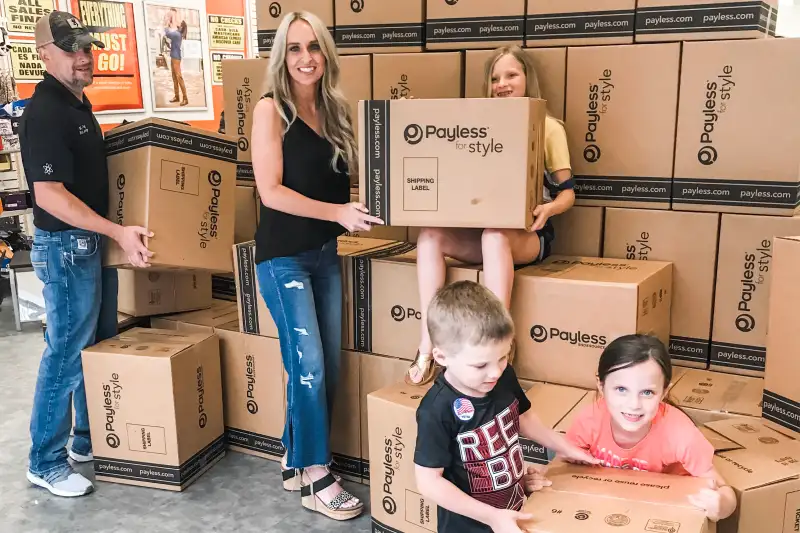 Courtesy of Carrie Jernigan
When Carrie Jernigan was doing some last-minute, pre-vacation shopping with her kids at a Payless ShoeSource near their home in Alma, Arkansa, she had no idea she would soon be taking home upwards of 1,500 pairs of shoes.
"What have I done?" the 37-year-old lawyer and mother of three says she initially thought to herself.
But this was possible because in February, Payless ShoeSource announced it would be shutting down all of its stores across the U.S. and Puerto Rico. It was the second time in two years the company was filing for bankruptcy — the latest casualty in what's been dubbed over the years as the "retail apocalypse."
Jernigan was taking advantage of the sweeping sales one day this past May when her 9-year-old daughter asked if they could buy Avengers tennis shoes for a classmate that needed a new pair. Inspired by her daughter's act of kindness, Jernigan, jokingly, asked the clerk how much it would cost to buy the entire store. Hours later, she had purchased nearly 350 pairs of shoes with the intention of donating them all.
"We made a deal to buy almost all [that] was left on the shelves," she says.
When she returned to pick up the shoes, she found out that a new delivery was coming in — days before the store was set to shut its doors. When her kids asked to take those too, she told them they could take a peek to see if there were any children's shoes.
Courtesy of Carrie Jernigan
"Of course, the first box I opened up was JoJo Siwa shoes," she says, referring to the mega-popular Nickelodeon star. "Pink glitter was everywhere."
When it was all said and done Jernigan took home nearly $21,000 worth of merchandise — the majority of which she saved from the store's blowout sale. She intends to donate roughly 1,100 pairs to kids, and local schools and give the remaining shoes to adults in need.
Being the local school board's president, Jernigan knows how much some parents struggle to afford school supplies, let alone new shoes, for their children. When she realized that she had way too many shoes for her school alone, she decided to hold off for few months to do a back-to-school fundraising event.
"I wanted these kids to have brand new shoes for the start of school," she says.
Now, a community church and local businesses have offered to get involved and contribute money to a Kickstarter she started, which hopes to provide a whole array of back to school supplies for families.
Courtesy of Carrie Jernigan
"It's just becoming a huge community effort," she says.
Jernigan hopes that, in addition to helping out families who are in need, this can raise awareness about how expensive school supplies are and inspire others to give back.
"If they can go help one person, one child, go to school with a new pair of shoes on, it will make that child's day so much better," she says.