2,000 Payless Shoe Stores Are Closing. Here's What to Know About Liquidation Sales and Final Days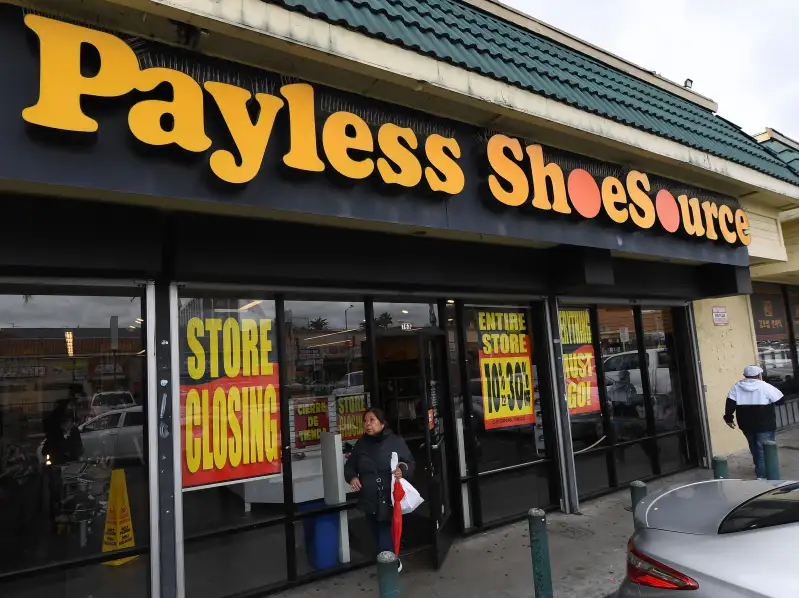 MARK RALSTON—AFP/Getty Images
Attention shoppers: Your days of browsing for discount footwear at Payless ShoeSource are numbered.
Payless, a suburban mall fixture with roughly 2,100 stores in the U.S., is the latest victim in the so-called "retail apocalypse." Payless filed for bankruptcy protection in 2017, and over the weekend the discount shoe seller announced it would close all Payless stores in the U.S.
Here are all the details shoppers need to know about Payless store closings and liquidation sales.
When Is Payless Closing?
Even though Payless has closed hundreds of stores in the U.S. over the past two years, there are still over 2,000 Payless stores open across the country. But now plans are underway for major Payless store closings from coast to coast.
There is no particular date set yet for Payless shoe stores to close. But it is expected that all Payless stores in the U.S. and Canada will close over the next few months. Payless also has hundreds of stores outside the U.S., including locations in Latin America, Africa, and the Middle East, and there are no plans at this time for those stores to close.
When Do Payless Liquidation Sales Start? Are Liquidation Prices Good?
Payless liquidation sales have already begun at U.S. stores. The chain's closing sales started on Sunday, February 17.
Shoppers shouldn't head to Payless closing sales assuming they'll find super low prices, though. Retailer liquidation sales don't necessarily feature amazing deals and huge discounts. Instead, liquidation sales typically begin with mediocre discounts — often, the prices aren't even as cheap as what you'd see on Black Friday or Cyber Monday — and as the merchandise gets picked over and the store closing date approaches, prices drop lower and lower.
This is exactly what happened with the Toys "R" Us liquidation sales that started nearly a year ago: Shoppers streamed in expecting awesome discounts, only to be underwhelmed by liquidation discounts of 5% to 10% off prices that were inflated to begin with.
Shoppers have been reporting Payless liquidation prices around 10% to 30% off original prices. That's not bad, especially considering Payless list prices are pretty low. But the liquidation discounts right now aren't as good as Black Friday and Cyber Monday 2018, when everything was 50% off at Payless.
Payless Gift Cards, Return Policy
Payless gift cards are still being accepted at stores. But it is likely they will become worthless when Payless stores close. So the best advice is to use your Payless gift cards as soon as possible, if you have any. It is also not a good idea to buy Payless gift cards now.
As for the Payless return policy, shoppers in the U.S. should anticipate that all liquidation sale transactions are final, with no possibility of returns or exchanges. This means you should be extra diligent while inspecting anything you are buying at Payless: Look for scuffs and imperfections, and double-check the sizes and fit before you make a purchase — because you'll be stuck with whatever you take home.
Can I Shop at Payless Online?
Payless has already shut down its online sales operation. U.S. shoppers can no longer buy anything at the Payless website; instead of showing you shoes for sale, payless.com will simply steer you to the nearest Payless store location.
Payless does say, however, that many Payless-affiliated shoes — and footwear brands associated with Payless, like Champion — are still available for sale at Amazon.