10 Great Discounts on Cold-Weather Gear to Help You Survive the Polar Vortex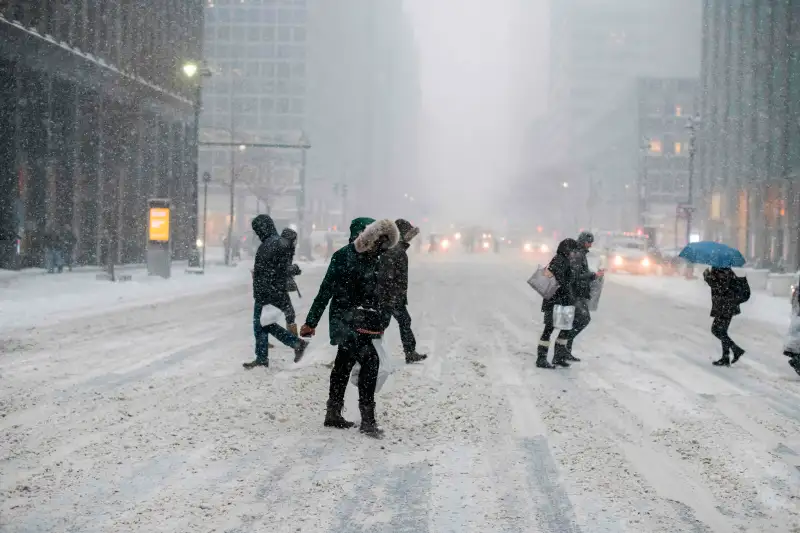 JEWEL SAMAD—AFP/Getty Images
Just a few days into the new year, much of the Eastern half of the United States is coping with blizzard conditions in the form of Winter Storm Grayson—and something called a "bomb cyclone."
What is a bomb cyclone? We'll let the scientists answer that instead of pretending we really understand. We can, however, address another question that maybe should be on your mind if you're looking at snow and record cold temperatures over the next several days, since Winter Storm Grayson is expected to precede a polar vortex — a blast of Arctic air much colder than normal wintery weather: Namely, what do I wear when we're in this crazy bomb cyclone winter storm?
Winter preparedness usually means stocking up on some rock salt if you live in the Northeast — not getting ready for freezing temps in Florida or snow in Georgia. What also makes it tricky is we don't exactly know how winter storm Grayson will track, so better be safe than sorry (and cold).
The silver lining is that this "perfect storm" of a winter bomb cyclone and polar vortex is hitting right when after-Christmas sales are at their peak, so you can score some nice warm gear to help you survive the frigid temps. Here are the best discounts and deals we spotted on the stuff you need to be cold-weather ready.
This cuddly stole in a fun rosy pink shade has is a pull-through style, so you can turn it into a cozy collar. It's also a steal — down from $40 as part of Nordstrom's after-Christmas sale.
This dusty rose-hued sweatshirt is 40% off, and the cute drawstring tie detail at the bottom gives your snow day a bit of stylish flair.
A brim on a beanie? Don't knock it 'til you've tried it. I run in this ultra-warm beanie all winter, and the brim is just enough to keep sun and snow out of my eyes. (I also paid more, so grab this deal while you can!)
This fleece-lined vest is the perfect topper when you need an extra layer without a lot of bulk. It's an awesome bargain, marked down from $90 during Columbia's end-of-season clearance sale. (Women's plus-sized version available here.)
Jump on this now: Nordstrom just knocked 20% off this super-warm, waterproof snow boot.
At nearly 30% off (MSRP: $55), this crew from a serious winter-weather brand is a deal worth snagging. (Oh yeah — free two-day shipping, too!)
Normally $40, this polar expedition-style hat is a steal at under $25, thanks to Macy's end-of-season sale.
Here's a major deal on a top name brand in winter gear, with cheaper prices available in select styles and sizes. Better yet, if you have Amazon Prime, you can order and get these before the cold settles in this weekend.
This high-performance fleece will keep your fingers from freezing, and the elastic band at the wrist will keep out snow and cold wind.
Marked down from $224.99 during Under Armour's semi-annual sale, this coat is a perfect compromise of high-tech materials and a chic, workday-appropriate style.
We've included affiliate links into this article. Click here to learn what those are.