What Jobs Have Popes Held Outside the Church?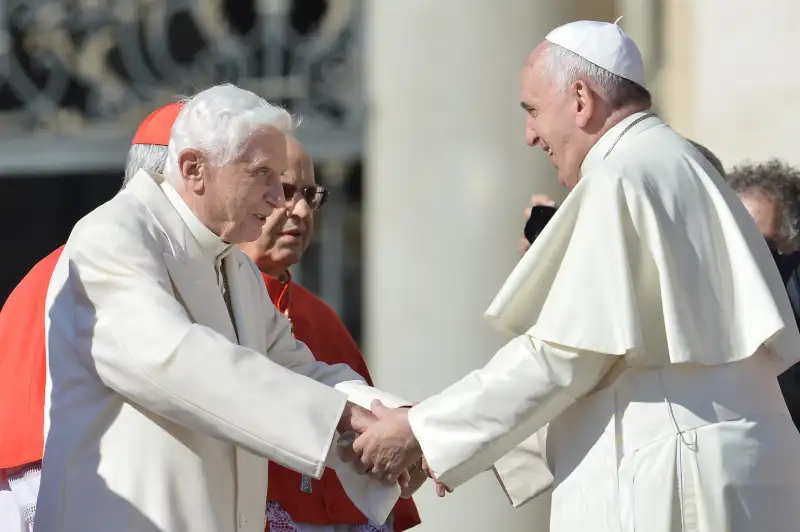 Fabi, Tiziana—AFP/Getty Images
Like many career politicians, plenty of popes have spent their working years completely within the church, beginning at a young age in pre-seminary. But while even pontiffs from the 20th century had careers completely entrenched in religious life, the two most popular popes in recent history have had jobs of the people, so to speak.
Pope Francis
In 2013, the current Pope, born Jorge Mario Bergoglio revealed that he had worked as a bar bouncer in Buenos Aires when he was younger, in addition to sweeping floors as a janitor. He also worked the morning shift as a technician in a chemical lab, controlling the raw substances. He kept in contact with his former co-workers and "celebrated their marriages," a former co-worker said.
Pope Benedict XVI
The pope formerly known as Joseph Alois Ratzinger didn't really have much of a career outside of the clergy, but he was a soldier in Wehrmacht during the World War II. He set anti-tank traps and worked in an antiaircraft unit before he deserted just before the war ended in April 1945. He never saw any action on the front lines.
Read Next: The Pope's Retirement Package Is Better Than Yours
Pope John Paul II
The political unrest in pre-war Poland enabled Karol Józef Wojtyła to be a librarian, playwright, restaurant messenger, quarry laborer and chemical factory worker before he became Pope John Paul II.
If the Vatican continues to choose popes with more diverse backgrounds, we may see leaders with even more interesting resumés sometime soon.
Read Next:
You Can Buy a Bike Just Like the One Pope Francis Is Getting
All Of The Crazy Ways People Are Cashing In On The Pope's Visit To The U.S.