Fraud Protection Will Finally Be Available With Prepaid Cards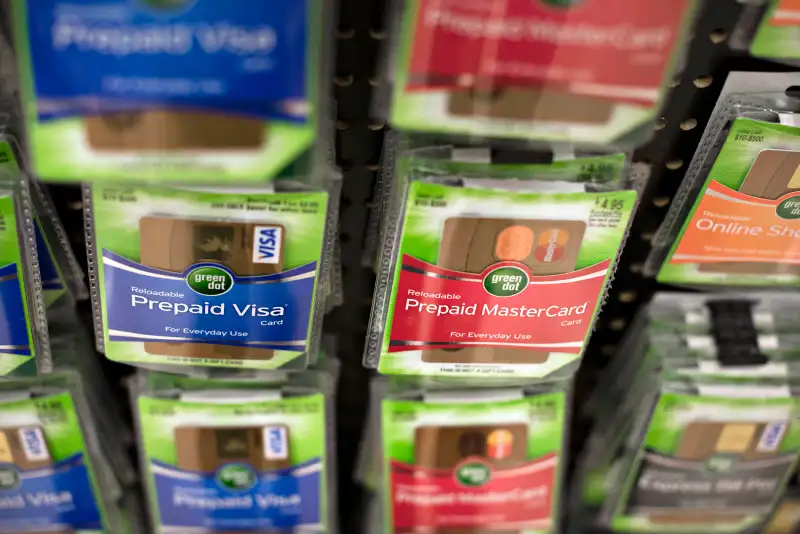 Daniel Acker—Bloomberg via Getty Images
Many of the protections routinely offered for credit-card and checking account customers, such as fraud protection and transparent, easy-to-understand fees, will soon be available for prepaid card users.
The Consumer Financial Protection Bureau on Wednesday issued a finalized rule on prepaid cards, including traditional prepaid cards like Visa's OneVanilla prepaid gift card, mobile wallet products like Starbucks reloadable cards, person-to-person payment products, and other electronic accounts that can store funds.
Today, about 23 million Americans use these cards monthly as cash becomes increasingly less popular, according to research from Pew Charitable Trusts. People generally use reloadable cards to do everything from withdrawing cash at ATMs to making online purchases.
"Many consumers rely on prepaid cards to make purchases and access funds, but until now they were not guaranteed strong consumer protections under federal law," CFPB Director Richard Cordray said in a statement. "This rule closes loopholes and protects prepaid consumers when they swipe their card, shop online, or scan their smartphone."
The final rule—which will go into effect in October 2017—requires card companies to limit consumer liability when prepaid cards are lost or stolen, as well as investigate and resolve any disputed, unauthorized, or fraudulant transactions in a timely fashion. "For consumers relying on these cards exclusively—because they don't have a checking account—these are much needed protections," says Joy Hackenbracht, research officer of the consumer banking project at Pew Charitable Trusts.
Additionally, the rule aims to make account information and disclosures around fees uniform and more transparent for prepaid card users. The CFPB's "Know Before You Owe" provision will standardize prepaid card disclosures to make them easy-to-understand. This will allow people to quickly and accurately compare the terms and benefits of these products, Hackenbracht said.
The finalized rule comes as the number of people using prepaid cards has jumped in recent years. According to the CFPB, consumers loaded about $1 billion on general purpose reloadable cards in 2003. That figure jumped to nearly $65 billion in 2013 and is expected to grow to $112 billion by 2018.
Unlike credit cards, prepaid card owners are not necessarily the people loading funds onto the accounts. In many cases that is an employer, particularly in the case of unbanked or under-banked consumers. Pew estimates about 37 million people, or about 15% of U.S. consumers, do not have a bank account.
But while unbanked Americans make up about a third of people who use prepaid cards, many people with bank accounts use them too, as in the case of parents giving prepaid cards to children in order to teach budgeting habits. Pew found that among Americans with checking accounts, the number of people using prepaid cards jumped from 4% in 2012 to 7% in 2014.
There's also been an increase in the number of people using prepaid cards as supplemental cards or for safety reasons. "Consumers sometimes use these to make online purchases, because if something were to happen, it's not attached to their bank account," Hackenbracht added.
Wednesday's rule also limits the fees and interest rates that companies can charge on prepaid accounts that offer overdraft features. "These protections are for consumers who want the option to access credit in the course of conducting transactions with their prepaid cards so that they can spend more money than they have in the prepaid account," Cordray added.
Although Hackenbracht said most prepaid cards do not currently offer overdraft services, the rule is forward-thinking and aims to provide the same level of protection offered to checking account customers. During the first year, fees for credit features on prepaid accounts cannot be more than 25% of the credit limit, according to the CFPB's rule. And companies are restricted from drastically increasing the interest rate unless the card owner misses back-to-back payments—and even then, they must give 45 days notice before doing so.
Card companies also will be required to send consumers monthly statements, including any applicable fees and the current interest rate. The CFPB will require card companies to give consumers 21 days to repay any overdrafts extended on prepaid accounts before charging late fees—the same amount of time given to credit-card consumers.
To further protect consumers, the CFPB's rule will require card companies to wait at least 30 days after a customer registers a prepaid card before offering any overdraft features. And the companies cannot automatically seize prepaid funds loaded onto the card to pay off an overdraft balance. The rule forces companies to get consumers' consent before doing so.
"This rule is a big win for consumers," Hackenbracht said.