RateGenius Auto Refinance Review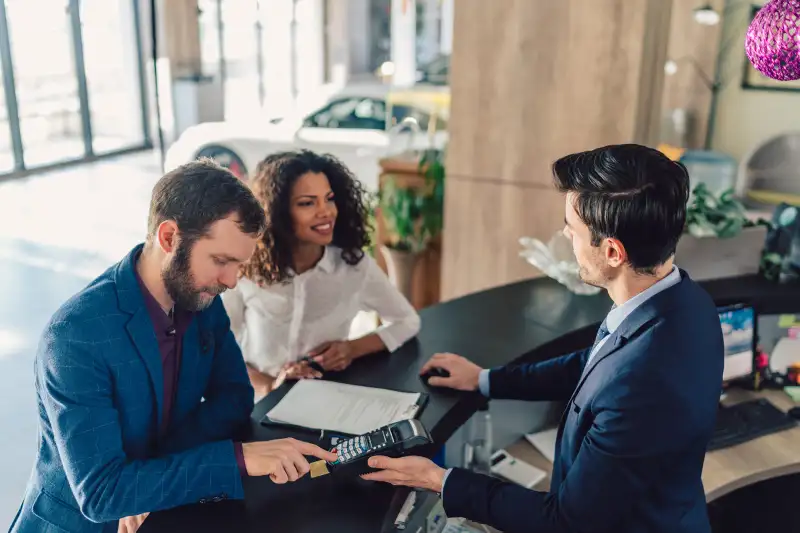 RateGenius is an online auto loan refinance platform that helps customers save money by finding them the best interest rates nationwide. The company provides access to a network of the best auto refinance companies across the country, giving customers multiple options to refinance their cars, trucks and SUVs.
Best for largest lender network
RateGenius stands out from its competitors by offering an expansive network of lenders operating across the country. This wide network allows potential borrowers to compare offers and get the best rates for their auto refinance loans.
RateGenius auto refinance pros and cons
Pros
Soft credit inquiry won't hurt your credit score
Borrowers with low credit scores can apply for a loan
A+ BBB rating
Cons
May charge an origination fee
Requires higher than average minimum loan balance
Pros explained
Soft credit inquiry won't hurt your credit score
When you use the pre-qualification tool on RateGenius' website, you'll be asked to agree to its terms and conditions and provide your personal and vehicle information. In doing so, you authorize RateGenius to conduct a "soft pull" to access information from your credit profile. This soft credit inquiry is only done to obtain information for a credit pre-qualification and does not affect your credit score.
Loan options available for borrowers with low credit scores
RateGenius works with qualified lenders nationwide to provide auto loan solutions for borrowers with low credit scores. With their large network of lenders, loan specialists can negotiate better terms and more competitive rates than you may find elsewhere.
BBB accreditation with A+ rating
RateGenius is accredited by the Better Business Bureau (BBB) and has an A+ rating — the highest possible rating granted by the organization. Achieving an A+ rating from the BBB demonstrates a business's commitment to providing quality service and addressing customer concerns.
Cons explained
May charge an origination fee
Some RateGenius lenders may charge an origination fee of up to $399. This fee can vary greatly depending on which lender you are using and which type of loan you select.
The origination fee covers the administrative costs associated with setting up the loan, such as credit report fees, legal paperwork and processing fees. It is usually a percentage of the total loan amount that is due at closing and cannot be rolled into the loan balance.
Higher than average minimum loan balance amount
RateGenius requires borrowers to have a minimum loan balance of $10,000 on a car, truck or SUV.
RateGenius auto refinance offerings
Auto refinance loans
Refinancing an auto loan can be a great way to save money and reduce monthly payments. Depending on your circumstances, you may see an immediate reduction in interest rate — sometimes by as much as two or three percentage points — which can translate into hundreds of dollars saved over the life of your loan.
With RateGenius auto refinancing, customers can enjoy interest rates as low as 2.99%, resulting in an average savings of $96 per month on car payments — a significant amount for most borrowers.
Lease buyout loans
A vehicle lease buyout involves paying off the remaining balance on a lease, which includes any fees that have accrued during the course of the lease. The amount owed is typically higher than what you would have paid if you had returned the vehicle at the end of the lease agreement.
This type of loan can be a great option if you're looking to keep your leased vehicle without having to pay the residual value, or the estimated value of the vehicle at the end of its lease contract, in one lump sum. Buyouts are an attractive option if you're looking for incentives such as a lower interest rate or a cash rebate.
GAP waivers
Guaranteed asset protection (GAP) waivers alleviate the financial burden when your vehicle is totaled during an accident. Your car insurance company will only reimburse you for the value of your car when it is totaled. This type of policy covers the "gap" when the value of your car is less than the amount owed on the loan, so you don't have to pay the difference out of pocket.
It works like insurance, but it's less expensive, and you must still carry car insurance as required by state law. RateGenius's GAP program offers the following features:
All-risk protection up to $50,000
Coverage for vehicles valued up to $125,000 at the time of purchase
No model or year restrictions
No restriction on the manufacturer's suggested retail price
No restriction on the actual cash value of your vehicle
Paid over the life of your auto refinance loan
RateGenius also offers Protection Plus where borrowers can receive up to $1,000 towards their insurance deductible and get a full refund of their GAP waiver fee. However, this option is not available in all states, so it's important to double-check whether it's available where you live.
RateGenius auto refinance pricing
RateGenius lenders typically offer more competitive rates to borrowers with good or excellent credit (a FICO score of 690 or higher). You can still apply for a loan if you have fair or bad credit; however, you won't be eligible for the lowest interest rates. This could mean paying more in monthly payments as well as total interest paid over the course of the loan term.
The company's website provides auto finance rates based on credit rating and loan term, and the figures on this report are updated daily. It's important to note that these rates are only estimates from its lenders and may vary based on your unique loan scenario.
You can also obtain a personalized quote by using the RateGenius pre-qualification tool. Using this tool, you can see estimated rates that you might qualify for before you start your application with no impact on your credit score. Below are the rates generated by RateGenius for a borrower with the following details:
Age: 33
Location: Houston
Yearly income: $150,000
Monthly Vehicle Payment: $850
Vehicle Year/Make/Model/: 2019 Mazda 6 Sedan 4D Grand Touring
| | | | |
| --- | --- | --- | --- |
| APR | Term | Monthly Payment | Total Loan Amount |
| 13.93% | 72 months | $495.92 | $24,111.00 |
| 14.00% | 66 months | $525.86 | $24,111.00 |
| 14.08% | 60 months | $562.02 | $24,111.00 |
| 14.19% | 54 months | $606.67 | $24,111.00 |
| 14.32% | 48 months | $662.75 | $24,111.00 |
To get more accurate RateGenius loan service rates, you'll need to submit an online or in-person application which will require a hard credit check. This inquiry can cause a drop in your credit score, as well as your ability to access other types of financial services in the future. However, the negative effect of inquiries on your credit score is temporary.
RateGenius auto refinance financial stability
As a loan aggregator, RateGenius doesn't have a financial rating from independent rating agencies such as A.M. Best and Fitch. However, the company boasts that it has funded over 400,000 confirmed auto loans on its website.
RateGenius auto refinance accessibility
Availability
RateGenius works with lenders in all 50 states. It specializes in refinancing and lease buyout loans; however, the company doesn't offer auto purchases or commercial vehicle loans.
Contact information
For questions and inquiries about RateGenius' auto refinance loans, you can contact the company through the RateGenius phone number and email below.
Phone number: 866-728-3436
Email: customer-service@rategenius.com
Address: 9300 United Dr., Suite 180, Austin, TX, 78758
User experience
The RateGenius website provides a hassle-free experience to users with its various tools, resources and articles. In addition to the user-friendly RateGenius dashboard, its Loan Finder tool allows you to easily compare rates by providing basic information. The website also features loan calculators such as the Payment Savings Calculator, Early Payoff Loan Calculator and more.
RateGenius auto refinance customer satisfaction
Overall, RateGenius reviews are generally positive. The company is accredited and has an A+ rating from the BBB, with 4.55 out of a possible 5 rating from 846 customer reviews on the website.
The RateGenius customer service received commendations with reviews highlighting prompt responses from representatives. The company's auto loan specialists have earned a good reputation for performing diligent follow-ups as well as providing information on how auto loans work. Based on multiple RateGenius auto refinance reviews, customers note that they feel comfortable and confident when working with these experienced professionals.
But of course, not all RateGenius car loan reviews are positive. Some customers have had issues with not being informed that a full application process requires a hard credit pull. Others claim that the rates given by RateGenius's specialists at pre-approval did not match the rates they ultimately received from the lender (a common complaint in this industry).
RateGenius auto refinance FAQ
How does RateGenius auto refinance work?
The application process with RateGenius is simple. All you have to do is provide your vehicle identification number, make, model and your basic personal information. After collecting the required information, RateGenius will find you a lender from small credit unions to banks.
Loan specialists are available to assist in the application process and help you compare various offers to get the best car loan rates. The specialist will provide assistance so you can get pre-approved for a car loan as well as tips on how to reduce monthly payments. If you're approved for a loan, the lender will contact you right away.
To qualify for a RateGenius auto refinance loan, you must meet the following requirements:
Be at least 18 years old
Earn an income of at least $2,000 a month
Live in the U.S.
Have a source of income that's deemed satisfactory by the lender
Own a vehicle not older than 12 years
Have a vehicle with mileage less than 120,000 miles
Which factors affect RateGenius auto refinance rates?
Your credit score is an important factor when lenders review your auto refinance application. Borrowers with good or excellent credit scores of 690 and above have the best chance of securing lower interest rates on a loan. Those with fair or bad credit may find higher interest rates that, in turn, increase the monthly payment amount.
Apart from your credit score, lenders will also review other factors surrounding your finances, including:
Income
Debt-to-income ratio
Loan-to-value ratio
Auto loan balance
Is RateGenius legitimate?
Yes, RateGenius is a trusted auto refinance company that specializes in loan aggregation. All lending companies in the RateGenius network are licensed and insured by the Federal Deposit Insurance Corporation. The company advertises that it provides customers with reliable assistance and a stress-free experience when refinancing their auto loan.
How will RateGenius use my information?
RateGenius will only distribute customer information to authorized agents or lenders within their network. The company will never sell or disclose personal information about its customers to any third party without explicit permission from the customer, except in cases when compelled by a court order or in compliance with federal or state law. Authorized agents and lenders are only given limited access to the collected data for legitimate business purposes.
How we evaluated RateGenius auto refinance
We evaluated RateGenius by comparing it to some of the best car insurance companies in a similar price range using the following factors:
State eligibility
Term lengths
Borrowing limits
APRs
Maximum car age
Maximum miles allowed on the vehicle
Third-party rating
Summary of Money's RateGenius Auto Refinance Review
RateGenius is an online auto loan refinancing lender that connects borrowers with its network of banks and credit unions. If, after buying a car, you're unhappy with your original auto loan, RateGenius can help you save money by lowering your monthly payments and interest rate. It is designed for those who own cars, trucks and SUVs that are no more than 12 years old and have less than 120,000 miles on them.
The company's pre-qualification process utilizes a soft credit check that won't impact your credit score, making it easier and more secure than ever to compare rates with multiple lenders. If you qualify, you'll be matched with a loan specialist to guide you through the loan process from start to finish, even handling title transfers.
RateGenius lenders will have minimum qualifications for auto loan applicants, and borrowers with good credit are likely to get the most competitive rates. Those with bad credit can still be matched to lenders who offer refinancing options, though not all applicants may qualify. RateGenius also offers comprehensive online tools and resources to help you understand your auto loan options and compare rates from different lenders before you make a decision.