This Woman Turned Her Obsession with Cheap Old Houses into Instagram Stardom and a Full-Time Career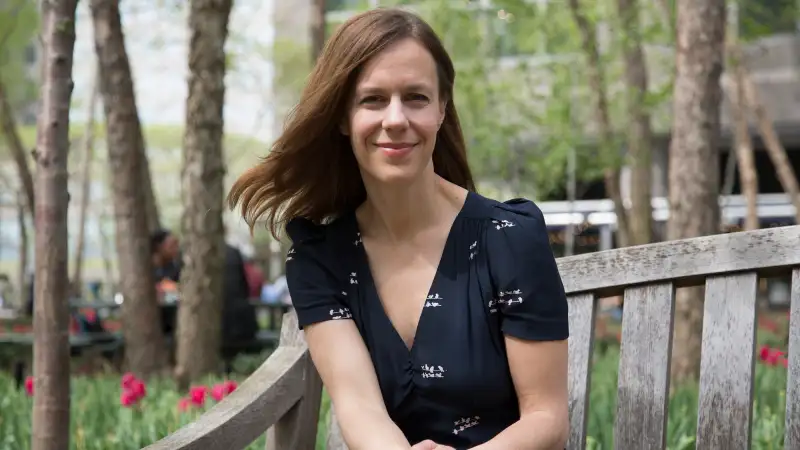 Photograph by Sarina Finkelstein for Money
For most aspiring social media stars, Instagram is a color coordinated highlight reel of workouts, craft cocktails and brunch. Elizabeth Finkelstein went a different route. Her clickbait: wainscoting and leaded glass.
Finkelstein, a 38-year-old mom, runs Cheap Old Houses, an Instagram account centered around, well, exactly that. The site's followers -- more than 141,000 -- have turned the former historic preservationist into an unorthodox social medial influencer.
In era defined by celebrities and the gig economy, more and more Americans are looking for ways to make a living online -- preferably by doing something they love. It's an ecosystem that tends to favor novelty, glitz and sex. But, according to Finkelstein, the key to running an online media business -- she also oversees a listing site and two part-time employees -- is sticking with your passion long enough to attract like-minded fans.
"If you love something, there are definitely going to be other people out there who love it," Finkelstein says. "If you believe in something and continue to plug at it, you'll gather people around you and form a community."
A Niche For Old Houses
Elizabeth Finkelstein's childhood home, a 1850s Greek Revival in Queensbury, N.Y. Courtesy of Elizabeth Finkelstein
Far from glittering Hamptons or Hollywood Hills mansions, Finkelstein specializes in diamonds in the rough. Her finds, like a $9,900 colonial that recently went up for sale in Virginia and a Gothic Revival asking $15,000 in Georgia, garner thousands of likes and hundreds of comments from Instagram's community of old house hunters.
Her interest in historical houses -- and her knack for marketing them -- began with her childhood home, an 1850s Greek revival her parents painstakingly restored, a project she says filled the weekends of the first 10 years of her life.
Having grown up and even gotten married in the house, Finkelstein knew the brick home in Queensbury, N.Y., a town an hour north of Albany, was special. That's why it frustrated her when, in her 30s, her parents struggled to sell it.
"They had a really hard time finding a realtor who knew how to sell it," Finkelstein says. Real estate agents, she says, weren't marketing the home to the niche group of people shopping for historical houses.
Finkelstein thought she could do better.
As it happened, she had just left her job as a preservationist at non-profit researcher in New York City's Greenwich Village. House hunting in the New York suburbs, she was hoping to start a family -- and find a way to make a living from home. "I wanted something that would allow me to spend time with my child," she says. "I didn't want a five year gap on my resume."
With technical assistance from her husband, Ethan, 34, the founder of a digital marketing agency, Finkelstein created CIRCA Old Houses, a property listings website centered on the mystique of vintage homes, in 2013. Typical real estate ads tend to emphasize generous square-footage and deluxe appliances -- features that old homes don't necessarily posses. Finkelstein goes a different route, focusing on historic details, woodwork and, of course, charm. Once the website was up and running, Circa's Instagram namesake account -- with 50,000 followers -- and Cheap Old Houses quickly followed.
It took Finkelstein several years to turn the network of sites into a profitable business. Her main source of income remains home listings on the CIRCA site, which she uses Cheap Old Houses to promote. She charges $45 for a 90-day ad, and $50 and $150 more to have a property featured as an "editor's pick" or in the site's homepage banner. Finkelstein says she receives several new listings a day on average. Her income has recently become large enough to allow her to hire two-part time employees, and she recently struck the website's first sponsorship deal with a Connecticut realtor.
"I knew that if I loved looking at inexpensive fixer-uppers as much as I do, then lot of other people would, too," she says. "There's something to the idea of looking at a big, old house somewhere - something crying out to for help, something you might actually be able to afford, and imagining, 'what if?'"
Love What You Do
Elizabeth Finkelstein poses outside of a house in Nyack, N.Y. Courtesy of Elizabeth Finkelstein
Becoming Instagram's old homes maven hasn't necessarily made Finkelstein rich. While Finkelstein declined to say exactly how much she makes, she says it is enough to cover the mortgage on her and her husband's own old house -- 1940s Cape revival -- in Nyack, a New York City suburb.
"People always say, 'find your true voice and do something true to yourself,'" Finkelstein says. "It's always been my authentic voice and has always been what I love to do."
Finkelstein, who says she spends about 30 hours a week on her sites, would like to expand her business further -- producing videos to accompany the listings. But, with a three-year-old in the house and her husband's production team in Brooklyn, she would need to find child care and travel into the city to accomplish that. As it is, she can do the majority of her work while her son is in school or after he goes to bed at night.
"In a way, you do need to shape your life around your business, but do it in a way that allows you to do what you love," Finkelstein says.