What Americans Are Ordering Even More of at Lunchtime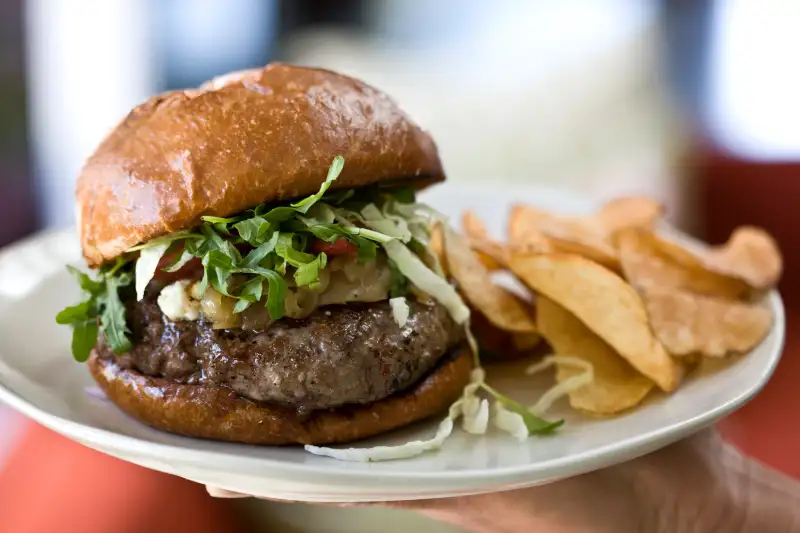 Generally speaking, Americans say they want healthier diets—more organic foods, more vegetables, less sugar, salt, and fat, and so on. But trends like the rising popularity of grab-and-go food at convenience stores, as well as the long list of "healthy" fast foods that failed to catch on with consumers indicates that often, we don't put our money where our mouths are.
So it shouldn't come as a total surprise that lunchtime consumption of the all-American burger is on the rise. A new study from the NPD Group refers to burgers as the "Heavy Artillery in Restaurant Lunch Wars," providing 8.9 billion servings for the year ending in June 2015. (This is strictly an estimate for restaurant servings, not backyard barbecues and such; the total burger tally for the entire country is roughly 50 billion burgers per year.)
It bodes well for the economy that lunchtime restaurant visits in general are up, increasing 2% at casual-dining (sit-down) chains—the first time in five years midday traffic has risen for this struggling category—and increasing 1% at quick-serve (fast food) establishments as well. And it's the humble burger that's having an outsize influence in driving sales higher. Burger orders at casual-dining restaurants are up 3% year over year, the only part of the menu to record an increase.
Even if they're not the healthiest options out there, the fact that burgers are tasty and ubiquitous and tend to be on the less-expensive end of the menu has certainly boosted sales. "Successful casual dining operators offer burgers that meet the tastes of their customers and are priced competitively," NPD restaurant analyst Bonnie Riggs said. "As a result, they gain lunch visitors."
Read next: Best Places in the U.S. for Foodies