21 Trendy Restaurants That Happily Got Rid of Tipping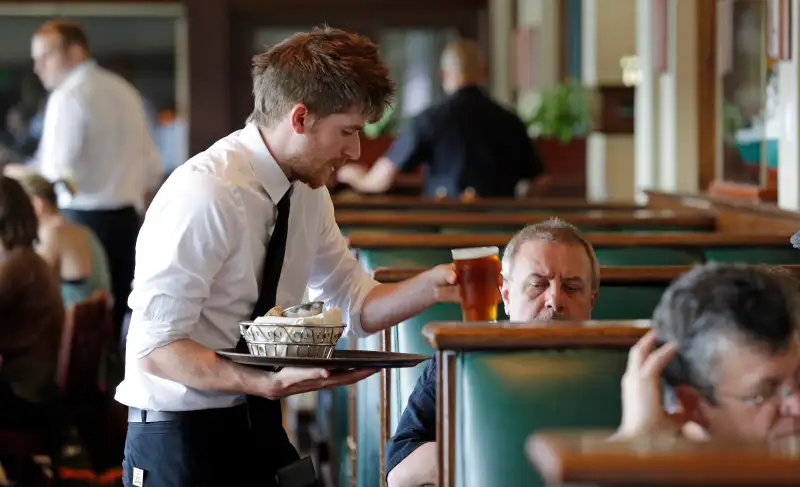 When it comes to tipping, we may be nearing a tipping point. From the consumer's perspective, tipping at restaurants is a confusing annoyance in which varying rules and circumstances are supposed to dictate the correct gratuity—and yet there will always be arguments and disagreements about how much that amount should be. Tipping is "an obligation masquerading as an option," as one Guardian writer put it succinctly. Beyond that, it's often unfair to all parties involved, most notably the restaurant workers who are the beneficiaries of tips themselves.
"I wanted a happy staff, a staff that can feel good about the job they're doing, that feels validated and is paid a fair wage — as opposed to working for a nightly gratuity or knowing that my dishwasher is having to work two full time jobs because they can't live off minimum wage." This is how Michael Mauschbaugh, the chef-owner of San Francisco's Sous Berre Kitchen, explained his decision to include all service in the listed menu prices, meaning there is no need to tip extra. "It was the ethical and responsible thing to do."
More and more American restaurants are following the no-tip model, and while diners can feel good about giving their business to establishments that pay their workers a living wage, they also get to skip out on one of the frustrations of dining out. "It feels good to know the price on the menu is actually the price I'm paying, no calculating necessary," Michael Bauer, restaurant critic for the San Francisco Chronicle, wrote of restaurants that have banned tipping. "It's civilized—and the wave of the future."
Here's a list of restaurants around the country that have gotten rid of tipping:
Austin
Black Star Co-op, a cooperatively owned and self-managed pub and brewery, pays workers a living wage and does not allow tipping.
Chicago
Alinea and Next, which both have the same owners and sell tickets for their special dinners, add a 20% service charge and don't expect customers to tip extra.
Denver
Abrusci's, an Italian restaurant in Wheat Ridge just outside of Denver, banned tipping over the summer and instead automatically adds a 20% service charge to bills. After the change, most servers were bumped up to receive at least $20 per hour, while kitchen staffers are guaranteed a minimum hourly wage of $14.50.
MORE: 15 Things You Didn't Know About Tipping
Newport, Kentucky
Packhouse, just across the river from Cincinnati, established a no-tipping policy to "provide income security for our servers," who receive either $10 an hour or 20% of their individual sales, whichever is greater.
New York City
Atera, the upscale "immersive sensory dining experience" in which dinner consists of 18 courses and costs $235 (beverages not included), includes the service charge in all prices.
Chef's Table at Brooklyn Fare proudly calls attention to its status as Brooklyn's only three-star Michelin restaurant, as well as its policy of including service fees in the lofty per-person dining price ($306).
Craft, founded by chef (and "Top Chef" judge) Tom Colicchio, recently switched to "service-included" pricing for lunch by simultaneously boosting menu prices and instituting a no-tipping policy.
Dirt Candy, the inventive vegetarian restaurant run by chef and owner Amanda Cohen, reopened in early 2015 in a new space, with a new pricing policy—subbing in a 20% administrative fee on each customer check and doing away with tipping.
Per Se's prix fixe dinner starts at a lofty $310, but at least a service charge is included so there's no need to tip.
Riki, a Japanese restaurant in Midtown, adopted a no-tipping policy in 2014 to be more in line with Japanese customs.
Philadelphia
Girard explains simply that its business model is "similar to many European restaurants. All of our staff is paid a fair wage plus paid time off. Menu prices therefore include a 15% service charge." The removal of gratuities from the equation "eliminates the pressure on the guest to worry about paying our staff," Girard chef Brian Oliveira said to NPR.
Pittsburgh
Bar Marco switched to a no-tipping structure earlier this year with the idea that it would "bring consistency to everyone's lives," co-owner Bobby Fry said to the Pittsburgh Post-Gazette. "So people aren't making $200 one week and $1,000 the next." As of April, all employees get a base $35,000 salary, plus health benefits and shares in the business.
San Francisco & Northern California
At Bar Agricole, in San Francisco, prices on food and beverages are all listed with "service included," making it easier to stomach the cost of $15 cocktails.
Comal, in Berkeley, says that it automatically tacks on a 20% service charge to all bills "to move to a new model of compensation that will be sustainable and fair in the long run for our entire staff."
Ippuku, serving Japanese cuisine also in Berkeley, adds a $6 service charge per person instead of expecting diners to tip.
The French Laundry, Thomas Keller's celebrated dining experience, includes service in all prices.
Manos Nouveau, an acclaimed Latin-fusion restaurant in the Castro, instituted a 30% surcharge on all bills as of May 1. The fee covers gratuity, taxes, and a "Healthy San Francisco Surcharge."
Sous Berre Kitchen opened earlier this year with a French bistro menu and French bistro pricing—meaning tax and tip are included.
Seattle
Ivar's Salmon House increased menu prices roughly 20% across the board in April, while simultaneously getting rid of tipping and boosting all worker wages to at least $15 per hour.
Washington, D.C.
The Public Option brewpub, which has been in the works for months, is expected to have a policy in which workers are not allowed to accept tips and are paid a living wage of at least $15 per hour.