These Are the Cheapest and Most Costly States for Retiree Health Care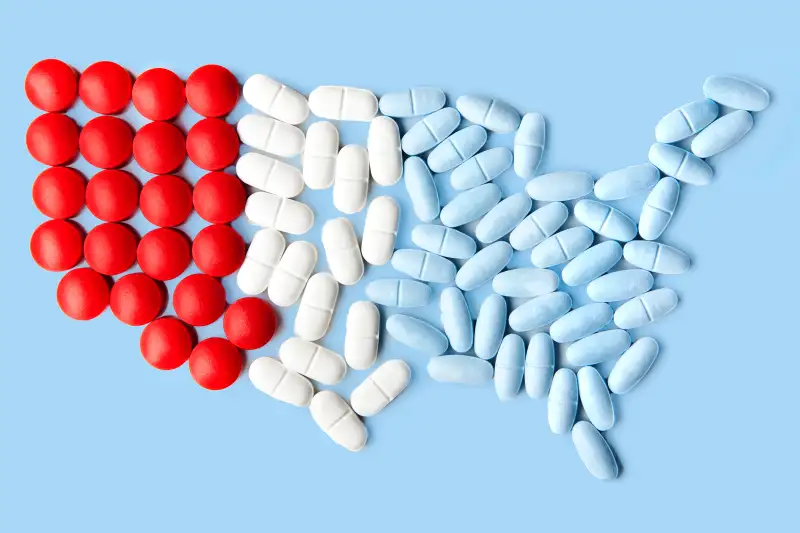 Planning for health care costs in retirement is famously difficult. You cannot predict your health, the pace of rising prices, or changes to the national health care system. Yet these costs, which vary state by state, can be so big that you must take them into account—especially if your dreams call for relocating.
Most states fall within a reasonably narrow band for total out-of-pocket health care costs in retirement. But the cheapest and the most expensive states may surprise you, and in certain areas of coverage the differences can be large, according to a recent analysis by HealthView Services, which designs health care cost projection software. For example, Medicare supplemental insurance (covering co-pays and deductibles) in Maryland is 57% higher than in Vermont. Premiums for Medicare Part D (prescription drugs) in Wisconsin are 51% higher than in New York.
Hawaii is the cheapest state for retirees in terms of health care costs, based on an analysis of Medicare Part B (doctor visits and procedures), Part D, and supplemental premiums. For all three coverages, a 65-year-old in Hawaii can expect to pay $2,818 their first year in retirement and $112,528 over 20 years.
But Hawaii is something of an outlier—and note that it is otherwise the most expensive state in the nation. The second cheapest state for retiree health care is Vermont, where first-year expenses total $3,074 and 20-year costs run $124,073. Maine is only slightly more expensive.
Compare those figures to the most expensive states for retirement health care: Michigan, Florida, Nevada, and Maryland. In Michigan, a 65-year-old can expect to pay $3,707 in year one of retirement and $152,175 over 20 years. That's more than $28,000 above the 20-year costs in Vermont. Michigan's costs also exceed those in coastal states generally associated with a high cost of living, including New York and California.
The good news for retirees may be that, other than Florida, states favored by snowbirds like New Mexico, Georgia and South Carolina have some of the lowest expected retiree health care costs. In Georgia, for example, first-year costs would be $3,359 and 20-year costs would be $136,663, according to the app.
Three in four pre-retirees express high levels of concern over future health care costs, according to a Bank of America Merrill Lynch report. This is partly because the headline numbers are so daunting. The Employee Benefits Research Institute estimates that a 65-year-old couple with median drug expenses needs $271,000 in savings to have a 90% chance of being able to cover health care expenses in retirement, not counting the costs of long-term care.
The HealthView analysis does little to dispel those fears. In general, the 20-year cost in most states is between $135,000 and $145,000 per person—and these calculations do not include surcharges for retirees who have more than $85,000 (for singles) or $170,000 (for couples) in retirement income. Such surcharges can triple the cost of Medicare parts B and D premiums. The calculations also do not include certain other out-of-pocket costs like vision, dental, and hearing.
On average, a healthy 65-year-old couple will have $266,589 in lifetime costs for Medicare parts B and D and supplemental coverage, HealthView finds in a separate report. When other typical out-of-pocket costs are included that figure rises to $394,954. No matter where you live, that's a significant chunk of money and must be taken into account in your retirement plan.
To make an informed estimate of those expenses, run the numbers on a retirement health care cost calculator, like this tool offered by Health View, or sit down with a financial adviser. And consider making moves now to control your expenses and stay healthy and active throughout retirement. There's reason to be optimistic: recent research shows that the act of retiring itself can do a lot to immediately improve your health as well as your happiness.
Read next: How to Tame the Unexpected Costs of Medicare