Watch This Voter Challenge Her Congressman Over the New GOP Health Care Plan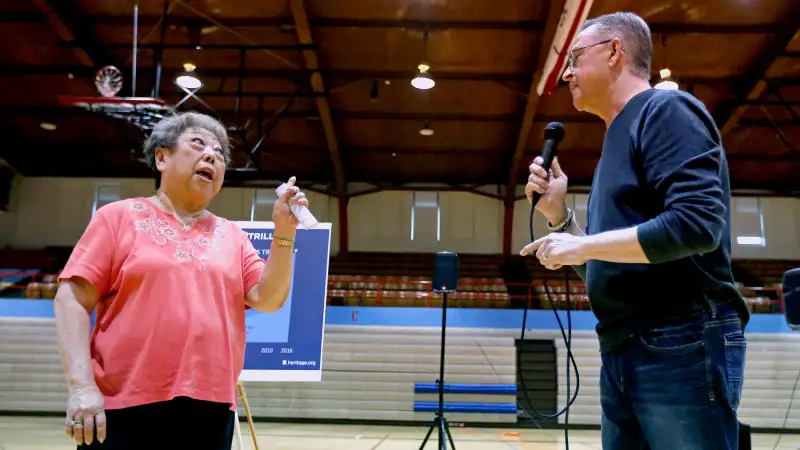 Eileen Meslar—Telegraph Herald/AP
Iowa Representative Rod Blum was met with boos and jeers last night at a town hall as constituents voiced their displeasure over the House Republican plan to repeal and replace the Affordable Care Act.
The Republican representative faced a series of questions about rolling back protections for pre-existing conditions and cuts to the Medicaid program, both of which are components of the House GOP's health care bill, also known as the American Health Care Act. The bill passed the lower chamber last week and is currently being rewritten in the Senate.
In the video above, one constituent questions Blum on what happens to people, like herself, who have conditions like high blood pressure and diabetes.
"You seem like a responsible person, you'll keep your coverage current," Blum said, referencing the law's continuous coverage provision, which is the GOP's replacement for the ACA's individual mandate. If a person has maintained insurance, insurers cannot charge them more for coverage, even with a pre-existing condition. But if they let their coverage lapse, insurers will be allowed to raise prices.
Blum's explanation was met with jeers from the crowd.
"What about all these other people who have pre-existing conditions, and maybe they can't afford a good healthcare plan besides Medicare?" she asked.
Blum said the bill earmarks $130 billion for states to use to help bring premiums down for people with pre-existing conditions who would be separated into high-risk insurance pools. Experts say that amount isn't nearly enough to adequately fund the pools for 10 years, and Blum admitted he can't guarantee Congress will replenish the funds.
Blum doubled down on high-risk pools later in the event. In his ideal bill, states wouldn't need to receive a waiver to establish them, as they do in the AHCA.