How Much It Costs to Take an Epic 2,400 Mile Road Trip on Route 66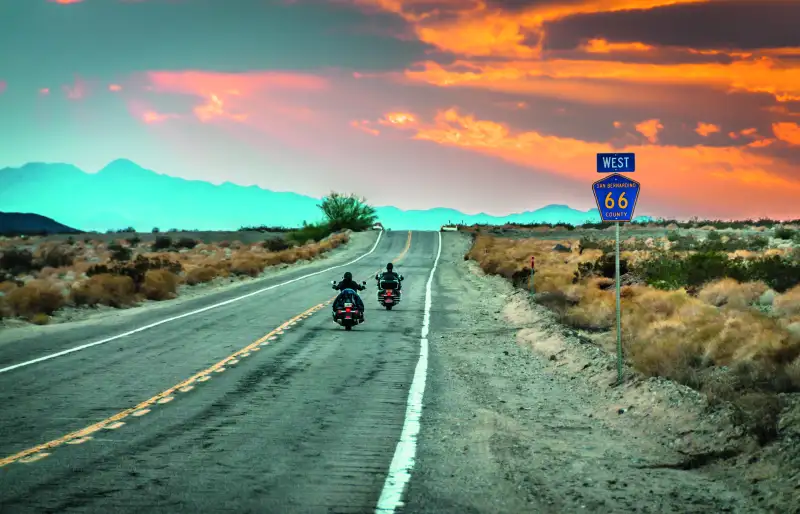 Lonely Planet—Bill Dickinson/Getty Images
Back in the 1940s, Nat King Cole was already singing about Route 66's open-road appeal. Today, Route 66 has been decommissioned as a federal highway, but many parts of the 2,400-mile historic roadway still exist—and hold a particular appeal to road-trippers.
"People want to experience the nostalgia, that quintessential Route 66 experience—the iconic neon lights, the kitschy gift shops and the campy stopovers," says Evan Godt, Lonely Planet's managing destination editor.
Lonely Planet's 'Epic Drives of the World' guidebook
Money set out to determine how much it costs to "get your kicks on Route 66," as the famous song goes, using roughly the same Chicago-to-Los Angeles outline featured in Lonely Planet's new book, Epic Drives of the World. To give yourself time to take in the major attractions along the way, plan to spend two weeks traversing this legendary American roadway. Lonely Planet also recommends traveling in either late spring, early summer, or autumn to avoid the extreme summer temperatures.
We pulled cost information from Money's Best in Travel database, which includes hotel prices from Hotels.com, car rental costs from CheapCarRental.net, plane tickets from airfare prediction app Hopper and vacation spending from ValuePenguin. Here's how the total costs shook out:
$225: Gas from Chicago to Los Angeles
$1,678: Lodging
$543: Food
$182: Entertainment
$267: Average one-way airfares to Chicago and from L.A.
$731: Average economy rental car for two weeks for point to point trip
_______________________________
Total: $3,626
Read on for a day-by-day itinerary.