Here's How Ryan Lochte Can Get His Career Back on Track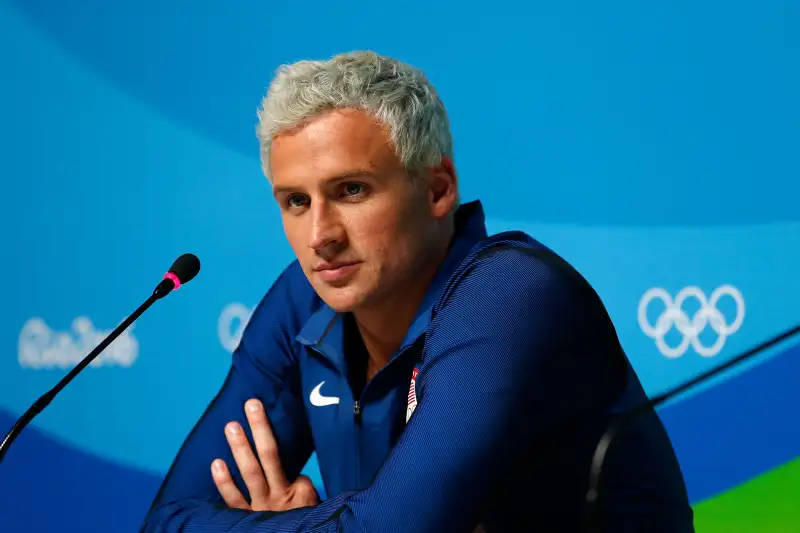 Matt Hazlett—Getty Images
As millions of dollars bleed from Ryan Lochte's endorsement deals, the beleaguered Olympian faces another challenge: rehabilitating his image.
Four sponsors have already severed ties with the swimmer, following news he trashed a Rio gas station bathroom and embellished claims about being robbed at gunpoint. And while Adweek reports the Pine Bros. throat lozenge company has made Lochte the face of its "Forgiving On Your Throat" campaign, the ads will no doubt lack the sultry style—or big bucks—of his nixed Speedo campaign.
Lochte isn't the first American athlete to suffer a PR nightmare — professional sports are riddled with career-derailing controversies (we're looking at you, Lance Armstrong). Just yesterday, Olympic goalie Hope Solo was handed a six-month suspension by the U.S. Soccer Federation for calling the Swedish national team "a bunch of cowards" after they ousted the Americans from the competition.
A handful of high-profile bad actors, though, have managed to escape scandal relatively unscathed. If Lochte stands any chance of redeeming his professional legacy, he'd be wise to take a page from their playbook.
Here are some lessons to heed.
Admit you've made a mistake
Michael Phelps may be the most decorated Olympic athlete of all time, but his off-seasons have been marred by a catalog of bad behavior.
In 2009, a photo of the swimmer smoking a bong went viral, resulting in a three-month ban from U.S. competition and the loss of a rumored $250,000 Kellogg endorsement. In 2014, Phelps was arrested on a drunk-driving charge (his second), and was suspended for another six months.
After a 45-day stint in rehab in late 2014, Phelps made a number of press appearances, acknowledging that he'd had a lapse in judgment. Phelps's adoring fans took him at his word, and he went on to be the most-mentioned athlete on Twitter during the 2016 summer Olympics. His six new medals and $12 million in endorsements are another sign of a solid comeback.
"When you make a mistake, own up to it," says Matt Crevin, a Seattle-based career coach for athletes. "Everyone likes a bounce-back story, especially if your personal brand is one of accountability."
Apologize for your actions
In 2007, Andy Pettitte admitted to using performance-enhancing drugs to recover from an injury. The Yankees' starting pitcher immediately apologized to his team, and was quickly forgiven by fans. In 2015, Pettitte's number was retired — a high honor for any player, and particularly noteworthy for one who'd been involved in a doping scandal.
"After you've admitted you've messed up, recognize who you've affected," says Mary Beth Sales, a PR expert for Wilshire Austin, a strategic communications agency that specializes in sports and entertainment. "Make amends with everyone standing behind you, and let them know that the bad behavior isn't going to continue."
Be true to yourself
The public is quick to chastise athletes for reckless behavior, but relatable challenges can sometimes help forge a deeper connection with fans.
After testing positive for marijuana in 2006, Miami Dolphins rusher Ricky Williams was forced to sit out an entire season. Williams knocked the habit and came back to the NFL for five more seasons. Today, he's an advocate for medical marijuana, and speaks regularly about using it for stress and anxiety management. Williams may be retired, but he's found a new group of supporters off the field.
Going forward, aim to do the best job possible
Often, the best damage control comes from the quality of your work. If you're an indispensable team player—whether athlete, employee, or manager—your reputation will precede you. In a good way.
Josh Gordon of the Cleveland Browns is a shining example, Sales says. Last year, the star receiver was handed a long suspension for failing a series of drug tests, but is set to return to the NFL in October. Rather than issuing a slew of public mea culpas (see: every celebrity on Twitter), Gordon stepped out of the spotlight and onto the training field.
"[Gordon] hasn't gone out of his way to create a flowing stream of persuasion; he's proving he's back on track by going out there and fighting," Sales says. "He's not spinning a story, he's executing."
Update: This story has been updated with information about Lochte's new endorsement deal.