Ryan Seacrest Just Got Another Job. Here Are All the Ways He Gets Paid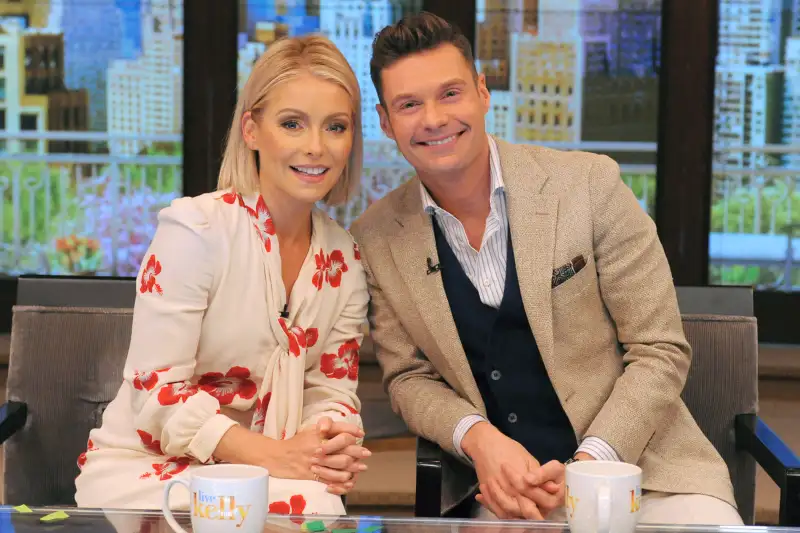 Pawel Kaminski—Disney-ABC Home Entertainment an
Ryan Seacrest is joining Kelly Ripa as the permanent co-host of ABC's Live With Kelly morning show, finally replacing Michael Strahan, who left the show under dramatic circumstances last year.
According to the Hollywood Reporter, Seacrest has been negotiating for the job for months, and will also be an executive producer on the long-running morning show. While the details of his new contract were not released, the New York Times notes "it is easily worth millions of dollars annually." The TV personality reportedly pulled in over $15 million per year by the time American Idol ended in 2016, and made a total $55 million last year, per Forbes' calculations.
This latest gig is just another impressive notch on his ever-expanding resumé. Below, a look at what else this professional multitasker has on his plate.
The Radio Personality and Top 40 Expert
Dimitrios Kambouris—Getty Images
Seacrest hosts the nationally-syndicated radio shows On Air with Ryan Seacrest and American Top 40. According to the Hollywood Reporter, his contract with radio conglomerate iHeartMedia is worth at least $25 million, and he will continue his broadcast duties in New York.
The TV Host and New Year's Maestro
Kevork Djansezian—Getty Images
Seacrest rose to prominence as the host of American Idol, which ended last year. But he was able to add several other hosting gigs to his resumé during the show's 15 seasons, including E! Entertainment's Live from the Red Carpet, which broadcasts from the Oscars, Grammys, and Golden Globes, and Dick Clark's New Year's Rockin' Eve with Ryan Seacrest. He's also executive producer of both programs.
The Producer
Via Ryan Seacrest Productions, Seacrest produces unscripted series on E!, including Keeping Up with the Kardashians and its various spin-offs, Bravo's Shah's of Sunset, and the scripted NBC series Shades of Blue, which stars Jennifer Lopez. RSP's new Ludacris-hosted Youtube competition show, called Best.Cover.Ever, will launch later this year.
The Fashion Mogul
Rob Kim—Getty Images for Macy's
Seacrest launched a clothing line, Ryan Seacrest Distinction, in 2014, which is currently sold at Macy's, and has a forth-coming skincare line, according to the Times. The clothing line, which originally included suits, ties, and some home furnishings, is expanding to sportswear in September. The L.A. Times reports that Seacrest's line has been "the strongest men's dress clothing brand launch for the store in more than a decade."
The Brand Ambassador
Seacrest has worked with Ford for over 15 years, according to Variety, stemming from Ford's partnership with American Idol. Seacrest reportedly helps the brand reach a younger audience and works on strategic initiatives. In the past he's also had endorsement deals with Coca-Cola.
The Non-profit Chairman
Andrew H. Walker—Getty Images for Levine Children
He is also the founder and chairman of the Ryan Seacrest Foundation, a non-profit which builds media centers in pediatric hospitals.
The Tech Investor
Seacrest isn't just focused on traditional media like radio and TV. He has investments in Civic Entertainment Group, Pinterest, FlightCar, and DigiTour Media, according to THR. Crunchbase lists Seacrest with investments in Headspace, a meditation app, ATTN:, an "issue-driven" media company, and Stamped, an app that was later acquired by Yahoo.
This post has been updated to clarify Seacrest's investments.