Sanders, Cruz and Rubio All Agree With Trump on This Troubling Financial Policy
Money is not a client of any investment adviser featured on this page. The information provided on this page is for educational purposes only and is not intended as investment advice. Money does not offer advisory services.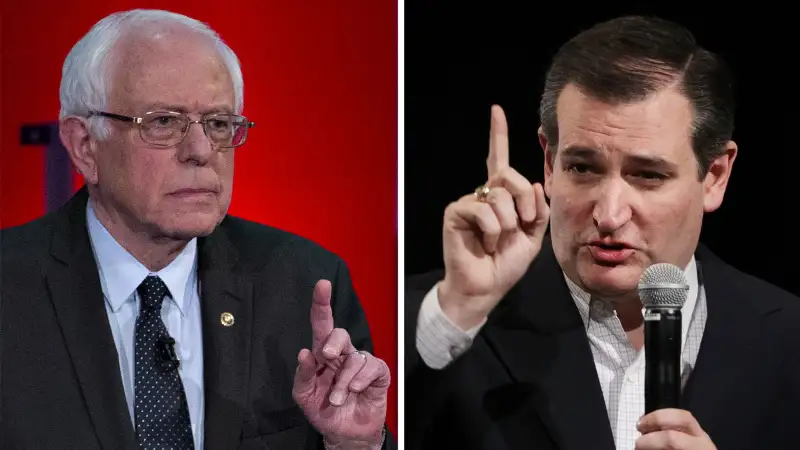 Self-described socialist Bernie Sanders, Tea Party darlings Ted Cruz and Marco Rubio and now Donald Trump don't usually agree on, well, anything. Yet all four presidential aspirants support a policy that could be detrimental to your financial health.
The senators recently supported a bill that would have politicized the Federal Reserve Board by allowing Congress to evaluate central bankers as they set short-term interest rates, thereby undermining the Fed's autonomy. The Donald voiced his support for the legislation in a recent tweet.
Bestowed with an Orwellian title, "The Federal Reserve Transparency Act of 2015" — also known as "Audit the Fed" — would have given the politically charged and divided Congress a much greater role in setting the nation's monetary policy.
"You don't need a Ph.D. in economic history to understand the importance of central bank independence," says investment adviser William Bernstein, author of The Investor's Manifesto.
Despite votes from Rubio and Sanders (Cruz was absent, though he supports the legislation), the bill ultimately could not escape a Democratic blockage.
Nevertheless, investors should understand the risk that such legislation poses to their portfolios, especially now that all three of these candidates are gaining traction in the presidential race.
The Current State of Oversight
An audit is basically a detailed look at a company's books to ensure that the numbers are saying what they should be saying. In this way, the Fed is already audited.
"The Fed is already thoroughly audited in the usual sense, by an independent inspector general and by an outside accounting firm (currently, Deloitte and Touche), and the resulting financial reports are made public online," noted former Fed chairman Ben Bernanke. You can also track every security the Fed owns online.
Thanks to The Dodd-Frank Wall Street Reform and Consumer Protection Act, the Government Accountability Office (GAO) can also peer under the Federal Reserve's hood, as it did when it reviewed the Fed's lending program during the financial crisis.
Moreover, Fed chair Janet Yellen testifies in front of Congress twice a year about the state of the economy.
Greater Proposed Oversight
The Federal Open Markets Committee — comprised of 12 Fed officials — meets eight times a year to discuss and set short-term borrowing rates for the nation's banks. Which is a big deal.
The presidential contenders want the GAO to be able to go further by being able to audit the goings-on of these meetings, which have been exempt since the late 1970s.
"Requiring the Government Accountability Office to conduct a full and independent audit of the Fed each and every year, would be an important step towards making the Federal Reserve a more democratic institution that is responsive to the needs of ordinary Americans rather than the billionaires on Wall Street," Sanders said in a statement.
What the Senators Really Want
Conservatives like Cruz are tired of low interest rates.
"Americans are seeing near-zero interest rates on their savings accounts while median incomes are falling, and millions of people are facing higher gas prices, food prices, electricity prices, health insurance prices, wrote Cruz in a USA Today op-ed in October 2014. "Enough is enough, the Federal Reserve needs to open its books — Americans deserve a sound and stable dollar."
(Of course the dollar has strengthened against every major currency except the Japanese Yen over the past 12 months.)
"Cruz and Sanders, one suspects, favor the audit for opposing reasons — the former because he wants essentially to abolish it, and to remove the possibility of an expansive monetary policy," says Bernstein, "whereas Sanders would want to use the audit to enforce the opposite."
"But, of course, the audit serves your political purpose only as long as you're in office; when you leave, it's likely to be self-defeating," he adds.
Why This is Bad for You
There's a reason Congress enjoys a 13% approval rating — politics is an unseemly business finely tuned toward maximizing short-term gains. The Fed, on the other hand, cares about long-term objectives, like keeping prices growing at a stable 2% and maximizing employment.
If outside pressure is brought to bear on each and every Fed policy meeting by non-economists with narrow interests, the important work done by Fed officials will be undermined. Conservatives might want to raise borrowing costs even as the economy sputters along, while Democrats might want to push the Fed to push inflation above its preferred 2% target. (Inflation today is stubbornly low.)
These wild swings in policy will likely cause havoc in the markets as investors panic over volatile monetary policy. Stocks have rocketed or plummeted in the past based on a few select words in the Fed's prepared statement.
Trump just won the South Carolina primary and there is a decent chance that either one of the senators could become president, too. If so, they'd be wise to leave monetary policy to the professionals.