These Are America's Grinchiest Mall Santas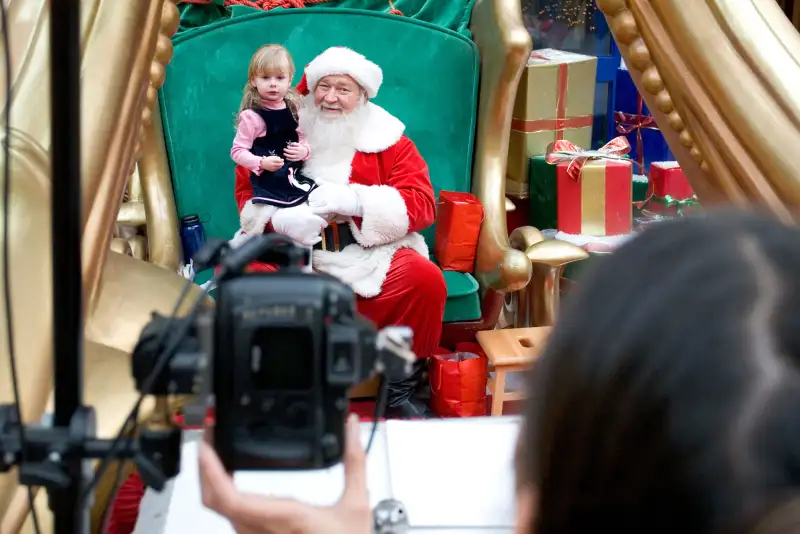 Parents who bring their children to meet Santa Claus expect memories full of joy and excitement. More likely, the experience today includes long lines, crying children, and upsells on astonishingly expensive photo packages.
The greedy mall Santa trend hit a new high—or rather, low—earlier this season, when news spread that the Cherry Hill Mall outside of Philadelphia planned on charging a minimum of $35 for anyone hoping to even see Santa Claus. After parents aired their understandable outrage, the mall put the old policy back in place, allowing anyone to have a sitdown with Santa for free—though still charging between $35 and $50 for photos. This level of fees is pretty typical for mall Santas, even though we live in a time when photo prints can be ordered for something like 10¢ a pop.
What's more, in most cases, malls ban or seriously frown upon the possibility of snapping your own photo with a smartphone. At the FAQ page for the entrepreneurial Santa who appears at the Mall of America, for instance, visitors are told, "If you use any form of recording device (camera, phone, camcorder) a minimum purchase is required."
Perhaps when you think about it, the fact that businesses are cashing in on Santa shouldn't come as a surprise. "Let's remember, Santa is the patron saint of the commercialization of Christmas," Robert Thompson, a trustee professor of television and popular culture at Syracuse University, explained to the Chicago Tribune in a story about soaring Santa photo op prices. "He represents the idea of a bag bursting with presents. On that level, it's hard to get really worked up, because he's always been tied up with moneymaking."
To some degree, this makes total sense. And yet because Santa photos are so prohibitively expensive—and because the sales pitch is aimed directly at kids, and the parents who'd do anything to make them happy—it's pretty easy to get upset by the examples of opportunistic pricing gouging below.
$10 to Make an Appointment with Santa
The Westchester, a Simon mall in White Plains, N.Y., is one of dozens of malls that allow families to make an appointment to meet with Santa Claus—via a mandatory, nonrefundable $10 deposit. "This $10 will be put towards your purchase of a Santa photo package during your visit with Santa," a note explains. If your original scheduled time later does not work for you, you can reschedule—for another $10. Non-scheduled meetings and photo sessions with Santa Claus are also available for those willing to wait in line. Other malls charge a $3.95 convenience fee to make reservations with Santa.
Standard $23 to $50 Santa Photo Package
Prices for photos with Santa at the Dolphin Mall in Miami and the Twelve Oaks Mall in Michigan are fairly typical. Shoppers can expect a basic package with a pair of 4x6 photos and a card to run $23 or $25, while the works—a bundle with multiple photos and sizes, plus photo CDs and digital downloads—costs around $50.
$45 for a Single Santa Photo
A meet-and-greet with Santa at the Parkview Lounge at the Shops at Columbus Circle in Manhattan costs $45, and families come away with one photo and an email with a hi-res file.
$5 for Photo with Panhandling Santa
A fake Santa Claus—you know, as opposed to the real one—set up shop on the curb outside the flagship Macy's in Manhattan's Herald Square recently, and asked passersby for "tips" or "donations" in the form of $5 to pose for a photo. "The rogue Santa insisted other panhandlers give costumed beggars such as himself a bad name," the New York Post reported.
30% Off Pre-purchased Santa Photos
To get families to book Santa reservations and ensure that they'll pony up money for photos that they may or may not ultimately want, the Paramus Park Mall in New Jersey, Tysons Galleria in the greater Washington, D.C., area and other shopping centers are tempting shoppers to save some money by pre-purchasing photo packages that normally cost upwards of $50.
$87 Santa Photo Package at Nordstrom
At select Nordstrom stores—including a few in the Seattle area—getting a photo with Santa costs at least $22, and the priciest photo package is a whopping $87.