Sears Is Closing Another 40 Stores, With Liquidation Sales Starting Next Week. Here's the Full List of Locations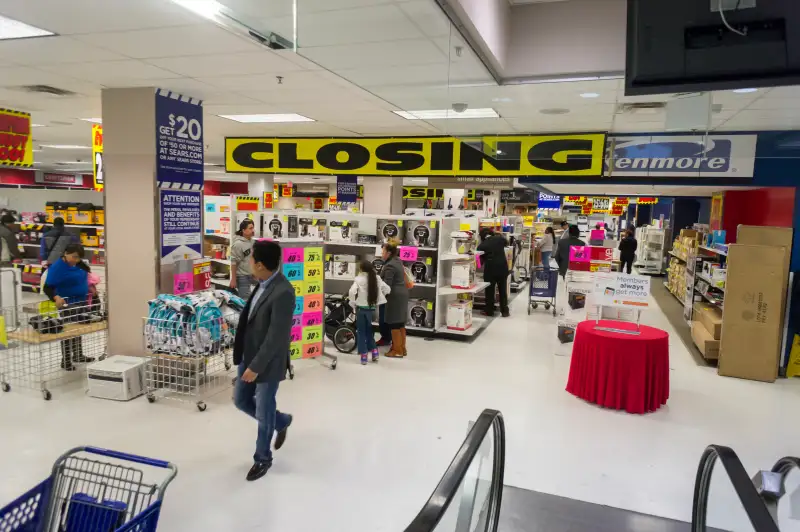 Richard Levine—Corbis via Getty Images
The Sears store closing list keeps getting bigger. This week, Sears Holdings, which owns Kmart alongside its flagship retail brand, announced 40 more Kmart and Sears stores will close in the near future.
The latest Sears store closures come during a brutal period for the iconic retailer, which filed for bankruptcy in mid-October and had previously announced several other rounds of store closures and liquidation sales in 2018.
It's been difficult to keep track of all the Sears stores closing over the past few years. According to Business Insider, by February 2019, when the latest Sears store closures will be completed, there will be only about 500 Sears and Kmart stores still in business. That's a sharp decline compared to 2013, when there were about 2,000 Sears-owned stores in operation.
Liquidation sales are in effect at all of the previously announced Kmart and Sears store closures, and the company says that the 40 new stores set to be shut will begin hosting going-out-of-business sales next week.
Are There Good Deals at Sears Liquidation Sales?
Generally speaking, liquidation sales start with mediocre to decent discounts, and the deals get better and better as time passes. In other words, the longer you wait until the Sears store actually closes, the lower the prices will be. Unfortunately, the selection also gets worse the longer you wait, because the stores will have been picked over by customers for weeks.
Last month, we browsed one of the Sears liquidation sales soon after it began and were mostly underwhelmed with the deals. While clothing and shoes were 50% off their regular (inflated) prices, the items Sears shoppers tend to want the most — tools, home appliances — were discounted by 10% to 30%, which isn't that different than what shoppers expect from regular sales posted in weekly circulars.
What Kmart and Sears Stores Are Closing?
As mentioned above, dozens of Sears and Kmart stores are already well into the process of liquidating, with closures set to be completed by the end of the year. The newest Sears store closing list below focuses on 40 more Sears and Kmart stores set for closure by February 2019:
Alaska
Sears: Airport Way, Fairbanks
Arizona
Sears: 4604 E. Cactus Road, Phoenix
California
Sears: La Cumbre Plz., Santa Barbara
Kmart: 26471 Ynez Road, Temecula
Connecticut
Sears: 470 Lewis Ave., Meriden
Florida
Sears: 801 N. Congress Ave., Boynton Beach
Sears: 3342 N.W. Federal Hwy. U.S. 1, Jensen Beach
Idaho
Sears: 2300 E. 17th St., Idaho Falls
Illinois
Kmart: 3443 W. Addison, Chicago
Kmart: 3250 Clear Lake Road, Springfield
Indiana
Sears: Marquette Mall, Michigan City
Maine
Kmart: 18 Elm Plaza, Waterville
Maryland
Sears: 7103 Democracy Blvd., Bethesda
Michigan
Sears: 5575 B Drive N., Battle Creek
Mississippi
Sears: 1740 Bonita Lakes Circle, Meridian
Sears: 1001 Barnes Crossing Road, Tupelo
North Carolina
Sears: 3320 Silas Creek Pkwy., Winston-Salem
Nebraska
Sears: 3404 W. 13th St., Grand Island
Nevada
Sears: 4355 Grand Canyon Dr., Las Vegas
New York
Sears: 3065 Route 50, Saratoga Springs
Sears: 21182 Salmon Run Mall, Watertown
Kmart: 805 New York Ave., Huntington
Ohio
Sears: 987 E. Ash St., Piqua
Pennsylvania
Sears: 1665 State Hill Road, Reading / Wyomissing
Sears: 344 Stroud Mall, Stroudsburg
Kmart: 7101 Roosevelt Blvd., Philadelphia
Kmart: 1901 Lincoln Hwy., North Versailles
Puerto Rico
Kmart: Castro Perez Ave. (Pr 122), San German
Kmart: 100 Ave. San Patricio, Guaynabo / San Juan
Kmart: Betamces 400, Las Catalinas Mall, Cuagas
South Carolina
Sears: 2197 Dave Lyle Blvd., Rock Hill
Tennessee
Sears: Southland Mall, Memphis
Sears: 401 Northgate Mall, Chattanooga
Sears: 198 Foothills Mall, Maryville
Sears: 1720 Old Fort Pkwy., Murfreesboro
Texas
Sears: 750 Sunland Park Dr., El Paso
Sears: Longview Texas Mall, Longview
Virginia
Sears: 10101 Brook Road, Glen Allen / Richmond
Washington
Sears: 2500 Milton Ave., Janesville
Wisconsin
Kmart: 6077 S. Packard Ave., Cudahy