While the Nation Waits for a Second Stimulus Check, a Florida County Is Giving Residents $5,000 to Pay the Bills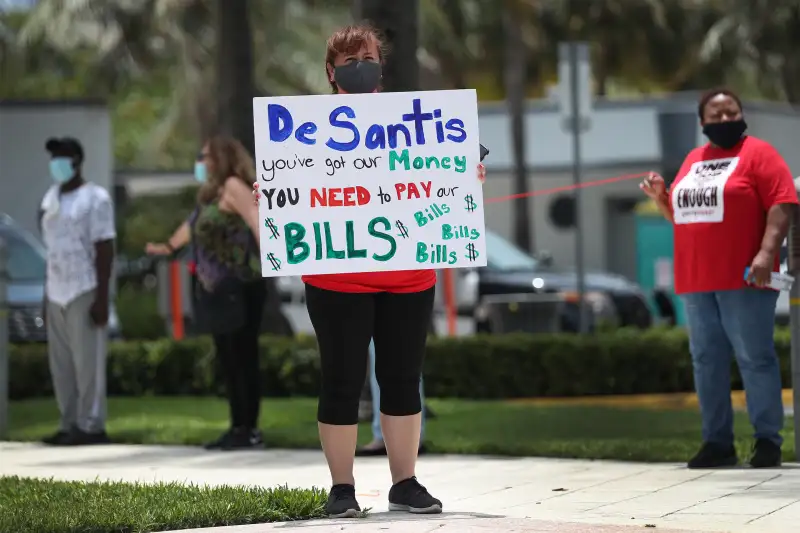 Politicos may have moved on to praising the calamari guy from the Democratic roll call and scrutinizing Melania Trump's outfit from the Republican National Convention, but millions of Americans are still struggling to make ends meet. Forget the idealistic speeches in front of giant flags — people want to know when they can expect a second stimulus check.
So, with no updates from Congress and reduced weekly unemployment bonuses, some local governments are taking matters into their own hands. In Florida, for example, Seminole County is giving out $7 million in individual grants.
The county started accepting applications Wednesday, August 26, from people whose income has been negatively impacted by the coronavirus pandemic. Seminole County residents can receive as much as $5,000.
How to Apply for Financial Relief in Florida
Although the funding comes from the CARES Act, the Seminole County grants are not technically a second stimulus check. The money must be used for rent, mortgage payments, utility bills, food or basic needs. As such, the funds will be paid directly to applicants' landlords and utility companies. (Food and basic needs funds are the exception — in those cases, the county will provide $200 in gift cards.)
Eligibility is also limited. Applicants must be:
at least 18 years old
a U.S. citizen or permanent legal resident
living and paying rent (or a mortgage) in Seminole County
experiencing loss of income due to the pandemic
They'll need to provide a Florida driver's license or ID card as well as a lease, mortgage agreement or utility bill (depending on what they need the funds for). Applicants will also be required to send in pay stubs, a job loss letter or other documentation that proves they were laid off, furloughed or saw wages reduced due to the pandemic.
If that's you, submit your application here.
Other Places Giving out a Second Stimulus Check
Seminole County isn't the only location giving direct assistance to people in need.
In the state of Oregon, participating banks and credit unions began giving out $500 checks to residents suffering financial hardship last week. State officials had said they planned to distribute 70,000 payments on a first-come, first-served basis.
Apparently they did. As of Wednesday, the webpage for Oregon's emergency relief check program showed a message saying it had ended. "ALL funds are obligated and we are no longer accepting NEW applications through walk-in or NEW appointments," it read, adding that people who already had appointments should keep them.
There's a mini-trend emerging. Back in April, the mayor of Jacksonville, Florida, announced that residents could get $1,000 stimulus checks if they made less than $75,000 a year and had lost at least a quarter of their income to the pandemic. Also in Florida, Orange County gave out one-time stimulus payments of $1,000 in June.
Still, some officials are hitting roadblocks. Commissioners in Montgomery County, Texas, had approved a proposal to give a $500 stimulus check to every resident. But this week, Commissioner James Noack announced the plan was scrapped "given the lack of commitment" by the U.S. Department of the Treasury to confirm the cash "would not be subject to a claw back" from the federal government.
Unfortunately, if you haven't heard anything from your city/county/state about economic relief, you may be out of luck for now. But you can still contact community organizations, seek out rent assistance and visit food banks if you need immediate help. That advice applies no matter where you are.
More from Money:
Are Cities the Source of Your Next Stimulus Check?
Second Stimulus Check Update: Are We Still Getting Another Round of COVID Relief?
The IRS Says You Can Call This Phone Number and Talk to an Actual Person About Your Stimulus Check Questions