Self-Serve Craft Beer Is Coming, and It Might Even Save You Money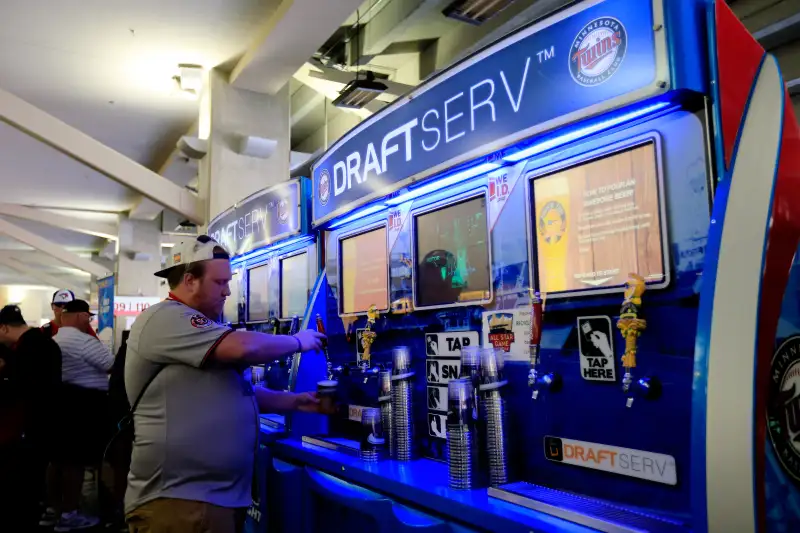 Beer drinkers, rejoice. The tyranny of being restricted to ordering brews in 12 oz., pint, or perhaps yard sizes is coming to an end. So is the necessity of actually having to speak to a bartender and ask him to do you the favor of filling your glass.
A "craft casual hot dog concept" chain based in California called Dog Haus will soon have self-service beer stations available to customers in two locations. Pour-your-own, pay-by-the-ounce beer using a technology called iPourIt is expected to be an option in the Santa Ana restaurant by the end of the month, with the Dog Haus in Fullerton coming on board by early summer.
The station will feature interactive touch screens where customers will be able to choose among what's on tap from small SoCal brewers such as Cismontane, Noble Ale Works, and The Bruery. The way it works with the iPourIt system is that—after showing ID to prove they're at least 21, of course—customers preload money on a card used to purchase beer they pour themselves. Prices are listed by the ounce rather than the glass, so patrons only pay for exactly the amount they want. "This system gives customers the opportunity to customize their drinking experience whether that means pouring a number of 1oz samplers or filling a 16oz pint to wash down their dog," a Dog Haus press release stated.
"Now we're able to take the beer and put it in the outside dining room, much like people have been doing for years with sodas," Dog Haus cofounder Quasim Riaz explained to QSRMagazine.com. There are restrictions on how quickly you can pour and throw back your brew, however. "We're not going to let someone walk up and just order $100 of beer," Riaz said. "That's not at all how the system works."
Exact pricing and beer-pouring limits for Dog Haus aren't released yet. A similar concept of self-serve beer stations made its debut at Target Field in Minnesota around the time the stadium hosted the Major League Baseball All-Star Game last July. Those machines, from a company called DraftServ, featured Budweiser and Bud Light for 38¢ per ounce and fancier Anheuser-Busch InBev-owned brews from the likes of Goose Island for 40¢ per ounce. (Respectively, that adds up to $6.08 and $6.40 for a 16oz self-poured pint, which actually seems reasonable for the ballpark.) Customers load money onto cards in advance to pay for their brew, and they're limited to pouring no more than 48 ounces every 15 minutes.
Lambeau Field and Miller Park, both in Wisconsin, introduced self-serve beer stations with Miller brews on tap last fall as well.
Meanwhile, iPourIt seems to be the self-service system of choice for bars, restaurants, and festivals featuring independent craft brews. The traveling Beer Haven mini-festival is making the rounds at larger events, such as the ongoing Miami-Dade County Fair & Exposition, and it includes an iPourIt station where drinkers load money in $20 increments onto wristbands used to pay for beer by the ounce. "When you're done, you'll get a printout of every beer you drank, perfect to save as a tasting-notes cheat sheet," the Miami New Times reported. A new bar opening this summer in Denver called First Draft will also feature craft beers via the iPourIt system, making it the city's first eatery with self-serve beer.
Attendees of the 2013 Los Angeles County Fair got an especially early look at iPourIt. At the time, prices were set around 62¢ for 20 different craft brews on tap, for a pricey $10 or so per pint. But as an iPourIt rep explains in the video below, paying by the ounce can be cheaper: "You can go and taste a little bit and not get charged for a whole beer."
As for why restaurants, bars, and ballparks are intrigued with self-serve beer, one NBC Sports reporter succinctly summed up two of the biggest reasons while testing out the technology at Target Field last summer:
As if people need an excuse to drink more beer at the ball game.