Research Shows Sharing a Bank Account Can Help Your Marriage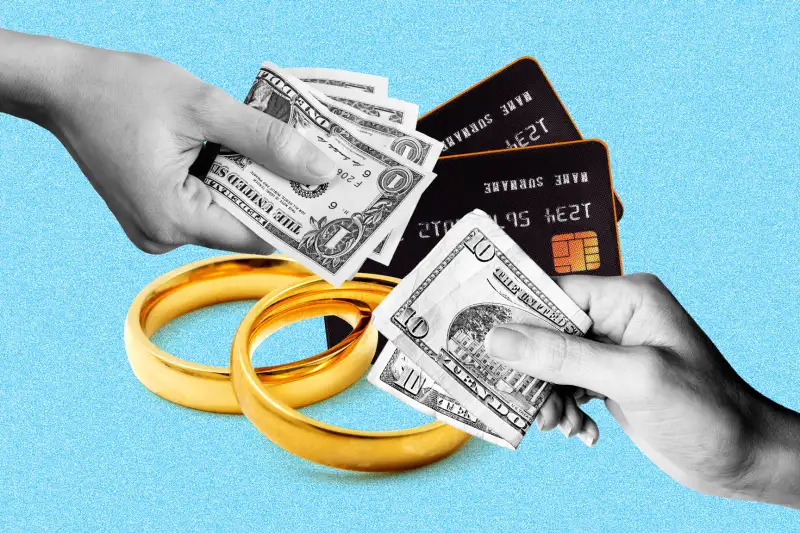 Vanessa Garcia / Money; Getty Images
Love don't cost a thing, per the J.Lo tune — but when it comes to finances in relationships, it may serve couples well to embrace a cooperative approach.
In a recent Indiana University Kelley School of Business study, researchers found evidence suggesting that merging bank accounts has a positive effect on relationship quality. Couples in the study also fought less about money and felt better about their household financial strategies.
What the research says
The researchers randomly assigned 230 engaged or newly wed couples with separate bank accounts into three groups. One was asked to combine their finances into a joint account, the second was told to keep their money apart, and the last group wasn't given any instructions. (Most of the pairs who weren't given directions kept their bank accounts separate.)
Over a two-year period, the researchers found that while the last two groups saw "normative" declines in the quality of their relationships, couples directed to merge their bank accounts self-reported "substantially higher relationship quality" than the other groups.
The positive effect of merging bank accounts was driven in part by the resulting financial harmony, according to the report. Couples in this group reported greater satisfaction with how partners handle and discuss money.
"A communal relationship is one where partners respond to each other's needs because there's a need. 'I want to help you because you need it. I'm not keeping track,'" Jenny Olson, the study's lead author, said in a news release. "There's a 'we' perspective, which we theorized would be related to a joint bank account."
A complementary study on a separate group of married couples with completely combined bank accounts supported the initial study's findings. Married couples in the second study reported being more communal and aligned in their goals, enjoying more transparency concerning finances and greater financial harmony.
Why joint accounts may improve relationships
Researchers found support for three reasons joint bank accounts have a positive effect on marital happiness.
First, sharing accounts improves how partners feel about each other's financial choices. Joint accounts also encourage cooperation between couples in their financial goals and allow them to respond to each other's needs more effectively.
"They frequently told us they felt more like they were 'in this together,'" Olsen said in the release.
Keep in mind
The basis of this study — relationship quality — is subjective and based on individual perception. So while the research casually points to joint accounts being a sound choice for married couples, it's not meant to be taken as universal relationship advice.
The researchers also raised potential issues associated with merging finances in marriage, like decreased independence that could place people at risk for controlling behavior or financial abuse.
While the Kelley study is the first to actually test whether joint accounts are beneficial for relationship quality, there is some previous research that supports joint bank accounts having a positive effect on relationship health. A 2022 study found that they may even help marriages last longer: Couples that pooled their money together were significantly more likely to still be together than those who reported keeping their finances separate when researchers checked in on them 12 to 14 years later.
More from Money:
The 3 Best Money Moves to Make This May
Is Your Money Safe in the Bank? Shockingly, Republicans and Democrats Disagree
A 'Credit Crunch' Is Looming. Here's How It Could Affect Your Wallet