Should I Cosign My Child's Student Loan?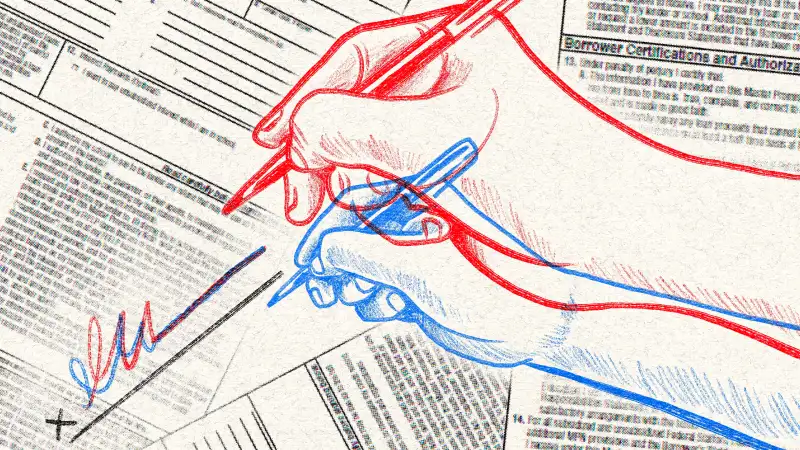 If you're curious about cosigning your child's student loan to pay for college, chances are high that you are also thinking about taking out a private student loan. This is because federal student loans usually don't require a credit check (and thus a cosigner) to establish eligibility.
Many families turn to private student loans to fill in gaps left over after they've received their allotted financial aid package, including grants, scholarships and federal student loans. Experts highly recommend using these sources of funding — usually through the Free Application for Federal Student Aid (FAFSA) — first before turning to private lenders.
Still, these types of loans may be necessary for your family to pay for college, and the vast majority of private loans are cosigned, meaning a parent (or other credit-worthy individual) agrees to sign onto the loan alongside the primary borrower, which in this case is the college student. That makes you both liable for the student loan debt. In fact, about 91% of private undergraduate student loans are cosigned.
But just because cosigning private loans is popular does not mean it's a decision to be made lightly. Here's what to know before you cosign your kid's private student loan.
Table of contents:
Pros of cosigning a student loan
Here are common reasons why parents cosign their child's student loans.
Increases the chances of your child getting approved
A large reason why so many private student loans are cosigned is because the student borrower — who's often fresh out of high school — may not have an established credit history.
Before handing out loans, private lenders run credit checks to ensure the borrowers are likely to pay the loan back. If you're cosigning with your kid, they will use your credit instead, thus increasing the chances of the loan getting approved.
May help your child get a lower interest rate
Even if your child could get approved for the loan on their own, it's likely that your credit score and history are better.
Depending on the lender, it takes a credit score in at least the mid-600s to meet the basic approval requirements. However, to get an attractive interest rate, you'll want to have a credit score much higher than that: likely 750 or more.
Private loans have with a wide range of possible interest rates. For example, the interest rate on a typical private undergraduate loan from Discover ranges from about 5.5% to 15% depending on the applicant's credit history and other factors like debt-to-income ratio. A good credit score can drastically improve the interest rate of the loan, which is why many parents choose to cosign.
Could build your child's credit
Many families look into cosigning because their kid's credit history is thin — or nonexistent.
When you cosign on your child's loan, that loan will end up on their credit report as well and start to build their credit history. In many cases, a student loan is the first account on a young person's credit report.
Since a major factor of credit scores is the length of one's credit history, having a student loan in good standing on your kid's credit report can go a long way in establishing a good credit score.
Cons of cosigning a student loan
As mentioned above, cosigning is popular, and there are several legitimate reasons to want to do it. But it's not the best strategy for every family.
Can hurt your credit or limit your borrowing ability
Since you're legally liable for debt you cosign on, it can affect your credit just as much as the primary borrower's. And another major factor that determines your credit score is the total amount of debt you owe.
Owing more money doesn't automatically mean you're a riskier borrower, but credit scoring companies consider your total loan balances as well as the types of loan balances (as in credit card debt vs. installment-loan debt like student debt or auto debt). So adding to your debt balances with a student loan could result in a lower credit score.
Additionally, if your kid in the future misses repayments or makes late payments, that will likely ding your credit. Likewise, other lenders look at your debt-to-income ratio when determining whether to improve a new loan and that loan's interest rate. If you have more debt, you could get a worse term, thus limiting your ability to borrow.
Many cosigners end up on the hook for payments
Ideally, the cosigning strategy goes like this: A credit-worthy cosigner, probably a parent or grandparent, helps the student get a student loan with good terms. Then, the student graduates college and is financially stable enough to make the payments themselves. Win-win.
But it doesn't always pan out like that. According to the nonprofit InCharge Debt Solutions, more than 1 in 3 cosigners end up having to take over the loan payments because the main borrower can't make them.
While that's usually not the plan at the outset, it's important to keep this reality in mind before cosigning.
Could strain your relationship with your child
By cosigning your child's student loan, you're tying your financial lives together for typically 10 years, and in some cases, longer. This added financial element could put stress on your relationship.
For example, if your child ends up facing financial difficulties or other unforeseen circumstances, you'll be responsible for paying the loan — even if you had an understanding that they would be paying it. Failing to do so will damage both of your credit. Or, in the case that your kid forgets to make a payment, that too could reflect poorly on your credit score.
If you're worried about it affecting your relationship with your kid, it's important to have a thoughtful and open discussion upfront about a financial contingency plan (more on that below).
How to decide whether cosigning is right for you
Before you sign on the dotted line, make sure you've thought through these four areas.
1. Handling the monthly payment
If your child can't make the payments for whatever reason, are you able to afford them?
If the answer is no, you might want to reconsider tying yourself to their debt because it's common for cosigners to unexpectedly get stuck making the payments.
To be better safe than sorry, it would be wise to assume that you will be on the hook for those payments when they come due.
2. Thinking about your long-term financial goals and needs
Before cosigning, ask yourself: Will cosigning on the student loan limit your ability to take out other personal loans, like an auto loan or mortgage? Keep in mind that the student loan will affect your debt-to-income ratio that future lenders will consider when deciding whether to approve you for a loan.
Other financial-goals you should be thinking about: Are you on track for retirement? And will you be able to afford payments in retirement if the length of the loan lasts that long?
It's also important to consider your other loan options, such as a Parent PLUS loan, which is a type of federal student loan program that allows parents to take out a loan for their child's education. In this case, you will be able to help your child while also maintaining the many protections that come with federal loans.
3. Understanding the details of cosigner release
Some, but not all lenders, offer what's called a cosigner release.
As its name suggests, your loan might have the option to release you from being financially responsible for the loan if certain conditions are met. Sallie Mae, a major private student loan lender, allows the cosigner to drop off after 12 on-time payments in some instances. On the other hand, Discover does not have an option to release the cosigner. So it's important to factor in the lender's policies before you cosign.
In the case that your lender doesn't offer a cosigner release policy, the only other way to get off the loan would be to refinance the student loan into only your child's name, which may result in a higher interest rate.
4. Talking about who will be responsible for paying
A core theme throughout the process of cosigning your kid's student loan should be open and clear communication. You and your child should know exactly who's responsible for covering payments and when.
For instance, you could decide to cover the first six months of payments due after graduation to allow your child enough time to find a stable job. Or, to shave off what their kids owe in the long run, some parents agree to make payments while their kid is still in school — even if it's not required.
Again, the key here is to lay the ground rules and have crystal clear communication to avoid any misunderstandings that could potentially impact both of your personal finances.
Tips for after you cosign a student loan
Signing the dotted line with your child is just the beginning. Here are some tips to staying financially healthy during the life of the loan.
Monitor the loan payments. No matter who's in charge of making the loan payments, ensure they are going through (and being recorded accurately) by reviewing the status of the loan through statements and your credit report.
Stay in contact. Talking about finances can feel taboo, but it's important to keep in regular touch with your child about their financial situation and ability to make payments so that you can mitigate any financial issues.
Tackle emergencies quickly. After you cosign, both of you are equally liable for the student loan. If your child runs into financial trouble and misses payments, not only could it ding your credit scores, the loan could go into default if the missed payments aren't addressed quickly. At that point, the lender may even be able to sue both of you and initiate debt collections. If trouble arises, it's important to contact the lender quickly to ask about any repayment options they may offer, such as financial hardship and rehabilitation programs, extended deferment, forbearance or temporary pauses to repayments.
Know your release options. As mentioned above, getting released as a cosigner of the loan isn't a given. Even for the lenders that allow for a cosigner release, you will likely have to make several on-time payments first. In some cases, to get released the student borrower will need to show that they are creditworthy on their own. So if this is the plan from the start, try other credit building options for your child in the meantime.
FAQs about cosigning private student loans
Do parents have to cosign student loans?
Parents are not obligated to cosign on their kids' student loans, but they often do it to help their kid score a lower interest rate — or get approved for the loan in the first place. When you
get a student loan
from the federal government, a cosigner isn't needed because the interest rate is set universally and eligibility isn't based on a credit check (with the exception of Parent PLUS loans). For private student loans, having a cosigner is extremely common — more than 90% of private loans for undergrads have them — but by no means is it a requirement.
Can you remove a cosigner from a student loan?
Yes, you can remove a cosigner from a student loan. Some (but not all) lenders offer what's called a "cosigner release," in which the cosigner can drop off the loan if certain conditions are met. In the case that the lender does not offer this option, you can remove a cosigner by refinancing the cosigned loan. Keep in mind, though, that this student loan refinancing strategy will very likely change the interest rate of the loan.
Who can I ask to cosign my student loan?
In many cases — and especially when it comes to student loans — the cosigner is a parent. Friends, guardians and other relatives are OK too, though. But it can only be one other person, so the person with the best credit score and highest income would likely be the best choice here so that you can score the lowest interest rate possible.
More from Money:
7 Reasons Why Private Student Loans Are Riskier Than Federal Loans
These Are the Best Colleges in America in 2023