Should You Go to College in Germany?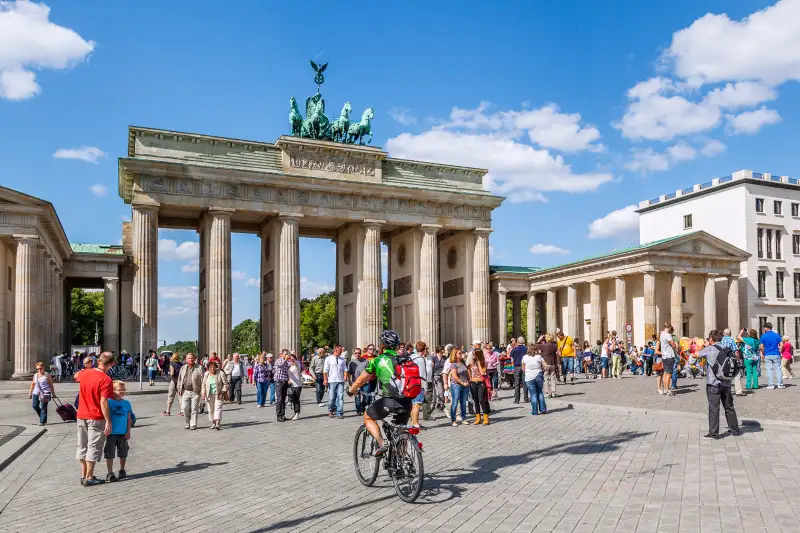 Manfred Gottschalk—Getty Images/Lonely Planet Image
Fresh from earning a bachelor's at Fordham University and strategizing his next move, John Turiano cast a global net. He looked at master's programs in five countries across four continents: North America, Europe, Asia, and Australia. And when it came time to apply, one school stood out.
Germany's Hertie School of Government met his Turiano's key criteria. Its public policy master's program is taught in English. Berlin, where Hertie is located, offers job networking opportunities for international development, his field of interest. And it's a relatively short, relatively cheap flight from his home in Andover, Mass.
Then there's the cost of his education. Hertie's tuition for the two-year program run about $35,000 (€32,500), but Turiano racked up enough scholarships and tuition waivers to bring his out-of-pocket expenses to $6,000 a year. That's well below the annual published sticker price for similar programs at Georgetown and Tufts universities, where two of his friends are enrolled. Annual tuition alone for similar programs at those institutions is upwards of $50,000.
"I don't think I know anyone who hasn't had to take out some kind of a loan to complete school," Turiano, 24, says of his Fordham classmates. "I don't have much left over, but I don't lose any money."
Germany's public universities have been grabbing international headlines for their no-tuition policies. But private universities in Germany, too, can be a bargain, especially for graduate students. At Hertie, Turiano nabbed a 75% tuition waiver. A scholarship from the government-sponsored German Academic Exchange Service (DAAD) covers most of his living costs.
Those kinds of financial incentives feed into a broader plan in Deutschland aimed at attracting the best and the brightest students from around the world to its universities—and its labor pool. The government in recent years has eased immigration rules for international students, and Germany's universities have beefed up English-language offerings. In 2014, Lower Saxony became the last of Germany's 16 federal states to drop tuition altogether at public universities.
That policy remains controversial, and one state, Baden-Württemberg, is discussing whether to reinstate tuition for students from outside the European Union. But Germany's overall strategy has paid off. Between 2011 and 2016, the number of international students attending public or private universities in Germany increased from about 252,000 to 340,000, well within reach of DAAD's goal to enroll 350,000 foreign students in 2020.
A tuition-free education is not the same as a free education, obviously. U.S. students in Germany still pay a fee (about $550 per year, or €500), which provides discounts on items such as public transportation and meals in dining halls. A residency permit can run as high as $120 (€110). And, like in most countries, foreign students must show proof, up front, to immigration officials that they can cover the estimated cost of living in Germany for a year—about $8,400 (€7,908).
Also in this series: Should You Go to College in Canada? and Should You Go to College in England?
Applicants face other challenges as well. U.S. students who want to study in Germany are advised to check admission requirements "as early as possible" in their high school years to make sure they complete the necessary coursework, says DAAD senior researcher Jan Kercher. That's because Germany's conference of ministries of education has established a detailed set of qualifications, "and they're quite rigid about it," says Jennifer Viemont, who runs a web-based company for U.S. students considering college options in Europe.
Among U.S. applications for Germany's 2015-16 winter semester, just 44% of undergraduates met entrance qualifications, according to data from Uni-Assist, an application service that evaluates international credentials for roughly 160 German universities. At the master's level, 80.5% of U.S. applicants cleared that first hurdle.
Language is another potential obstacle. Though German universities offer hundreds of English-language programs in a range of subjects, including engineering, computer science, music, and the liberal arts, most such courses are for graduate students. Higher Education Compass, a database kept by the German Rectors' Conference, shows 195 of about 8,520 bachelor's programs taught in English, compared with 1,007 of 8,504 master's programs.
Germany is now working on the language deficit, in hopes of attracting more international students to German-taught programs in the high-demand fields of science, technology, engineering, and math. The government-sponsored Goethe Institute has launched a Study Bridge Program in which participating high school students attend a summer camp, receive online tutoring while in high school and, finally, attend a year of high school in Germany while familiarizing themselves with Germany's higher education landscape.
The program is active in Eastern Europe and Central Asia, a plan with China is in the works, and 14 U.S. high school students are participating in a pilot initiative this year.
Last year, about 3,385 U.S. students were enrolled in degree programs in Germany. That's about one-third the number of German students studying in the United States, and well below the numbers from several other countries. Turkish and Chinese enrollments both topped 30,000 last year; more than 14,000 Russian students were enrolled.
Christian Berthold, managing director of CHE Consult, a German consultancy in higher education, says German universities would like a more balanced exchange with the United States.
Plus, he says, "American students are held in rather high regard in Germany. They are seen as open minded (and) socially easier to integrate than some other groups."
Mary Beth Marklein is a longtime journalist specializing in higher education and a lead contributor to the Guide to International University Admission, a publication of the National Association for College Admission Counseling to be released in November.