Procrastinators: Here's How to Get Solar Eclipse Glasses at the Last Minute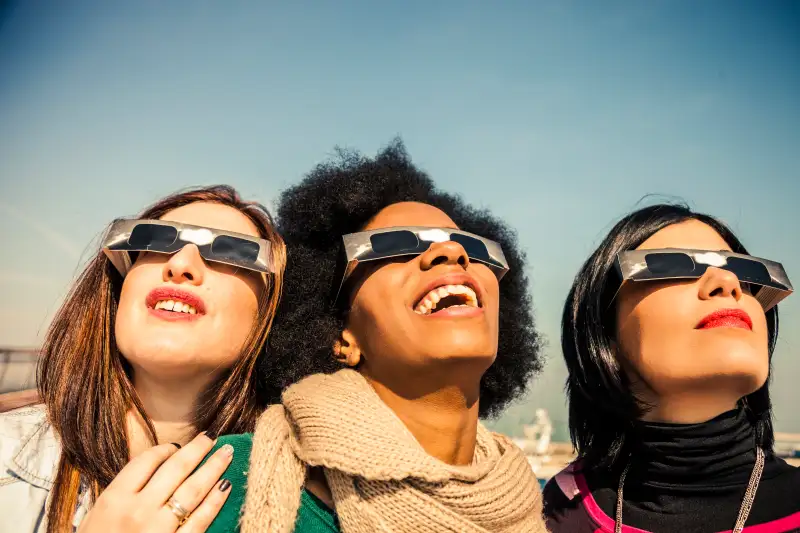 The total solar eclipse takes place on Monday, August 21. If you haven't already purchased glasses and other gear for optimal (and safe) eclipse viewing, we've got you covered with a last-minute buying guide.
First off, you may have heard reports of fake eclipse glasses being sold on Amazon. Some glasses listed on the site were indeed counterfeits, but the good news is that Amazon has offered refunds to customers who purchased them, while also beefing up its authenticity requirements for sellers.
Solar eclipse glasses aren't super expensive, but the bad news is that pickings are getting slim thanks to surging demand. And with the laws of supply and demand kicking in — well, let's just say if you didn't stock up on glasses already, it might cost you a few bucks more. (Public libraries around the country have been giving out solar eclipse glasses for free, but by most accounts the allotment of free glasses has already disappeared.)
The glasses available now are often sold as multi-packs, so you may have little choice but to buy in bulk. On the bright side, at least you can outfit your entire office or your kid's whole camp group. For example, on Amazon, this 10-pack of paper glasses is being offered by a few different sellers for around $130 to $170. Another 10-pack is still available for $130, with free two-day shipping available for Amazon Prime members.
For roughly the same price of a 10-pack of basic glasses, you could opt for Lunt Solar Systems' pocket-sized eclipse binoculars ("sunoculars," the company calls them). They have 8x magnification, come in red, yellow and blue, and are still available on Amazon for $129.
What about photographing the eclipse? NASA has a rundown of tips and suggestions for people who want to capture the moment on a smartphone. Generally speaking, it's safe to take a quick shot or two because smartphone lenses are, by necessity, pretty small.
A smartphone tripod is a good accessory to have on hand if you're serious about capturing the eclipse with minimal blurring. This model from Joby ($27) has flexible legs with magnetic bases, a mounting that will accommodate both iPhone and Android models, along with a Bluetooth shutter remote.
The caveat here is that your image might not come out very well — eclipses aren't exactly the most photogenic phenomenon. So you might consider a telephoto lens to attach to your camera for a better picture, like this 10x zoom one ($30 for Android or iPhone).
But NASA warns that the same magnifying function that will make the eclipse clearer and more visible could also fry your phone's camera. To avoid that happening, NASA recommends that you put a special solar filter over the top of the lens — any of the ISO-Certified sun-viewing glasses mentioned above should do the trick. Just "DO NOT USE SUNGLASSES!" NASA states.
You can also wait until the few moments when the sun is totally blocked from view to take pictures. "Only during totality when there is absolutely NO solar disk present and the corona is fully visible can you use the unfiltered telephoto attachment safely," NASA explains.
We've included affiliate links into this article. Click here to learn what those are.