These Coffees Want To Be the Christmas Version of the Pumpkin Spice Latte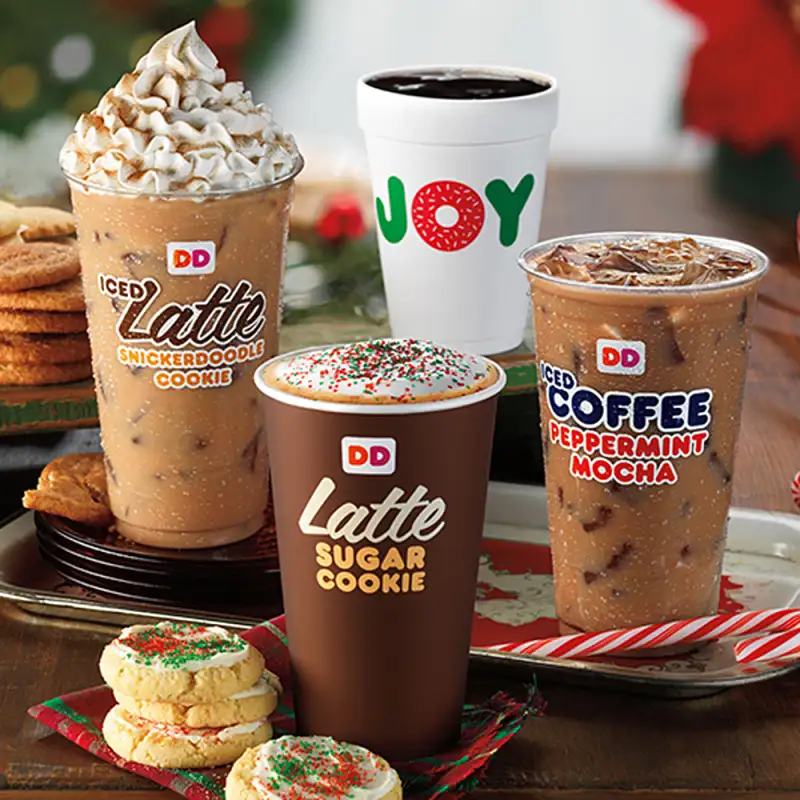 It's no wonder coffee chains are trying to replicate the retail magic that appears annually in the form of autumn's onslaught of pumpkin spice beverages. A hot seasonal beverage is proven to juice sales big time. To milk the PSL (Pumpkin Spice Latte) frenzy even more, Starbucks rolled out the beverage earlier than usual this past summer in many parts of the country, and it boosted sales to the surprise of no one.
Peppermint, which is known to increase physiological arousal and heightens alertness, has been a popular flavor in holiday season beverages, and Coffee Bean & Tea Leaf, McDonald's, and 7-Eleven, among many others, are bringing peppermint-laced hot drinks back to their winter menus. But the new holiday beverages go far beyond a mere minty twist, with chestnut, cinnamon, gingerbread, sugar cookie, and other sickly sweet flavors providing the rush. (Perhaps that puzzlingly catchy Def Leppard song was really about holiday season coffees?)
When done right, a hot seasonal beverage succeeds for the seller two-fold by 1) drawing in customers early and often, at least partially because any limited-time offer won't be around forever and people don't want to miss out; and 2) getting customers to pay more than usual for their caffeine fix. As NPD Group analyst Bonnie Riggs explained of all unique coffee beverages, customers "expect to pay a premium because the specialty drinks … are not something they can replicate at home or easily get at retail."
All of which helps explain why Starbucks, Dunkin' Donuts, and others have introduced these new contenders for the 2014 winter season:
Starbucks Chestnut Praline Latte
In the same way that pumpkin spice has come to be the dominant, most eagerly anticipated flavor of fall, Starbucks is hoping its brand-new Chestnut Praline Latte becomes inextricably tied to the winter holiday season. "The rich, earthy, sweet, roastiness of chestnut is a perfect foil to espresso. Then we balanced the nutty chestnut flavor with brown sugar and spice," Starbucks research and development manager Amy Dilger said of the new latte, which is the company's first new holiday beverage in five years. "It's a quintessential flavor of the holiday season."
To get customers to sample the goods early in the season, Starbucks is having a buy-one, get-one-free special on holiday drinks, from 2 p.m. to 5 p.m. through November 16.
Dunkin' Donuts Sugar Cookie Latte
Less than a week after Halloween, Dunkin' Donuts introduced its lineup of sugary winter beverages, including two cookie-flavored lattes: the Sugar Cookie Latte and the Snickerdoodle Latte. They're both available in hot or cold varieties, as is Dunkin's Peppermint Mocha, which is back again this holiday season.
Caribou Coffee Gingersnap Cookie Mocha
With "hints of ginger, allspice and clove," the Gingersnap Cookie Mocha from Caribou Coffee is trying to make its case as the hot caffeinated beverage of the season. Previous seasonal brews also are returning to Caribou's menu, including the Ho Ho Mint Mocha and special Reindeer Blend coffee—and thank goodness the latter is false advertising. (The coffee contains no real reindeer ingredients, but does have "a hint of caramel and a dash of spice.")
Peet's Cinnamon Hazelnut Latte
Peet's is bringing back holiday beverages such as the Sea Salt Caramel Mocha, Eggnog Latte, and Winter Solstice Tea, while also introducing a new seasonal beverage, the Cinnamon Hazelnut Latte. Follow the link for a coupon granting a free small seasonal beverage with the purchase of any food item, now through November 26.