This Cowboy Hat Company Thinks Hipsters Will Save It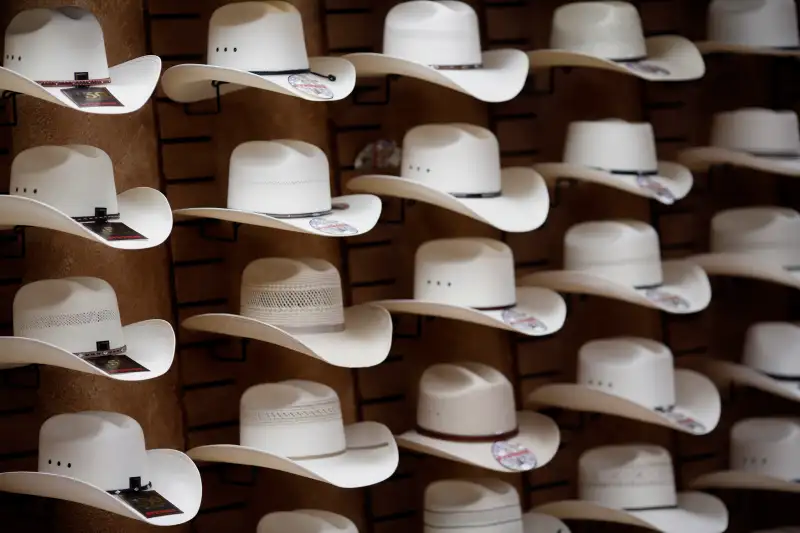 Sharrett, Luke—Bloomberg/Getty Images
This is not a great time for cowboy hats. Or hats in general. Once commonplace, the hat's unofficial end came sometime mid-century, killed by JFK's vanity—he had great hair—and changing fashions. The rise of the interstate highway system also played a role, according to one hat manufacturer.
In any event, the fedora and cowboy hat are now mostly reduced to the fringes of culture. But capitalizing on precisely that fringe of the young and hip, not the general public, is the plan for one celebrated cowboy hat company to get its groove back.
Under the leadership of CEO Izumi Kajimoto, Stetson, which was once the largest hat maker in the world, is targeting this younger crowd, according to Bloomberg. Hipsters and millennials have shown a penchant for heritage products, and Stetson has been a presence at music festivals and other "young" events. It has also been hosting "hip" launch parties for new designs. At a festival headlined by British band Mumford and Sons, for example, Stetson had a booth where people could try on and buy the company's iconic hats. At other events, Stetson has experimented with strategies like photo booths with hats to try on during selfie sessions. To appease the core consumers, Stetson still goes to the rodeos too.
One thing the company has going for it is is the fact that celebrities will often wear hats for free. Among country singers and even Leonard Cohen, the Stetson hat is de rigueur, and Stetson makes sure their heads are covered. Still, many of these musicians are capitalizing on an older image, one that may prove tough to get the younger generations to adopt.
"I find American guys most self-conscious about a hat," Kajimoto told Bloomberg. "What really matters is getting the right hat on their head. I don't want to look like a dork in a hat."