This Chart Shows How Trump's Stock Market Gains Compare to the Last 13 Presidents
Money is not a client of any investment adviser featured on this page. The information provided on this page is for educational purposes only and is not intended as investment advice. Money does not offer advisory services.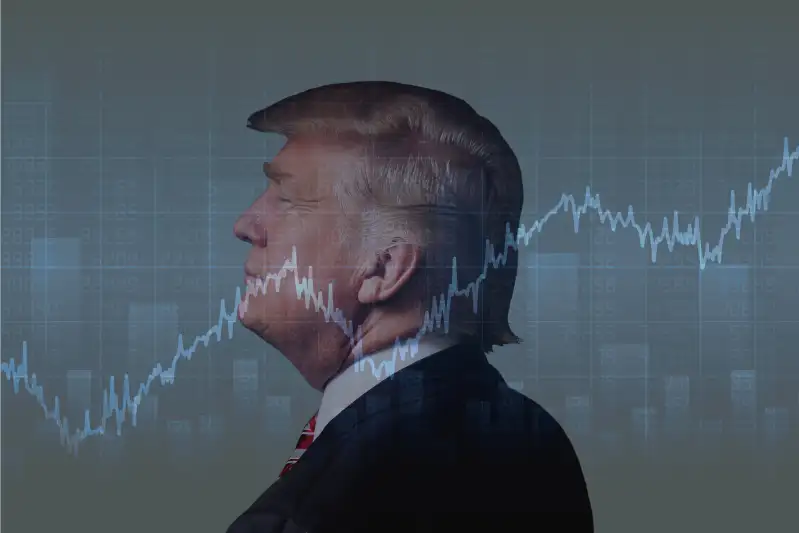 Photo Illustration champc/Getty Images & Lucas Jackson/REUTERS
Just days after Donald Trump's inauguration in January, the Dow Jones industrial average climbed above the 20,000 mark for the first time. Chalking it up to the "Trump Effect," the new president took credit for the market's rise, telling ABC News: "Now we have to go up, up, up."
Well, he had that sort of right.
The start of Trump's administration has coincided with generally rising stock prices. But rather than go up, up, and up, it was more the case of equities going up, down, and then back up in the final stretch of his first 100 days.
How Does Trump Stack Up Against Other Presidents?
Thanks to a last-minute rally — the Dow surged more than 500 points in the past nine trading days, in anticipation of the White House's tax cut proposal — stocks are on the verge of having gained about 5.5% in President Trump's first 100 days in office.
If this trend holds through the end of the trading day on Friday, Trump would rank second among Republican presidents and fifth overall in terms of stock market gains in the early days of a new administration — behind George H.W. Bush and ahead of Harry Truman.
Notes: Based on S&P 500 price appreciation in first 100 days of each new administration. Sources: CFRA, Morningstar
Still, the market would have to climb 3 percentage points more for Trump to match the stock performance of his predecessor Barack Obama, whose handling of the economy Trump has criticized.
How Are U.S. Stocks Doing Compared to the Global Markets?
The Trump administration's motto so far has been America First. Yet when it comes to the stock market's performance, it's been more like America in the Middle.
While U.S. stocks have generally performed well under Trump in the early days of his administration, foreign equities have done much better. In fact, stock markets in several countries that Trump has been highly critical of are actually leading the world.
Since Trump took office on Jan. 20, for example, Mexican stocks have gained a whopping 22%. France's stock market is up nearly 12%. Chinese shares are up more than 10%, while German equities are up around 9%.
Which U.S. Stocks Are Leading the Way?
Trump's pledge to cut taxes, boost defense and infrastructure spending, and cut regulations created a distinct narrative on Wall Street: This president wants to jump start growth at all costs.
In the days and weeks following his election, stocks that performed the best were those that would benefit from faster growth and rising inflation. This included economically sensitive banks, industrial companies, and energy stocks.
Meanwhile, areas of the market that might be hurt by Trump's nationalist agenda—global industries such as technology—lagged the rest of the market.
However, since Trump actually took the oath of office, the tables have turned. The best-performing sector in Trump's first 100 days in office has actually been technology, with tech stock up nearly 11% since Jan. 20.
The irony is that tech industry CEOs have been among the harshest critics of Trump's proposed immigration and trade policies.
Meanwhile, the areas of the market that were rising on hopes of faster growth—including financials, energy and industrials—have been among the market's laggards lately.
Could this be a sign investors may not be as confident in Trump's policies as is assumed?
Perhaps. Another explanation, according to Ed Yardeni, president and chief investment strategist at Yardeni Research: Rising geopolitical risks in places like Syria and North Korea may threaten to overshadow the president's domestic agenda.
"It's also possible that the market is simply experiencing some profit-taking among the rally's recent sector leaders, including financials and industrials," Yardeni said.
Yet another theory is that the original Trump Rally that began shortly after election night may not have been entirely about Trump at all. Sam Stovall, chief investment strategist for CFRA, notes that the stock market is seasonal and the best six-month stretch for equities usually falls from the start of November—around the time of the election—through the end of April, which marks the end of the president's first 100 days in office.
"While many believe [the market's] strength was the direct result of the surprise election of Donald Trump, history begs to differ," he says.