How to Tell Which Stocks Are Winners and Losers Under Trump
Money is not a client of any investment adviser featured on this page. The information provided on this page is for educational purposes only and is not intended as investment advice. Money does not offer advisory services.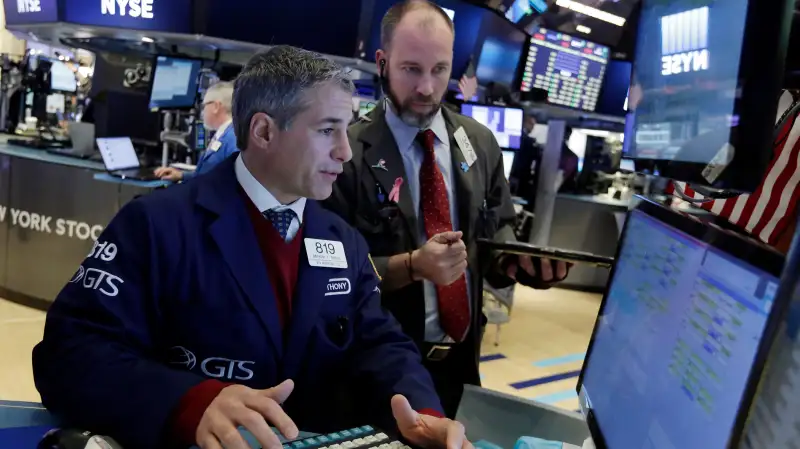 Before Tuesday's election, conventional wisdom said the stock market would tank if Donald Trump were elected president, given Wall Street fears over his threats to rip up global trade deals.
That turned out to be dead wrong. While stock market jitters certainly spiked in after-hours trading following his upset win, the Dow Jones industrial average actually jumped nearly 500 points in the first two trading days following Trump's surprise win.
Wall Street's new take: Trump could fuel a strong rally in stocks as he seems to be promising an unusually bipartisan form of government stimulus. He says he wants to give Republicans the massive tax cuts they want while simultaneously promising hundreds of billions of dollars for infrastructure projects that will create jobs that Democrats support.
Yet this bit of conventional wisdom is also be flawed.
If you look at the market's reaction to Trump, it's actually been a tale of two markets, with big winners but also a lot of big losers.
You can get a better sense of who those winners and losers are by simply looking at two of the market's benchmarks: the Dow and the Nasdaq Composite index.
What the Dow Is Telling You
The Dow, made up of just 30 large stocks that are supposed to reflect the nature of our economy, has been soaring in the wake of Trump's victory.
Understand which stocks drive the Dow. More than 40% of the benchmark index is composed of old-guard industrial stocks and financial shares that stand to be big winners initially under a Trump administration.
Why industrials win: Trump has pledged to spend up to $1 trillion on infrastructure projects around the country to spur job creation and economic growth. "Potential fiscal stimulus would be of net benefit to infrastructure plays," says Tom Stringfellow, chief investment officer for Frost Investment Advisers.
That means companies like Caterpillar , which makes heavy construction equipment needed for bridge and road construction jobs.
At the same time, Trump promised throughout the campaign to boost military spending, which would benefit defense contractors such as Boeing and United Technologies.
Why financials win: Shares of big banks and financial institutions have soared more than 10% in just the past week.
Why? The fiscal stimulus that Trump promises through infrastructure spending and tax cuts is likely to re-inflate the economy — and with it comes inflation. Because bond investors hate inflation, the yield on 10-year Treasury bonds has soared from 1.8% before the election to 2.14% today.
This is important because banks raise capital by taking in short term deposits on which they currently have to pay next to nothing in interest because short-term rates controlled by the Federal Reserve are so low. Then they lend that money out at longer term rates, which are now rising. If 10-year yields continue to lift, profit margins at banks will rise too, which is good for this sector.
At the same time, Trump has promised to dismantle financial regulations like the Dodd-Frank Act, which was created in the aftermath of the financial crisis.
What the Nasdaq Is Telling You
Less than 13% of the Nasdaq composite consists of financials and industrials. Technology and healthcare stocks make up about 60% of the index. This explains why the Nasdaq has fallen while the Dow has risen in the aftermath of Trump's win.
Why technology may lose. As much as Trump has been a champion for business, he has saved his most critical remarks for Silicon Valley, a huge source of fundraising for the Democrats. In fact, During the campaign, he accused Amazon as having "huge antitrust problems" and accused Amazon of not being taxed enough. Meanwhile, he questioned whether Google was suppressing search hits on bad news for his rival Hillary Clinton.
As a result, the so-called FANG stocks that have been leading tech's run in recent years — Facebook , Apple , Netflix , and Google — have all lost value since Nov. 7, even as the rest of the market has risen.
Why some healthcare may lose. To be fair, some parts of the healthcare sector have seen a lift in the wake of Trump's win.
Biotech stocks, for instance, have jumped nearly 16% in the past week while pharmaceutical shares are up nearly 8% on expectations that there will be less regulations. They also moved as the market feared that Hillary Clinton might impose price controls on that sector. "Trump hasn't railed against the industry's drug pricing the way Hillary Clinton did while campaigning," notes Ed Yardeni, chief investment strategist for Yardeni Research.
On the other hand, Trump's threat of killing the Affordable Care Act means that fewer Americans will be covered by health insurance. Fewer people covered means fewer customers for the nation's hospitals and health insurers.