How to Get a Student Loan Without a Cosigner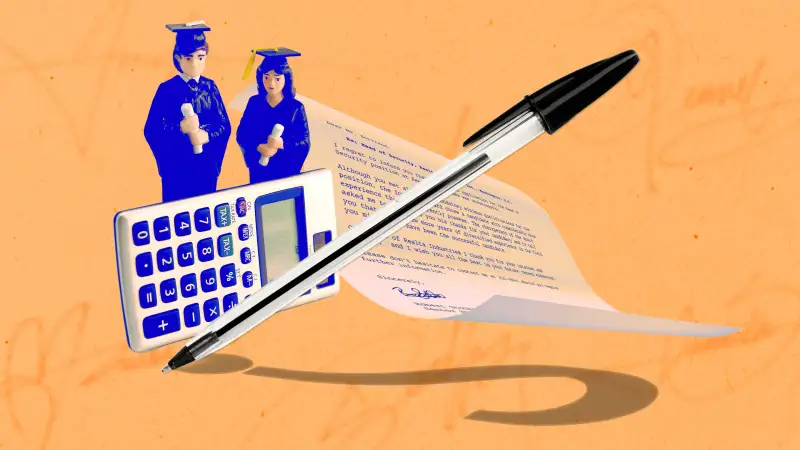 Olive Burd / Money; Getty Images
The majority of college students will rely on student loans to help pay for tuition, room and board, books and other school expenses. Without a steady job or solid credit history, though, it may be difficult to qualify for a student loan without someone else acting as a cosigner.
Most private student loans are taken out with a cosigner, but it's not a necessity. If you don't have a willing parent, grandparent, guardian or other creditworthy co-borrower to sign for your college debt, here's what to know about getting a student loan without a cosigner and the available funding options.
Do you need a cosigner for a student loan?
The fact is that nearly all private student loan originations at the undergraduate level involve a cosigner, as many loans (particularly from private lenders) require a creditworthy co-borrower in order to qualify. It's not too surprising, either, when you consider that few student borrowers in undergraduate programs have the credit or income history necessary to get approved or snag a competitive interest rate on their own.
That said, there are still ways for borrowers to get a student loan without adding someone else to the debt, and there are even student loan options that don't require a cosigner at all.
For starters, federal student loans (both subsidized loans and unsubsidized loans) are available to student borrowers without the need for a cosigner or meeting any minimum credit score requirements. This means you can likely get a notable portion of your undergraduate student expenses covered by federal loans without needing to add a cosigner to the debt. (Note that Direct PLUS loans for parents and graduate school students do require a simple credit check.)
There are also many private student loans options for student borrowers with limited or no credit history. Some lenders even specialize in no-cosigner loans to students.
What is a cosigner?
A cosigner is someone who agrees to secure a debt along with you by signing the loan's promissory note. By cosigning on a student loan, this creditworthy individual acknowledges that if you, the primary student borrower, do not repay the debt as agreed, they will take responsibility and are then expected to make payments to satisfy the balance.
With a cosigner, a student borrower may find it easier to meet lenders' eligibility requirements, and also qualify for the most competitive interest rates and loan repayment terms.
Cosigner vs guarantor
Both a cosigner and a guarantor agree to share responsibility for a debt if the primary borrower doesn't make payments as promised. While there are similarities, though, there are also a few important differences to note between the two.
A cosigner, for instance, is responsible for each and every payment due. If the primary borrower misses a payment one month, the cosigner is expected to step in and cover the shortage or face the same repercussions (such as late fees or a ding to their credit). A guarantor, on the other hand, is only held responsible for the loan balance if the primary borrower defaults on the debt entirely (this process can take a few months).
Cosigners are common with student loans, while guarantors are more often used in real estate or rental agreements.
Student loans that do not require a cosigner
While nearly all the major lenders, including Sallie Mae, SoFi and Discover, do not require a cosigner to apply, it's still recommended that most borrowers use one. That's because the student borrower's limited credit history and income level often necessitate the addition of a co-borrower to meet the lenders' minimum eligibility requirements.
But there are some private lenders that actually focus on non-cosigned loans for student borrowers, with the understanding that these borrowers may find it difficult to qualify elsewhere. Some of these loans take into account alternative qualifying factors such as GPA, school progress and degree program. But you should keep in mind that these lenders tend to offer higher interest rates than cosigned loans.
Here are some lenders with these types of products:
No income: GPA, school of attendance, degree program, major
If you have an annual income of $24,000+: Proof of income, debt-to-income (DTI) ratio
International Student Loan
Must be an undergraduate or graduate student within two years of graduating from a four-year program, or about to begin a one- or two-year program at an eligible school
Academic achievement and career path, limited credit history review
Who qualifies for student loans without a cosigner?
If you're looking to take out a no-cosigner student loan, you'll find the process more difficult the younger and earlier you are in your academic career. That's because you probably lack most of the qualifications that lenders rely on to approve you, which may include a combination of:
Credit history
Income requirements
Debt-to-income ratio (DTI) limits
Academic progress
Attendance (many loans require you to be in school at least half-time)
Degree program/career path/major
GPA
School of attendance
Citizenship status (U.S. citizen vs permanent resident vs international student, for example)
Certain factors, like credit history and income, are expected to be limited in nature for lenders that offer a loan product targeted to students without cosigners. Many lenders just want to check that you don't have a negative history of late credit card payments or accounts in collections.
How to apply for a student loan without a cosigner
Fill out the FAFSA. The FAFSA (Free Application for Federal Student Aid) is an important annual form that tells you how much you'll qualify for in federal aid. You cannot take out federal student loans (reminder: these don't require a cosigner) without filling out the FAFSA. Once you factor in federal grants, federal loans, state financial aid and money from the college you're attending, you can determine how much you need to borrow from private sources.
Evaluate your qualifications. Upperclassmen (juniors and seniors) will often have an easier time than underclassmen to qualify for non-cosigned private student student loans, and undergraduate students may find it more difficult to qualify than graduate students. Factors like your GPA are important to alternative lenders.
Look for non-cosigned loan products. While you may be able to qualify for a traditional private student loan without a cosigner, you should also look for lenders that specialize in loans for borrowers without cosigners.
Compare your options. Look at eligibility requirements, loan limits, rates, repayment terms, qualifying schools, and even deferment options (like a grace period or interest-only payments while you're in school) before applying. Be sure to read the fine print on fees and perks: Some lenders may offer rate discounts if you sign up for automatic payments (aka autopay), for example, which can save you money during repayment. Others might charge origination fees on your new loan.
Consider your needs. Do you need a lender with strong financial hardship protections, one that allows you to borrow 100% of your cost of attendance or one that offers loans to international students? This may dictate where you should apply.
Gather your documents. You'll be expected to provide a number of supporting documents and personal information such as your Social Security number, number of credit hours completed, program details, expected graduation date, GPA, financial need and more.
Submit your application. Most student loan lenders will allow you to complete the application process online, which could take as little as a few minutes. This may involve a credit check and your school attendance may need to be confirmed before proceeding.
Get approved. Once your loan amount request has been approved, your lender will ask you to sign a promissory note, or promise that you'll repay the debt as promised. Your disbursement date and funding details will then be finalized and your loan issued.
How to remove yourself as a cosigner on a student loan
If you're a parent, grandparent, sibling or other creditworthy borrower who has already cosigned on a student loan for someone else, you might eventually find yourself wanting to cut ties. Getting removed as a cosigner on a student loan can free up your own credit and eliminate some financial risk.
There are a few different ways to be removed from a cosigned student loan.
Ask to be removed after a period of time. Some private lenders will allow for cosigner release once the loan is in repayment and a certain number of on-time monthly payments have been made, as long as the borrower qualifies to take on the loan balance with his or her own good credit score and income. While the actual eligibility criteria vary by lender, you may be able to request release in as few as 12 months.
Get removed automatically if the student borrower refinances. Refinancing student loans involves taking out a new loan to replace and/or consolidate existing student loans. As long as the borrower qualifies for this new loan on their own, you'll be released from your debt obligation once your cosigned loans are repaid and closed by the refinance loan.
Wait until the debt is repaid. While not the fastest route, you can also just wait until the student loan in question is paid in full and closed out. At that time, the balance will be removed from your credit report and you will no longer have an obligation to that lender.
One big exception to cosigner release is the Direct PLUS loan. Technically, co-borrowers on these loans are called endorsers, but they serve a similar purpose as a cosigner. Endorsers cannot be released from their obligation at any time, regardless of the student borrower's creditworthiness or how many monthly payments have been made on time.
Instead, an endorser can only be removed from this federal debt by refinancing it into a private student loan. The downside to this is that the borrower will then lose certain federal protections in the process. These include things like income-based repayment plans, generous loan forbearance and deferment options, and even loan forgiveness programs.
To learn more about refinancing student loans, check out our guide on the best student loan refinance options.
Summary of How to Get a Student Loan Without a Cosigner
Many student borrowers today are forced to take out loans with a cosigner, due to their own limited credit history or lack of income. While a cosigner can help you snag the funds you need (typically at a lower interest rate) this can be a roadblock if you don't have a willing or creditworthy cosigner to add to your loan.
Thankfully, there are federal and private loan options for students who want to borrow money for school without a cosigner. Whether you're working on your bachelor's degree or finishing up a grad program, these loans can get you the funding you need without burdening anyone else with your debt. In fact, some lenders even specialize in no-cosigner loans, potentially opening up private loans to borrowers who wouldn't qualify anywhere else.
It's important to note that even if you're able to qualify for a student loan without a cosigner, you may be offered higher interest rates, a shorter loan term or more limited repayment options in exchange. If this occurs, you always have the option to refinance your loans later down the line.