Why Hipsters Are So Angry About Peet's Buying Stumptown Coffee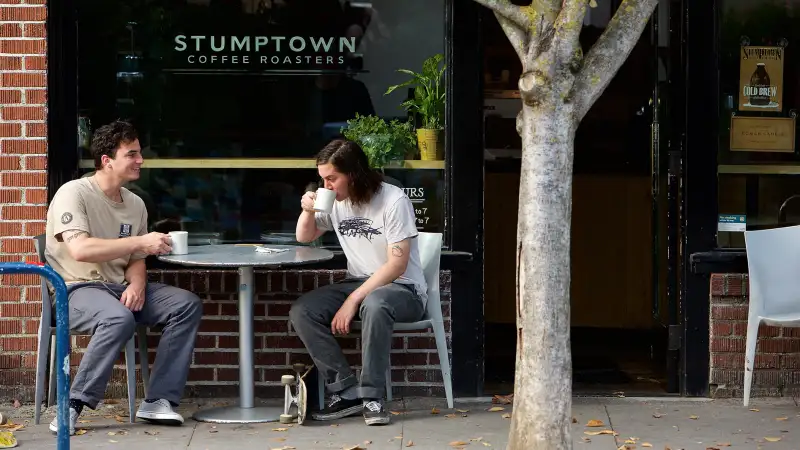 Craig Mitchelldyer—Getty Images
"Sad news."
"Sellouts"
"Everyone is for sale at the right price."
"It's a sad day. Another Starbucks story in the making. Great for the owners but bad for the coffee quality."
"what the effing hell. is nothing sacred?"
"Scratch stumptown off my list of coffee places to go. It's been nice knowing ya'."
"This is a travesty."
This is a selection of comments on Facebook, Twitter, and news sites like OregonLive made in reaction to the revelation that Portland's Stumptown Coffee is being purchased by another West Coast coffee outfit, the much larger Peet's Coffee & Tea, which is based in Berkeley, Calif.
"Stumptown will keep pushing towards the same goals we've always had – sourcing and roasting fresh coffee of the highest quality and taking care of each other and our customers," a note on the Stumptown blog promised regarding its acquisition. "We've got something special going on here, and we don't intend to change that."
Nonetheless, based on the reaction in social media, some are indeed worried that Stumptown will change—and not in a good way—now that it's been acquired by Peet's. Many assume quality will decrease. But the reason people are upset with Stumptown goes beyond that.
When Stumptown—or once-indie ventures like Caribou Coffee and Goose Island beer—sell out to big corporations, the consumers who loved the business's products, values, and sense of mission can feel betrayed. "The people who feel most betrayed are the ones who were most attached to the brand in the first place," Debbie MacInnis a marketing professor at the USC Marshall School of Business who is researching brand betrayal, told me last fall. We're especially apt to feel betrayed when the business that sells out is one that we've supported partly because it was so small. "We love underdog stories," she said. "We see ourselves as underdogs. We love the little guy, so there's a natural brand connection."
Hipsters in particular love underdog brands. "The underdog thing is important to this audience," the founder of the merchant-finder startup Locu.com (which itself was acquired by GoDaddy in 2013), explained to me a few years back in a story about what beer could be the next Pabst Blue Ribbon in terms of winning over hipsters. "If a beer is expensive, it doesn't fit the story. Hipsters are into adopting the underdog."
When a small indie brand joins up with a big, seemingly soulless corporation, it's hard to think of it still as an underdog. This helps explain why some people are so upset with Stumptown—that and they're worried that the new owners will mess with the quality of their favorite coffee.
Read Next: Why JetBlue and Whole Foods Can Break Your Heart -- But Not Comcast
Who Really Owns Your Craft Beer?