This Is the Absolute Best Music Festival for Your Money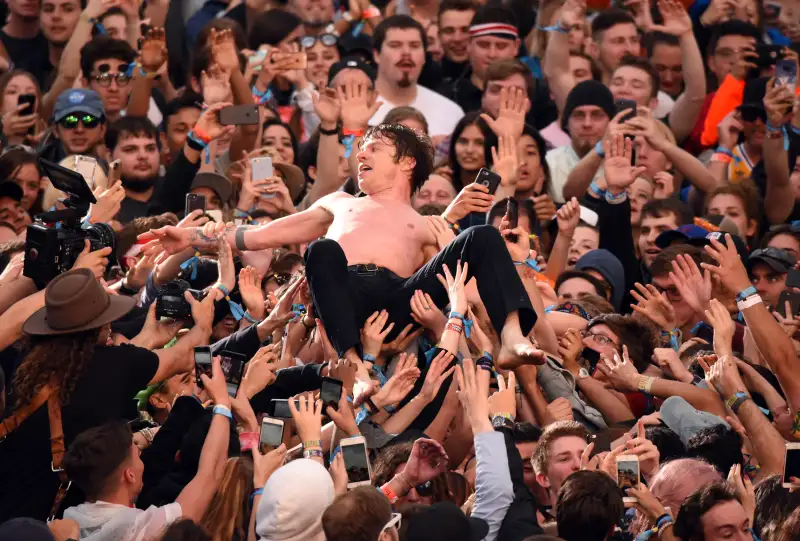 Noam Galai—WireImage/Getty Images
Is the Coachella Instagram envy setting in? If you regret forgoing the fun in Indio, don't sweat it—Coachella is just the beginning of the summer music festival season. And that means there are some great alternatives on the horizon.
But which festivals are really worth splurging on? Money looked at the biggest, most popular music festivals to determine which were best—and how they stack up to Coachella's massive line-up and desert digs. (Once you get to Coachella, you're likely to spend about $677 for a super budget weekend. More likely—all in, you'd probably spend over $2,000.)
To find the best deals for the remaining summer music festivals, Money looked at eleven events scheduled for 2018, focusing on experiences that offered a broad spectrum of genres, rather than niche events such as such as San Francisco's Hardly Strictly Bluegrass Festival and Las Vegas's Electric Daisy Carnival.
From there, Money evaluated the number of musical acts slated for each festival against the cost to spend a weekend—general admission pass and fees, cheapest lodging available, local transportation and food costs. In other words, we've ranked the following by which festivals give you the most for each dollar spent—the total weekend cost divided by the number of potential musicians in the line-up.
After crunching the numbers, here's which festivals came out on top giving you the best bang for the buck.
1. Bonnaroo
Brian Hensley Photography—courtesy of Bonnaroo
Where: Manchester, Tenn.
When: June 7-10, 2018
Weekend Cost: $584
Number of Scheduled Acts: 153
Now in its 16th year, Bonnaroo takes over a 700-acre farm deep in the heart of Tennessee for four days. It tops the list for its winning combination of a cheap venue (a weekend here is almost $100 cheaper than Coachella) paired with a super long list of musical acts. You're basically spending less than $4 per act. The line-up this year includes Eminem, the Killers and Muse and a weekend pass will set you back about $375 (including fees). But make sure to pack your sleeping bag, because to stay on budget, you'll be camping for the weekend.
2. Lollapalooza
Where: Chicago
When: Aug. 2-5, 2018
Weekend Cost: $850
Number of Scheduled Acts: 183
For four days at the beginning of August, Chicago's Grant Park becomes ground-zero for one of the biggest music festivals in the country. Unlike Coachella or Bonnaroo, this festival is best for those who want an urban music experience and a huge musical line-up. Lollapalooza has the most artists out of any festival Money reviewed. But you will pay for that—Lollapalooza is almost $200 more for the weekend than Coachella. In fact, the cheapest hotels for the weekend start at $100 per night. Lollapalooza's $357 general admission pass gets you in to see artists like Arctic Monkeys, Bruno Mars, The Weeknd and Jack White.
3. Firefly Music Festival
Invision—AP/REX/Shutterstock
Where: Dover, Dele.
When: June 14-17, 2018
Weekend Cost: $708
Number of Scheduled Acts: 105
A newer festival on the scene, Firefly launched its first concert outside of Dover just six years ago. Yet because it takes place at the Woodlands of Dover International Speedway (a 105-acre festival ground), the costs aren't too crazy if you plan to camp out for the weekend (single person passes start at $49). This year, you can catch the newly minted Pulitzer Prize-winner Kendrick Lamar headlining the festival, along with Eminem, Arctic Monkeys, and the Killers. General admission tickets for the four-day festival cost $359 (including fees).
4. Sasquatch Music Festival
Christopher Nelson—www.christophernelsonphotography.com
Where: George, Wash.
When: May 25-27, 2018
Weekend Cost: $497
Number of Scheduled Acts: 81
Spend Memorial Day weekend camping under the stars and then getting up to see some of music's biggest stars take the stage at the Gorge Amphitheater. Sasquatch, like Coachella and Bonnaroo, is an outdoor music festival and features an eclectic line-up, with headliners such as Bon Iver, The National, Modest Mouse and David Byrne are slated to play this year. General admission passes for the weekend are going for $329 (including fees), while a camping pass costs just over $100. Keep in mind that airfares to Seattle run about $317, on average, according to Kayak.
5. New Orleans Jazz & Heritage Fest
Where: New Orleans, La.
When: April 27-May 4, 2018
Weekend Cost: $877
Number of Scheduled Acts per Weekend: 121
New Orleans' annual Jazz Fest kicks off at the end of the month at the Fair Grounds Race Course—less than 3 miles from the historic French Quarter. While jazz is certainly the mainstay of the festival, country and rock legends like Aerosmith, Rod Stewart, Jimmy Buffet, and Sting will perform at this year's event. While tickets to festival itself are relatively inexpensive (general admission tickets are $80 per day at the gate), New Orleans' hotels (the cheapest hotels in nearby Metairie start at $139 a night) and a pricey dining scene diminish this festival's value.
6. Detroit Movement
Katie Laskowska—courtesy of Movement Detroit
Where: Detroit
When: May 26-28, 2018
Weekend Cost: $698
Number of Scheduled Acts: 88
Detroit is about the cheapest major city where you can host a music festival, but the Detroit Movement's three-day event gets dinged by a smaller line-up. The music festival kicks off on the Saturday of Memorial Day weekend in downtown Detroit's Hart Plaza, and nearby hotels will run you about $350 for the weekend—in addition to the weekend pass priced at $221. The festival's major draw this year is that all nine members of the Wu-Tang Clan are scheduled to perform as headliners for the hip-hop group's 25th anniversary.
7. Outside Lands
Steve Jennings—WireImage/Getty Images
Where: San Francisco
When: Aug. 10-12, 2018
Weekend Cost: $765
Number of Scheduled Acts: 73
If you're already in the San Francisco area, Outside Lands is not a bad bet—especially as it takes place in Golden Gate Park. This year's line-up includes The Weeknd, Florence + The Machine, Janet Jackson and Beck. And because of its proximity to San Francisco, the festival is also a foodie haven, with the region's top restaurants serving up over 200 dishes. But if you're not a local, this festival gets expensive fast. A general admission pass prices in at $415, while a bed in a nearby hostel will set you back $200 for the weekend. Plus if you need to factor in airfare, that's another $331 on average, according to Kayak.
8. Pitchfork Music Festival
Noam Galai—WireImage/Getty Images
Where: Chicago
When: July 20-22, 2018
Weekend Cost: $595
Number of Scheduled Acts: 43
Like its Chicago brethren Lollapalooza, the Pitchfork Music Festival puts on an event right downtown, albeit with a smaller line-up than many of the festivals on this ranking. Yet Pitchfork is known for pulling together an array of musicians that hit genres like alternative rock, indie rock, indietronica and alternative hip hop. The 2018 festival will feature Tame Impala, Fleet Foxes and Ms. Lauryn Hill. To check out this year's show at Union Park, you'll need to pony up $191 for a general admission weekend pass. Plus, you'll need to factor in a weekend stay at a nearby hotel—the cheapest of which is running $255 for the weekend.
9. Hangout Music Festival
Frazer Harrison—Getty Images for Hangout Music Festival
Where: Gulf Shores, Ala.
When: May 18-20, 2018
Weekend Cost: $1,240
Number of Scheduled Acts: 81
Part beach party, part music festival, Hangout offers the best of both worlds. But while the festival takes place in affordable Gulf Shores, it doesn't score as high due to the current run on cheap lodging options. As it is, a weekend at Hangout is almost $350 more than Coachella. A hotel out by the airport is going for almost $765 for the weekend. You'd do better if you could get a few friends together and split the cost of a hotel. Yet for those who want a chance to see Kendrick Lamar hot off his Pulitzer win, then maybe the expenses and the $319 fee for a general admission pass might be worth it. But for most, it's probably better to pass.
10. Arroyo Seco Weekend
Rich Fury—Getty Images for iHeartMedia
Where: Pasadena, Calif.
When: June 23-24, 2018
Weekend Cost: $614
Number of Scheduled Acts: 36
If a four-day festival sounds exhausting, Arroyo Seco may be for you. This two-day festival takes place at the Brookside Park next to the Rose Bowl stadium in Pasadena and includes rock-oriented headliners such as Neil Young, Jack White, Kings of Leon and Robert Plant. The location also offers easy access to hotels and transportation. And weekend passes are about $276, or a single day pass starts at $149. If you are planning to spend the weekend, you can snag a cheap hotel for the weekend for about $285. While Arroyo Seco is relatively cheap, the festival's small line-up means it's not as good of a value play. But this is only the second year it's been around, so keep an eye on this one—it could blossom into something good down the line.
11. The Governor's Music Festival
Where: New York City
When: June 1-3, 2018
Weekend Cost: $1342
Number of Scheduled Acts: 66
Randall's Island is just north of Midtown Manhattan and plays host to arguably New York City's biggest music event. And this year should be no different, with Jack White, Travis Scott, and Eminem headlining the Gov Ball. Yet New York is an expensive locale, and the $335 price for a general admission pass doesn't help. Overall, you're likely to spend almost double to attend Governor's Ball than Coachella. The hotel alone —Manhattan for the weekend—is about $800.
We've included affiliate links in this article. Click here to learn what those are.