Swimming Pools: Valuable Home Upgrade or Just a Pain in the Wallet?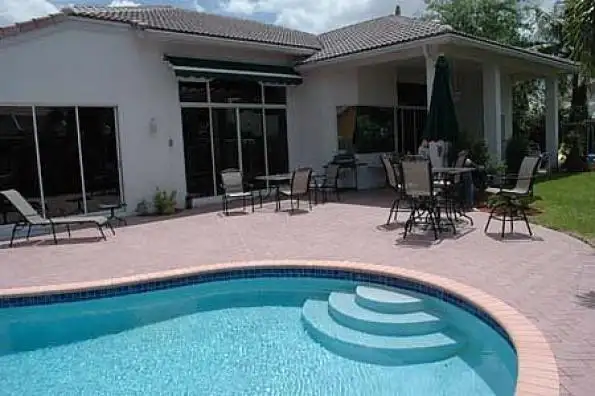 That lovely patio and pool you see in this photo is my Fort Lauderdale backyard. As summer steams in, maybe you're dreaming of a similar view.
Before you call the contractor and start picking out float toys, let's make sure you know what you're getting into.
The average in-ground swimming pool costs $21,919, according to home improvement site Fixr. And that's for a pretty basic 32' by 16' model. (Eleven years ago, we spent about $24,000 on our pool plus that pavered patio.)
But that's just to build the thing. Then you have to take care of it.
Not only are we basically lazy people, my husband and I learned that keeping a pool clean and clear is actually tricky business. After a few too many "Ooh, why is your pool water green" comments (we have a salt pool, so no algae-killing chlorine), we gave in and 911-ed the pool service company.
Cost: $85 a month, plus an extra $1,000 or so a year for annual maintenance items (new filters, etc.) Then there's the pool vacuum we had to replace last year ($600) and now we're dealing with frequent leaks. At 11 years old, our pool needs resurfacing—that'll be $2,500 please.
Oh yeah, and then there's the patio furniture we need to replace (the Florida heat, storms and salty air is hell on outdoor surfaces), the new layer of sand we need to throw on the patio every year or so and the outdoor sound system we "had to have." Finally, a pool pump and, if you go that way, a heating system will absolutely up your utility bill, and it will almost certainly bump up your homeowner insurance premiums because of the increased exposure to liability.
But at least we'll get our money back when we sell our home, right?
Well, not so fast.
Remodeling surveys and real estate agents seem to agree: A swimming pool is probably a wash in terms of cost vs. value, and it depends on the area.
In sunny states like where I live, a pool is practically standard equipment for any family-size home. If every house on the block has a pool, the lack of one will subtract from a buyer's perception of value.
That said, even in Florida, some buyers are wary either of safety issues—especially if they have very young children—and the maintenance costs. Massachusetts agent Kimberly Kent sums up the annoying ambiguity of it: "A pool is a great selling feature for those buyers who want one, and a major detractor for those who are absolutely against one." See other agent comments on this Zillow thread.
In northern climes, a pool is a tougher sell. As agent and Zillow consumer expert Brendon DeSimone told me, it's "too specific." Meaning, it's uncommon enough that buyers don't expect it and are more likely to run away from the costs and effort.
One sign of a pool's popularity in your area may be the sheer number of pool service companies: Check out Porch's take on the top and bottom "pool-loving states." A few of them are a bit head-scratching: Wyoming? Really?
Clearly, "value" goes beyond money recouped in a home sale.
When we put in the pool, our kids were 7 and 5 years old, respectively. The pool provided a lot of easy entertainment on a lot of slow summer days, not just for the two of them but for their gazillion closest friends. Now that they're surly teens, guess how many times they've gone in the pool lately? Yeah, exactly zero. Still, we got years of pleasure out of it and still do.
Nothing beats being able to splash in my pool at the end of a hot day (well, at least after the afternoon thunderstorm passes) and, at the very least, my lovely backyard provides a nice mental oasis to stare at when I need a break from my office and the incessant demands of my slavedriver bosses.
I'm confident that my own thousands of dollars has been money well spent. But I'm also looking forward to the day when I can stop paying the pool guy and just do my swimming in places like these: World's Coolest Hotel Pools