5 Ways Department Stores Are Fighting For Your Business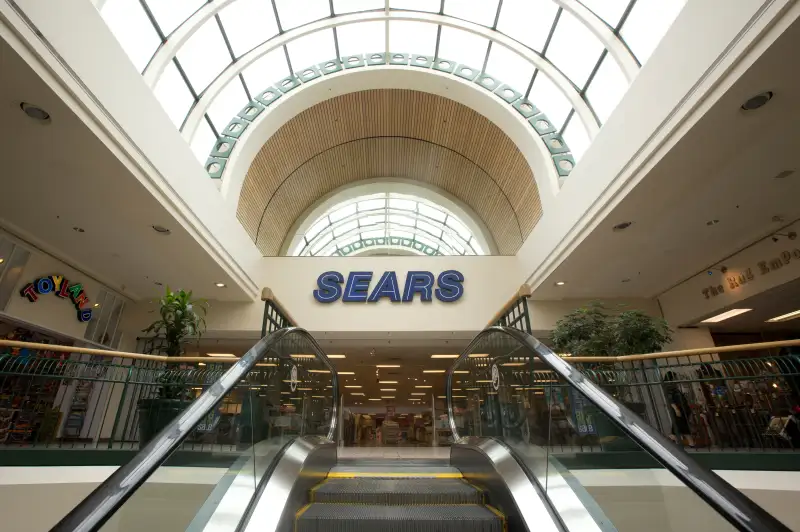 The all-purpose American department store is "dying." We've heard this for years, to the point that the retail category is not unlike the old man in the classic Monty Python scene who is loaded up on a cart of corpses despite his protest, "I'm not dead!"
Yet while we've witnessed the collapse of Radio Shack and various teen fashion retailers, as well as the larger struggles of malls as a whole, the old-fashioned department store is, well, not dead yet. In fact, this week, a round of earnings reports revealed generally good sales performances in the fourth quarter—and during the all-important holiday period in particular—from Dillard's, Target, and Kohl's, among others. Sears sales were down for the 11th quarter in a row, but even its report was viewed as decent because the company lost significantly less than it did in the same period a year prior. J.C. Penney surprisingly posted a loss for the quarter as well, though comparable store sales were actually up 4.4%.
Even with the mostly positive earnings reports, Target's failed expansion in Canada, as well as the trend to shutter more and more Target, Sears, Macy's, and J.C. Penney stores in the U.S., demonstrates that while department stores are alive, they're hardly kicking butt.
To avoid being written off for dead alongside Radio Shack, here are a handful of strategies you're going to see more of from department stores:
Trying out new store models. This week Macy's announced intentions to create a new off-price retail brand that would compete with discounters like TJ Maxx and highly successful "fast fashion" chains such as H&M and Forever 21. Meanwhile, Kmart is testing out a smaller store format, and Target is expanding its "Express" small-store model to more markets. Walmart has been going small too, with more non-supercenter "market" locations. Overall, the strategies show that the large department stores and discounters acknowledge that the one-size-fits-all approach is flawed, especially when the size in question is a hulking big box store.
Pushing web sales hard. Target offered free, no-minimum-purchase shipping for all online purchases throughout the 2014 winter holiday period. The move helped long-struggling "Tarjhay" increase digital sales by 30% for the year as a whole. Now it looks like Target is doubling down on its e-retail offensive, with this week's decision to cut the minimum-purchase threshold for free standard shipping from $50 to $25—a change that undercuts Amazon, Best Buy, and Walmart, among others.
For its part, the world's largest retailer is well aware that more shoppers are "omniconsumers" who make purchases via all channels, and it's trying to win their sales at every turn. "No doubt business is going increasingly mobile and increasingly online," Walmart CEO Doug McMillon told the Associated Press recently. "We don't really care how the customers want to shop. We want to be in the position to serve them in any of those ways."
Going old school with marketing. While virtually all retailers are seeking to juice web sales to compete with the likes of Amazon, J.C. Penney is trying to achieve this goal in an old-fashioned, seemingly unorthodox way. Starting in March, the department store that's undergone several (mostly unsuccessful) makeovers in recent years will start mailing its oversized catalog to customers yet again. And one reason why they're using this tool is that consumers are more likely to order merchandise online with a catalog in front of them.
Going invasively new school with sales pitches. Macy's, Neiman Marcus, and Lord & Taylor are among the major retail chains that have taken the potentially creepy step of deploying wireless beacons that detect shoppers' precise locations inside stores and send them info via smartphone about discounts, promotions, and special events.
Discounting in ways old and new. Discount-heavy Kohl's, where you can "save" $2,136 on a $242 shopping excursion, and where no one in their right mind pays full price for anything, had an especially strong holiday quarter with 3.7% growth in sales, beating expectations of 2% to 3%. One thing this tells us is that the age-old sales tactic of "price anchoring," in which "regular," "original," "suggested," and "compare to" list prices are inflated so that the inevitable discounts seem all the more impressive, remains a surefire way to sucker shoppers into buying.
On the new frontier of discounting, Target is testing out a strategy from the playbooks of supermarkets and drugstore chains, quietly launched a rewards program mobile app in beta. Members get 10 points for every $1 they spend at Target, and 5,000 points can be traded in for 5% off your next total purchase at the store. For now, the program, called REDperks, is available on an invitation-only basis, and only in select markets.