This Bank's Coin-Counting Machine May Have Ripped Off Your Kid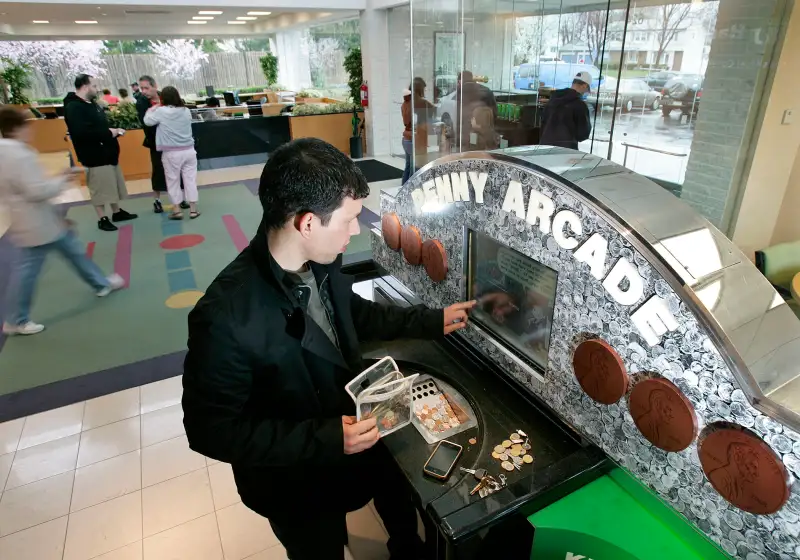 Bad news if you've ever emptied the contents of your piggy bank into a Penny Arcade at TD Bank: You may have lost a sizable portion of your loot.
A report from NBC's "Today" show tested TD Bank's coin counting machines by filling them with $300 worth of nickels, dimes, quarters and pennies. The machines feature a popular cartoon character named Penny on a video screen, and banks encourage kids in particular to come in and have their coins counted. After dumping one's change into the machines, you get a receipt that can be redeemed for cash with a teller. The service is free for TD Bank customers.
In some cases, however, people using TD Bank's Penny Arcade have been getting shortchanged. The "Today" investigation found that, in one instance, a machine churned out a receipt worth just $256.90—nearly 15% less than the $300 deposited. In other tests, reporters were shorted by $3.73 at one branch and by less than $1 at three additional locations. No error was in the customer's favor.
TD Bank, which always scores highly in Money's annual Best Banks report, has responded by closing the popular Penny Arcade for evaluation and testing. The machines will only reopen when the meet performance standards, the bank told NBC News. It also plans to revamp the machines' maintenance routines.
"We are disappointed with the experience that The Today Show had with our Penny Arcade coin counting machines," TD Bank told NBC News, adding that the bank cleans and tests its machines twice daily.
Read next: The Best Banks in America
At a TD Bank location in Midtown, the New York Post reported that a sign was taped over the machine, reading "Penny's at a check up and down for the count at all of our locations. We'll let you know when she's feeling better."
This isn't the first time the Penny Arcade has come under fire for inaccurately counting coins. A 2012 report from the Asbury Park Press in New Jersey found counting errors and tried to bring in county regulators to test the machines. But TD Bank denied them access, saying that a county office did not have authority over a federally-chartered bank.
When the Penny Arcade machines reopen, TD Bank recommends that you make sure your change is free of lint and dust, and that you consistently add your coins into the counter, as the machine may complete your transaction if there's a time lapse during the process. The machines will also not accept Eisenhower dollar or silver dollar coins.

In the meantime, you may want to consider using Coinstar machines, which are located in many supermarket chains. Similar reports have found that their coin count was accurate—perhaps a result of the fact that local authorities can gain access to the stores to test them.