Guess Which Tech CEO Earned 283 Times His Typical Employee's Salary Last Year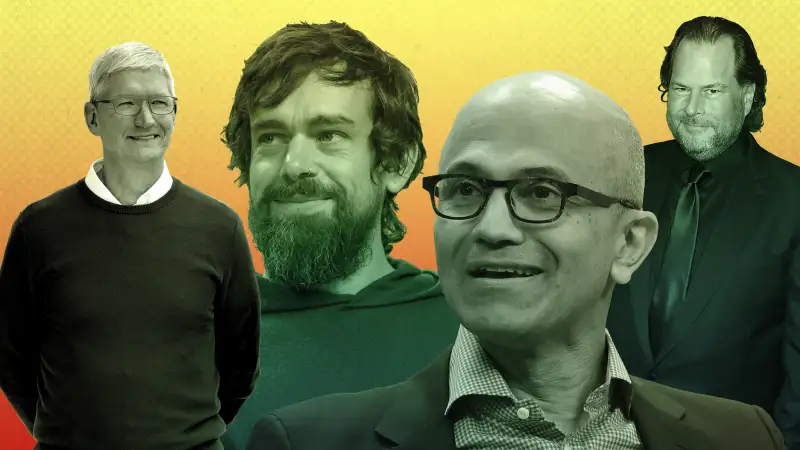 Photo illustration for Money by Sarina Finkelstein; Getty Images (4)
The numbers are in: The biggest tech companies paid their chief executive officers tens, if not hundreds times what half of their employees were paid in 2018.
That information comes straight from the companies themselves, thanks to an SEC-mandated disclosure requiring all public companies to release their CEO and median employee compensations in the form of a ratio, once every fiscal year. And while the breakdown of executive compensation is nothing new, putting a number on the typical employee salary and how it compares to the highest office — is a game changer, in that it provides some transparency where it didn't exist before.
For most tech companies this is the second time having to adhere to the "Pay Ratio Disclosure Rule," but for others — like Apple and Microsoft, who didn't have to disclose for 2017 due to the timing of their fiscal year — this is the first look we're getting under their hoods. To get a better idea of what this disparity looked like last year, Money looked at nine tech CEOs widely known for reaping the benefits of rapidly growing stocks and high market caps ...and even for having a particularly interesting 2018.
Based on official figures disclosed by the companies, Netflix CEO Reed Hastings made more money in 2018 than any of the CEOs listed above (about $35,380,417 of it was in stock option awards, but he also took home a comfortable $700,000 salary). Still, it was Apple CEO Tim Cook who took the cake in terms of pay ratio. Cook's $15,682,219 compensation was 283 times his median employee's salary ($55,426) — a bigger multiple than any of the other CEOs listed above. And Microsoft's pay ratio disclosure debut showed Satya Nadella making 154 times the typical employee ($167,689), thanks to a hefty $25.8 million compensation in 2018.
At Salesforce, not one, but two CEOs were making hundreds times the median employee salary. Both Marc Benioff and Keith Block — who became co-CEO only this past October — made tens of millions of dollars in their latest fiscal year, thanks to cash incentives, a bonus, and plenty of stock and options awards (Salesforce was the only one who technically disclosed for fiscal year 2019, but Salesforce's 2019 started on Feb. 1, 2018). Most of their employees made six-figures, but the median employee there also made less than any software-exclusive company listed above.
Facebook's Mark Zuckerberg, who's company was riddled with controversy in 2018 technically only accepts an annual salary of $1. Last year, he spent $22.6 million on security and travel that year, including about $12.4 million more on security than in previous years. Those expenses went towards his compensation, and put his pay ratio at just under 100 even though his employees have some of the highest salaries among these companies.
For Amazon CEO Jeff Bezos, the numbers are more tame. He made the same $1,681,840 salary he's made for years — 58 times his typical worker — but his employees, who are largely comprised of warehouse workers, made less than any other company listed above. It should be noted that about six months after Amazon disclosed its pay ratio the first time, Bezos raised the internal minimum wage to $15 per hour. The latest median salary for employees only reflects two months of that increase, so we'll wait until next year to see what that means for the CEO-to-employee ratio of the the richest man in the world.
Complicated Caveats
Of course, salary comparisons between the CEO and a typical employee can be complicated — stock options and company-related expenses make it difficult to judge what a nominal take-home salary looks like for executives.
Tesla's pay ratio disclosure, for example, showed that CEO Elon Musk made 40,000 times the median employee's $56,380 — the highest ever recorded — because of a $2.3 billion sum that's supposed to be awarded to him over the course of a decade, given the company meets 16 ambitious financial goals under his leadership. And while Alphabet's Larry Page and Square and Twitter's Jack Dorsey's single-digit compensations put them at the bottom of the pay ratio scale by SEC standards (Page has for years accepted a $1 salary from Alphabet with no bonus or stock awards, and Dorsey's has been at $2.75 for the last two years), they're hardly living modestly. Their substantial stakes in the companies they built, pay the bills just fine.
Company-to-company ratio comparisons aren't always apples-to-apples either, since SEC guidelines allow individual companies flexibility in calculating compensation figures, like how to account for contract workers or international employees. There is research to show that last year's pay disclosures had some trends, though. Most companies used base salaries to calculate employee compensation, for example, and more than half included bonuses or other annual incentives.
More Money for the Masses
Regardless of how they're being calculated, these figures are the best window stockholders have into how much CEOs are spending on themselves versus how they're compensating the majority of the company. It's also a chance for the public to get an idea of which companies pay well and whether the median salary is on the up-and-up.
The fairly significant divide between Amazon, Apple, and Tesla and the rest of the companies can probably be attributed to the difference in workforces. In addition to their six-figure-salary software engineers, these three companies also depend on warehouse and retail employees who make a smaller annual income, which brings down their median. Fortunately, we can see that two of these companies paid their median employee more from one year to the next — which is more than we can say about Facebook or Salesforce.