3 Best Texas Mortgage Companies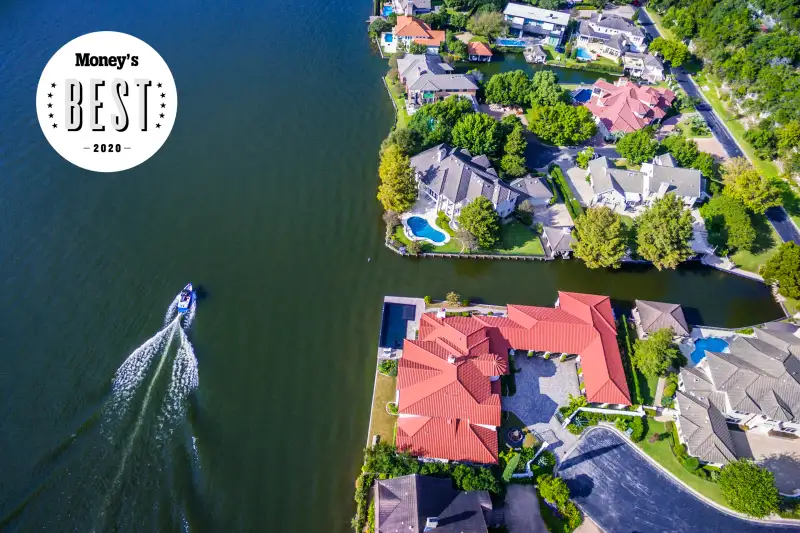 Money's Top Picks
Guild Mortgage: Best for First-Time Homebuyers
LoanDepot: Best for FHA
Quicken Loans: Best for Customer Service
There's a common refrain that everything's bigger in Texas and, when it comes to popularity with movers, the stats seem to back it up. According to Census Bureau data, Texas is behind only Florida in the number of intrastate movers since 2010, with a yearly average of 530,000. That's close to 5 million new out-of-state residents in the last nine years.
Of the 15 fastest-growing large cities since 2010, six of them are located in Texas. Further, the population for the Austin-Round Rock-Georgetown metropolitan area grew by 29.8%, by far the largest increase of any metropolitan area in the nation between 2010 and 2019.
It's no wonder that Texas is also second in the country for the number of mortgage originations.
One thing that's smaller in Texas? Home prices. According to Zillow, the median home value in Texas is currently $211,199, compared to $248,857 for the U.S. Even in large cities such as Houston ($191,907), San Antonio ($187,718), and Dallas ($226,145) home values are lower than the national median. Only technology-hub Austin has higher home values at $401,999.
As with the rest of the country, Texas' economy has been dealt a heavy blow by the COVID-19 pandemic. More than 3.2 million Texans have filed unemployment claims since March. Texas had an 8.6% unemployment rate in June, which is lower than the national rate of 11.1%, but still more than double the June 2019 rate.
Nonetheless, even with the hit the housing market took in April and May, existing home sales in June jumped more than 20% from the previous month, reversing a three month trend of declining sales. Potential borrowers can still take advantage of mortgage rates below 3%.
Whether you're looking for homes in the panhandle, Big Bend, or the Gulf Coast, here are our picks for Best Mortgage Lenders in Texas.
More on Money's Top Picks
Guild Mortgage: Best for First-Time Homebuyers
According to the Mortgage Bankers Association, Guild Mortgage is among the nation's top ten FHA lenders by volume, a noteworthy fact when looking for mortgage lenders in Texas. FHA loans are popular with first-time home buyers because they require a lower minimum FICO score than conventional loans to qualify and borrowers can put as little as 3.5% down.
Guild provides a wider variety of loan types and programs than most lenders including renovation loans and down payment assistance programs. First time homebuyers may want to consider Guild Mortgage, for the ability to compare different offers and see which one works best for them.
Guild Mortgage also excels in customer experience. It ranks as "Better than Most" and is in the top three in J.D. Power's 2019 Mortgage Origination Satisfaction Study, which takes into account each lender's application process and overall product offering, for the third straight year. Additionally, Guild has a relatively low number of customer complaints registered with the CFPB, compared with other lenders its size.
Guild's online mortgage portal allows borrowers to complete a paperless loan application as well as providing the option to upload documents and keep tabs on their loan approval. Nonetheless, customers who prefer face-to-face interactions can visit 30 Guild branches across the state of Texas.
LoanDepot: Best for FHA
LoanDepot is one of the nation's largest mortgage originators, ranking sixth in total originations in the MBA's report and second only to Quicken Loans in FHA originations.
LoanDepot's standout feature is its Mello Smartloan product, an online mortgage application that LoanDepot claims can significantly cut the time from start to close, in some cases to as few as 8 days. It can digitally verify customer information such as income and assets, employment information, and credit score. By replacing traditional processes with digital ones, LoanDepot avoids the time-consuming back and forth of paper documents, and allows the loan officers to determine borrower qualification in a quicker manner. Nevertheless, even with its state-of-the-art online mortgage process, LoanDepot also hosts 23 branches in the state of Texas for those who prefer a personal touch.
As with FHA loans from any lender, borrowers need to have a 580 FICO score to qualify for the 3.5% down payment option, LoanDepot does consider alternate financial data when evaluating mortgage applications from self-employed individuals.
J.D. Power rated them "About Average" in customer satisfaction. It also had very few complaints registered against it with the Consumers Financial Protection Bureau.
Quicken Loans: Best for Customer Service
According to the Mortgage Bankers Association's report on originations, Quicken ranks first in the country in both total number of originations and FHA loans.
But what really sets Quicken apart from all other lenders is its continued success in customer satisfaction. According to J.D. Power's Primary Mortgage Origination Satisfaction Study, Quicken ranks the highest in mortgage origination satisfaction for the tenth consecutive year. Additionally, Quicken customers have filed fewer complaints with the Consumer Financial Protection Bureau than customers of similar-sized lenders.
Besides the standard 15- and 30-year term lengths, Quicken offers borrowers their ​YOURgage​ program. This fixed-rate mortgage lets potential borrowers pick the term length they prefer between eight and 30 years. It also allows for well-qualified first-time buyers to put down as little as 3%, though it does require paying for private mortgage insurance.
Quicken's Rocket Mortgage platform powers their online presence. With Rocket Mortgage, potential borrowers can provide personal and financial information to receive recommendations, including actual rates and payments, tailored to their specific wants and needs.
How We Picked the Best Mortgage Lenders in Texas
To look for the best mortgage lenders in Texas, we started with the methodology already established for our Best Mortgage Lenders of 2020. For that, we compiled mortgage origination data from the Mortgage Bankers Association. Its report contained data on types of loans issued and average loan amounts, nationally and by state. Since Texas has a slightly higher percentage of FHA loans than the national average, we specifically looked at lenders that offered these types of loans.
The MBA report also breaks down the top 100 mortgage companies by state and in the U.S. With this information we had a better understanding of each company's size and reach, providing us with context when comparing lenders.
However, the size of the lender wasn't the only factor we considered when choosing our top mortgage companies. We also used JD Power's 2019 U.S. Primary Mortgage Origination Satisfaction Study, which measures overall customer satisfaction in the application, approval, and closing processes, as well as the lender's communication and product offerings. We only considered companies that ranked "About Average" or above.
We also looked at customer complaints registered with the Consumer Financial Protection Bureau, as well as regulatory actions taken by the Nationwide Mortgage Licensing System against each lender. We eliminated companies that had too high a complaint ratio relative to loan volume or with significant disciplinary or enforcement actions.
After paring down the list of lenders using the criteria above, we ranked the remaining companies by comparing its product offerings, customer experience, reputation and transparency.
Product Offering
Companies with a large variety of mortgage options were favored over those that specialized in only certain types of loans. However, we did emphasize the importance of FHA loans as part of the product offering, since Texas has a higher rate of them.
Customer Experience
When looking at lenders, customers might focus on comparing mortgage rates to determine their best option. But we believe that the customer experience is equally important when determining the best mortgage lenders.
To identify a good customer experience, we look at several factors. The availability of customer support, be it through the phone, chat, email, or branch, is important since it's the direct connection between lender and borrower. Support that's available through different channels and during extended periods is preferred.
The lender's technological offering is also of utmost importance, especially during the pandemic when face-to-face interactions are to be avoided. We looked for a user-friendly website, informative resources and educational tools. We also like to see a lender offer an app for customers who prefer to take care of things through their mobile devices.
Lenders that offered streamlined application processes and quick closings were also favored.
Reputation & Transparency
We used the CFPB and NMLS data to compare each lender's industry standing.