These Retailers Are the Worst Offenders Pushing Thanksgiving Day Store Hours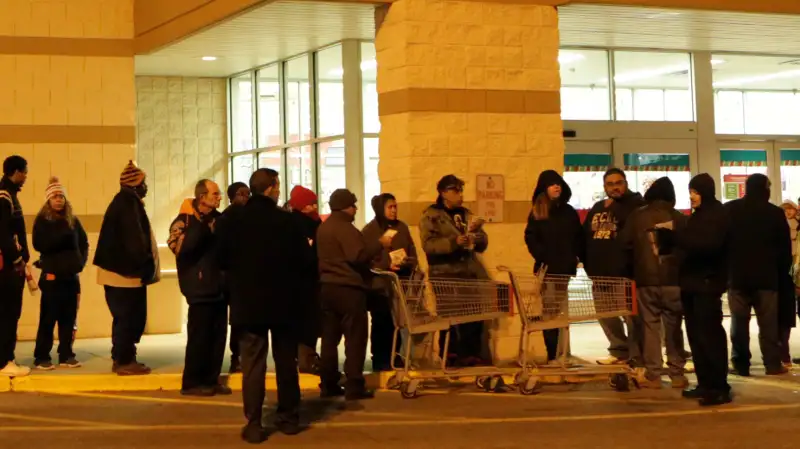 Jean-Marc Giboux—AP Images for Kmart
If there's one clear trend in the 2015 retail holiday season landscape, it's that most stores seem to have come to the realization that it's dumb to keep opening earlier and earlier on Thanksgiving Day.
Once upon a time, Black Friday sales actually started on Friday—perhaps as early as 4 a.m., but hey, at least it was technically Friday. Then some store opened the door to midnight openings on Thanksgiving night, which was followed up the next year with sales that launched at 10 p.m. on Thanksgiving, and so on, until retailers like Macy's and Target were opening at 6 p.m. and Best Buy and Toys R Us decided they needed to open an hour earlier, at the prime Thanksgiving dinner hour of 5 p.m. Michaels has been opening on Thanksgiving at 4 p.m.—because, you know, it's unconscionable that people might be deprived of crafts and all on the afternoon of a national holiday.
But the so-called "Black Thursday" trend, which has drawn boycott threats and online campaigns among people who want to protect Thanksgiving as a sacred day for family time unencumbered by rampant consumerism, has mostly plateaued this year. All of the retailers mentioned above are opening on Thanksgiving Day at the same times they did on the holiday last year, rather than expanding holiday store hours like they have in the past. Taking the backlash a step further, the outdoor specialty store REI is staying closed on Black Friday and Thanksgiving alike, and Staples decided to remain shut on Thanksgiving, after being open on the holiday in prior years.
Then again, if you're agitated that stores insist on encroaching on Thanksgiving, it's not much of a victory that most big-box retailers will still be open at a time traditionally reserved for pumpkin pie, touch football, and perhaps a nap on the couch. What's more, some major retailers (notably, the ones below) are continuing on with their traditions for having especially long store hours on the holiday.
Kmart: 6 A.M. Opening
The bulk of Kmart's Black Friday doorbuster specials will go on sale in stores at 7 p.m. on Thanksgiving evening, including select Star Wars toys for 50% off, Procter Silex kitchen appliances for $3 (normally $10), 6-foot Dakota Spruce artificial Christmas trees for $15 (list price: $50), and poinsettias for just 89¢ (normally $2.99 and up). But stores will actually be open starting at 6 a.m. on Thanksgiving morning. A separate round of deals for early birds kicks off then, including 50% off Christmas decorations, classic board games for $2.99 (normally $5.99 and up), and 88¢ for 2-liter Pepsi beverages.
If you're upset that Kmart will be open all day on Thanksgiving starting at the wholly unnecessary hour of 6 a.m., you'll be even more disappointed with the way the retailer is apparently treating its workers. As Think Progress reported very recently, "In a survey of 40 self-identified Kmart employees in 18 states conducted by Coworker.org and shared with ThinkProgress, 95 percent said they still don't know their schedules for Thanksgiving Day and Black Friday, and 70 percent say their managers haven't even told them what the store's hours will be."
Meijer: 6 A.M. Opening
A different series of deals is launching on Thanksgiving, Black Friday, and the Saturday that follows at retailer Meijer. The particulars of each day's sale haven't been released yet, but we do know that each day stores will open at 6 a.m., including Thanksgiving Day.
Dollar General: 7 A.M. Opening
According to the ad leaked to TheBlackFriday.com, Dollar General stores will feature deals like $1 outdoor mini holiday lights, $7 jeans, $1 cans of Campbell's Chunky soup, and $34 portable DVD players starting at 7 a.m. on Thanksgiving morning.
J.C. Penney: 3 P.M. Opening
Unlike competitors like Macy's and Target, which are sticking with the same Thanksgiving hours as last year, J.C. Penney feels compelled to open at 3 p.m., two hours earlier than in 2014—and smack in the heart of what many consider the optimal time to commence Thanksgiving feasts.
Walmart: Open 24/7, including Thanksgiving
This year, Walmart has downplayed Black Friday and Thanksgiving Day deals, opting instead to post longer-lasting sales that start earlier in the season (most are live now) and stick around for weeks. Most of its Thanksgiving-Black Friday specials are in fact available online at 12:01 a.m. on Thursday, November 26 (Thanksgiving), and the in-store doorbusters won't be launched until 6 p.m. that day. This would all seem to negate any reason for shoppers to hit Walmart during the middle of the day on Thanksgiving—thereby also eliminating any reason for Walmart to be open then. Nonetheless, as usual, most Walmarts are open 24/7, even on holidays like Thanksgiving. (Walmart is closed on Christmas, though, and stores generally shut down at 8 p.m. on Christmas Eve.)
Read Next: Stores Realize It's Dumb to Open Earlier and Earlier on Thanksgiving