10 Supermarkets With Thanksgiving Turkeys for Under $1 a Pound — or Free!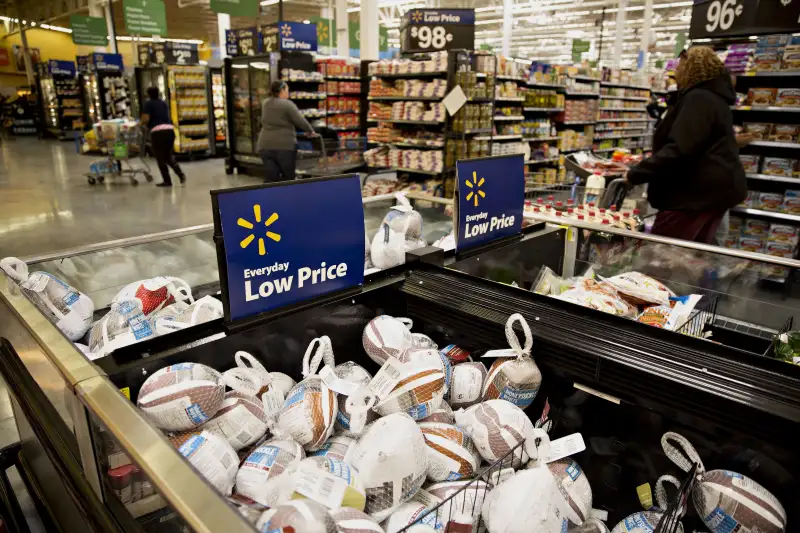 Bloomberg—Bloomberg via Getty Images
The annual study estimating the cost of Thanksgiving dinner should be released any day now by the American Farm Bureau Federation.
But no matter what the study says about the average cost of turkey lately, shoppers can be assured that it'll be easy to get an inexpensive—or even free—Thanksgiving turkey this year. That's because supermarkets routinely host big sales with cheap turkeys right before Thanksgiving.
On the surface, this might not make sense because turkey is something that shoppers will be buying before the holiday whether or not there's a good sale. But grocery stores slash prices on turkey just before Thanksgiving with the hope of using the sales as magnets to draw shoppers into stores where they'll pick up a lot more than just turkey for their Thanksgiving feasts.
We've tracked down 10 big grocery chains that have turkeys on sale right now for less than $1 per pound. Several even have promotions that give customers turkeys for free.
Before heading to your local supermarket, however, take note that prices and promotions vary from region to region. So some of the deals below may not be valid in your neck of the woods. There are sometimes minimum purchase requirements as well, and stores often place a limit of one or two turkeys per customer for these promotions. Check the weekly ad from local stores for the exact details.
Stores With Cheap Thanksgiving Turkeys
Kroger: Frozen Kroger turkeys are priced at 49 cents a pound, with an additional purchase of at least $20.
Meijer: Frozen turkeys are priced at 48 cents per pound if you're making a purchase of at least $30.
Publix: Frozen Publix young turkeys are on sale for 59 cents per pound.
Safeway: The house brand Signature Farms turkeys are going for 49 cents a pound, and Butterball turkeys are available for 99 cents a pound for Safeway rewards club members. To get these prices, you must make additional purchases of at least $25.
Stop & Shop: Stores are advertising Stop & Shop Grade A frozen turkeys for 39 cents a pound when you make a purchase of at least $25. Stop & Shop says it will match turkey prices from competing grocery stores, too.
Target: Target's Market Pantry turkeys are on sale for 79 cents a pound, and Butterball premium frozen turkeys are 99 cents per pound.
Walmart: The weekly ad in some regions highlights Butterball frozen turkeys on sale for 98 cents per pound.
Stores With Free Thanksgiving Turkeys
Hy-Vee: Purchase a Hormel Cure 81 Boneless Whole Ham and you'll get a Honeysuckle White frozen turkey for free.
ShopRite: Fresh—not frozen—ShopRite Grade A turkeys are priced as low as 50 cents per pound, and Butterball fresh turkeys are going for $1 per pound. ShopRite is also giving away turkeys to qualified customers. In many locations, ShopRite Price Plus club members get a free Thanksgiving item—including the option of a frozen turkey weighing up to 21 pounds—after they've made $400 in purchases from October 15 through November 23.
WinCo: Get a free frozen turkey when you make $100 in purchases now through Thanksgiving in many WinCo locations.