The 50 Best Jobs in America — And How Much They Pay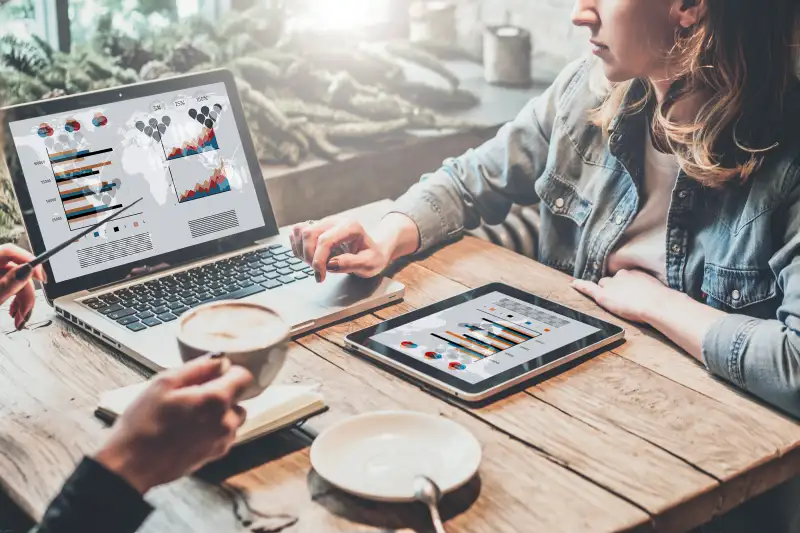 One takeaway you may not be surprised to learn in 2018: It's still great to work in technology.
That's a finding from the job site Glassdoor's fourth annual report on the best jobs in America. On this year's list, the tech sector comprises 20 of the 50 top positions, including data scientist (No. 1), devops engineer (No. 2), and data analyst (new to the list at No. 38).
The fast-growing finance and healthcare industries are well-represented, too, from finance manager (No. 12) to physician assistant (No. 25), the latter having a high median base salary of $104,000. The report notes that many of these jobs are unlikely to be replaced by AI or automation, and require flexibility in addition to technical knowhow.
Glassdoor's ranking compiles three factors to determine its job scores, weighing them equally: base salary, job satisfaction ratings, and number of job openings.
And while just about everyone wants to be in an in-demand job with strong pay, the satisfaction scores offer a broader picture of how people feel in the roles. "Once people start their jobs, pay is not necessarily the leading impact for how satisfied you are," says Glassdoor spokeswoman Sarah Stoddard.
There are some surprising additions to the list, like executive assistant (No. 46), which doesn't always get a glowing reputation. But that occupation will continue to thrive and require creativity to help bosses in a tech-enabled workplace, according to Stoddard.
Looking for a new, more promising gig? Here's Glassdoor's full list of the 50 best jobs in the U.S. for 2018, including links to open positions.
Job Score: 4.8
Job Satisfaction Rating: 4.2
Number of Job Openings: 4,524
Median Base Salary: $110,000
Job Score: 4.6
Job Satisfaction Rating: 4.0
Number of Job Openings: 3,369
Median Base Salary: $105,000
Job Score: 4.6
Job Satisfaction Rating: 4.0
Number of Job Openings: 6,439
Median Base Salary: $85,000
Job Score: 4.5
Job Satisfaction Rating: 4.0
Number of Job Openings: 11,903
Median Base Salary: $74,000
5. HR Manager
Job Score: 4.5
Job Satisfaction Rating: 3.9
Number of Job Openings: 4,458
Median Base Salary: $85,000
Job Score: 4.5
Job Satisfaction Rating: 3.9
Number of Job Openings: 5,839
Median Base Salary: $76,000
Job Score: 4.5
Job Satisfaction Rating: 4.2
Number of Job Openings: 1,195
Median Base Salary: $135,000
Job Score: 4.5
Job Satisfaction Rating: 4.1
Number of Job Openings: 1,809
Median Base Salary: $90,000
Job Score: 4.4
Job Satisfaction Rating: 3.7
Number of Job Openings: 7,531
Median Base Salary: $113,000
Job Score: 4.4
Job Satisfaction Rating: 4.0
Number of Job Openings: 4,241
Median Base Salary: $72,000
Job Score: 4.4
Job Satisfaction Rating: 4.3
Number of Job Openings: 1,222
Median Base Salary: $96,000
12. Finance Manager
Job Score: 4.4
Job Satisfaction Rating: 3.8
Number of Job Openings: 2,998
Median Base Salary: $116,000
13. Risk Manager
Job Score: 4.4
Job Satisfaction Rating: 4.2
Number of Job Openings: 1,209
Median Base Salary: $97,000
14. Business Development Manager
Job Score: 4.4
Job Satisfaction Rating: 3.9
Number of Job Openings: 4,060
Median Base Salary: $75,000
Job Score: 4.4
Job Satisfaction Rating: 4.2
Number of Job Openings: 1,122
Median Base Salary: $100,000
Job Score: 4.4
Job Satisfaction Rating: 4.1
Number of Job Openings: 1,064
Median Base Salary: $120,000
Job Score: 4.4
Job Satisfaction Rating: 3.8
Number of Job Openings: 5,079
Median Base Salary: $75,000
Job Score: 4.4
Job Satisfaction Rating: 3.9
Number of Job Openings: 1,381
Median Base Salary: $115,000
19. Tax Manager
Job Score: 4.4
Job Satisfaction Rating: 3.7
Number of Job Openings: 3,309
Median Base Salary: $110,000
20. Creative Manager
Job Score: 4.3
Job Satisfaction Rating: 4.3
Number of Job Openings: 824
Median Base Salary: $110,000
Job Score: 4.3
Job Satisfaction Rating: 3.6
Number of Job Openings: 29,187
Median Base Salary: $102,500
Job Score: 4.3
Job Satisfaction Rating: 4.2
Number of Job Openings: 806
Median Base Salary: $115,000
Job Score: 4.3
Job Satisfaction Rating: 4.3
Number of Job Openings: 2,330
Median Base Salary: $65,000
24. QA Manager
Job Score: 4.3
Job Satisfaction Rating: 3.8
Number of Job Openings: 1,741
Median Base Salary: $92,000
Job Score: 4.3
Job Satisfaction Rating: 3.6
Number of Job Openings: 5,517
Median Base Salary: $104,000
Job Score: 4.3
Job Satisfaction Rating: 3.8
Number of Job Openings: 2,370
Median Base Salary: $94,000
27. UX Designer
Job Score: 4.3
Job Satisfaction Rating: 3.8
Number of Job Openings: 1,963
Median Base Salary: $90,000
28. Nursing Manager
Job Score: 4.3
Job Satisfaction Rating: 3.7
Number of Job Openings: 4,209
Median Base Salary: $84,660
Job Score: 4.3
Job Satisfaction Rating: 3.7
Number of Job Openings: 2,169
Median Base Salary: $115,000
Job Score: 4.2
Job Satisfaction Rating: 3.6
Number of Job Openings: 3,325
Median Base Salary: $125,000
31. Process Engineer
Job Score: 4.2
Job Satisfaction Rating: 3.8
Number of Job Openings: 3,033
Median Base Salary: $78,000
Job Score: 4.2
Job Satisfaction Rating: 4.3
Number of Job Openings: 747
Median Base Salary: $92,000
33. Data Engineer
Job Score: 4.2
Job Satisfaction Rating: 3.7
Number of Job Openings: 2,816
Median Base Salary: $100,000
Job Score: 4.2
Job Satisfaction Rating: 3.8
Number of Job Openings: 13,706
Median Base Salary: $65,000
35. Speech Language Pathologist
Job Score: 4.2
Job Satisfaction Rating: 3.7
Number of Job Openings: 11,573
Median Base Salary: $72,000
Job Score: 4.2
Job Satisfaction Rating: 3.9
Number of Job Openings: 1,380
Median Base Salary: $80,000
37. Audit Manager
Job Score: 4.2
Job Satisfaction Rating: 3.7
Number of Job Openings: 1,951
Median Base Salary: $100,000
38. Data Analyst
Job Score: 4.2
Job Satisfaction Rating: 3.9
Number of Job Openings: 4,729
Median Base Salary: $60,000
39. Systems Analyst
Job Score: 4.2
Job Satisfaction Rating: 3.7
Number of Job Openings: 2,710
Median Base Salary: $75,000
Job Score: 4.2
Job Satisfaction Rating: 3.8
Number of Job Openings: 2,139
Median Base Salary: $75,000
Job Score: 4.2
Job Satisfaction Rating: 4.1
Number of Job Openings: 808
Median Base Salary: $85,000
42. Business Intelligence Developer
Job Score: 4.1
Job Satisfaction Rating: 3.9
Number of Job Openings: 882
Median Base Salary: $86,000
43. Business Analyst
Job Score: 4.1
Job Satisfaction Rating: 3.6
Number of Job Openings: 9,603
Median Base Salary: $71,000
Job Score: 4.1
Job Satisfaction Rating: 3.6
Number of Job Openings: 3,273
Median Base Salary: $82,000
45. UI Developer
Job Score: 4.1
Job Satisfaction Rating: 3.8
Number of Job Openings: 1,004
Median Base Salary: $95,000
Job Score: 4.1
Job Satisfaction Rating: 3.9
Number of Job Openings: 4,684
Median Base Salary: $55,000
Job Score: 4.1
Job Satisfaction Rating: 3.8
Number of Job Openings: 1,024
Median Base Salary: $110,000
48. Project Manager
Job Score: 4.1
Job Satisfaction Rating: 3.5
Number of Job Openings: 23,274
Median Base Salary: $80,000
Job Score: 4.1
Job Satisfaction Rating: 3.5
Number of Job Openings: 8,510
Median Base Salary: $100,000
50. HR Generalist
Job Score: 4.1
Job Satisfaction Rating: 3.9
Number of Job Openings: 2,705
Median Base Salary: $57,120