These Are the 5 Safest Cryptocurrencies to Invest In, According to a Prominent Rating Firm
Money is not a client of any investment adviser featured on this page. The information provided on this page is for educational purposes only and is not intended as investment advice. Money does not offer advisory services.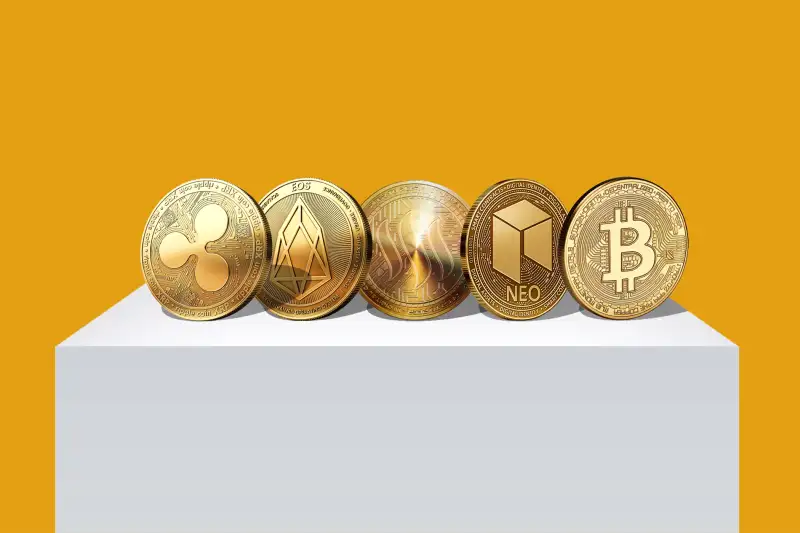 Photo illustration by Money; Shutterstock (6)
Less than three months into the year, and there have already been 101 initial coin offerings, which are a common way to launch new cryptocurrencies. That's a 460% increase compared to the same period a year ago.
And since last April, when Bitcoin's price really started to heat up, fueling interest in cryptocurrencies across the board, there have been around 320 ICOs.
The flood of new coinage begs the question: With so many choices out there, which cryptocurrencies are legit and financially stable enough to be worth investing in — especially in light of the huge ups and downs that many cryptos have experienced.
One financial rating agency thinks it knows the answer.
Weiss Ratings — which has a long history of rating stocks and mutual funds but is probably best known for grading the financial health of insurance companies — recently came out with the first rating system for cryptocurrencies.
Weiss isn't predicting which cryptos are likely to see the biggest jump in price in the short run. Nor should these ratings be regarded as a statement of absolute financial stability like, say, Microsoft's AAA-credit rating would speak to that company's balance sheet strength.
Instead, the company is judging the overall risk-reward proposition of 79 of the best-known cryptocurrencies.
"Many cryptocurrencies are murky, overhyped, and vulnerable to crashes. The market desperately needs the clarity that only robust, impartial ratings can provide," Weiss Ratings founder Martin Weiss said earlier this year.
To grade cryptos on a letter-grade system from A (excellent) to E (very weak), Weiss relies on four indexes which measure each crypto's risk (essentially price volatility), reward (including absolute and relative price performance); underlying technology; and fundamentals (including transaction speed, scalability, and public and developer acceptance).
Which Cryptocurrencies Earned the Highest Grades?
Virtual currencies that receive an "A" grade are considered excellent from a risk-reward standpoint.
Alas, not a single crypto earned an "A" or even an "A-minus." Weiss is quick to point out on its website that "at this early stage in their evolution, there is no such thing as a 'safe' cryptocurrency."
The highest-rated cryptos each earn a "B-minus" grade in Weiss's latest ratings, which put them in the bottom third of cryptos that Weiss considers "good."
The "good" cryptocurrencies are:
Bitcoin, the world's largest cryptocurrency whose coins are collectively worth $137 billion.
Ripple, the third-most valuable cryptocurrency worth $23 billion.
EOS, ranked no. 6 and worth around $5 billion.
NEO, the ninth-largest virtual currency worth just under $4 billion.
Steem, which is tiny by comparison with only around $450 million worth of coins in circulation.
How Do Other Prominent Cryptos Stack Up?
For the most part, the rest of the ten biggest cyrptocurrencies in the world okay decent marks.
For instance, Ethereum — the second-biggest virtual currency which has become the crypto for businesses — earns a "C+". That puts it in the upper third of a group that what Weiss considers "fair."
That same C+ grade is assigned to Litecoin, Cardano, Stellar, and IOTA, which are also among the Top 10 in size.
The only large cryptocurrency that gets a poor mark is Bitcoin Cash, which Weiss assigns a "D+". Cryptocurrencies with a "D" grade are regarded as "weak" by Weiss.
Which Cryptocurrencies are Near the Bottom of the Ratings?
Other names that earn low marks include names that many casual investors may not have even heard of.
They include: Auroracoin (E), Comet (E-), Electroneum (E+), Expanse (E), Matchpool (E), Megacoin (E-), Novacoin (E), PotCoin (D-), Quark (E-), and SaluS (E).
None of the names, besides Salus, has consistently stayed above $10 a coin in the past year, so it's unlikely many investors were losing life savings on these cryptos.
The Backlash to The Weiss Ratings

Anytime a list like this comes out, there's backlash. Cryptocurrency investors hate criticism against the coin they've speculated on.
That doesn't mean some of the attacks lack validity. When the initial ratings were released, Bitcoin earned a grade of C+ (which has since moved up to a B-). This caught many off guard, since it's the standard bearer in which all other cryptos are judged.
"Their rating of Bitcoin suggests a misunderstanding of the core value proposition of cryptocurrency, however, as they seem to overvalue transaction capacity, and undervalue protocol stability, security, and decentralization," Ari Paul, CIO at cryptocurrency investment firm BlockTower Capital told CNBC at the time.
Others complained that Weiss was too new to cryptocurrencies to understand the investing universe.
Ultimately, it will be up the market to determine that — and to prove Weiss either right or wrong.