Tips For Successful Business Networking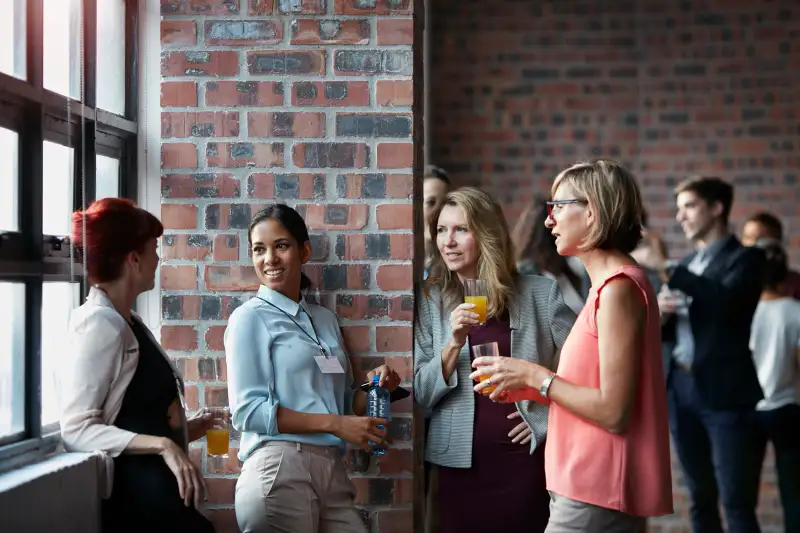 *Content includes branded mentions of our sponsor ZipRecruiter.
While growing businesses can easily find great talent through job search sites like ZipRecruiter, social recruiting and referrals remain popular — and effective — ways of finding qualified candidates. Cultivating a strong network of contacts can facilitate that process.
Networking can help business owners create meaningful professional relationships and provide opportunities to meet and engage with potential partners and employees. With the right approach, this can be a powerful tool for growing or expanding a business.
Read on for tips on improving your networking skills and making quality connections.
What exactly is networking among business professionals?
Business networking is the process of building lasting relationships with other business professionals. And that goes beyond simply handing business cards at conferences or connecting with colleagues on LinkedIn. Effective business networking takes time and commitment.
To build a solid professional network you must first create connections by attending industry events and conferences, joining professional associations, building an online presence and staying abreast of emerging trends. You must then put effort into nurturing key relationships that may later yield new business opportunities.
What are the advantages of building business connections?
Networking has many advantages. For one, having a business network can help you expand your reach and find new clients. You never know when a referral may lead to a life-changing opportunity, so keeping a consistent and open dialogue with peers can be worthwhile.
Another advantage to networking is having access to a community of like-minded professionals you can look to for feedback and advice. You can make smarter business decisions by learning from the successes and failures of others, and exposure to other viewpoints and experiences can help you see challenges from a new perspective.
Maintaining a strong professional network can also be instrumental in helping you stay abreast of industry trends and emerging business opportunities. Your contacts may even recommend you training courses, conferences and other events that could result in valuable experiences and new connections.
Lastly, effective networking can help you find great talent to grow your business. You could connect with professionals who may not be actively seeking employment but have the skills and experience your business is looking for. And establishing a relationship with other industry experts and leaders could result in quality referrals. Such referrals will likely be more compatible with your organization's culture and can reduce your recruiting and hiring expenses.
What are the best avenues for business networking today?
Forming and maintaining meaningful professional connections can be essential for the growth and success of a business. And there are a wealth of resources at our disposal to help us achieve this, from social media platforms to online networking events.
Here are a few ideas for where you can find professionals networking opportunities:
Live business conferences and events: Live events are gold mines for business networking. Being in the same room with other industry leaders and professionals can open the door to new opportunities and advantageous connections.
Professional associations: While you'll likely have to pay an annual fee, joining a professional association related to your field or industry can be a great way to make new contacts. These associations often hold meetings and networking events and may even offer valuable resources like job and message boards.
Professional development classes: It never hurts to keep developing your professional skills. (If you're self-employed, professional development is a tax write-off.) Training and classes are a great way to meet other eager professionals in your field while learning something.
Alumni events: It doesn't hurt to stay up-to-date with the alumni board at your alma mater. They often hold class reunions and alumni networking events, and as an alum of the institution, you already have something in common with everyone else attending.
Chamber of commerce events: Your local chamber of commerce might have resources and programs in your backyard. This oft-overlooked local organization holds gatherings and events that allow business owners and professionals to meet and network.
Online professional communities: You can find many business networking opportunities through social media and other online communities. Check Facebook groups, LinkedIn groups, subreddit forums and other industry-specific websites.
Job search sites: The best job search sites, like ZipRecruiter, don't just list job postings but can also help you find businesses to pitch services to or connect with.
Your own community: You don't need to be in an industry-specific space to do professional business networking. Utilize your existing personal network. Engage with others and discuss your careers to find common ground — someone you already know could be your next potential client.
Reach out to specific people: If you want to network with someone who could help you with your career goals, it doesn't hurt to reach out. Send them a casual email introducing yourself and expressing your interest in the work they're doing. Keep it friendly and professional, but don't be pushy. The worst thing that could happen is not hearing back from them.
Helpful tips for effective business networking
Once you've secured the chance to be in the right place at the right time, your next step should be to make the most of the opportunity and put your best foot forward.
Here are some business networking tips to help you promote your business and form great relationships.
Make connections at local networking events
Networking at local events is a great way to meet professionals in your area and learn about the business landscape in your city or town. You don't need to limit yourself to events related to your industry or field — attending local events can help you reach new markets and potential customers.
Know your goals and your worth
Knowing your worth is an important part of networking. Being able to clearly articulate the value of your organization or experiences can make a lasting impression on prospective partners and clients and help you stand out from competitors.
Don't be shy — put yourself out there
Effective communicators articulate their goals and ideas clearly and confidently. If public speaking isn't your strong suit, consider writing down your speech or pitch and practicing it with friends, family or colleagues. Ultimately, the more you put yourself out there, the easier it will get.
Bring a positive attitude
A positive attitude can signal to others that you are unafraid of challenges and can turn difficult situations into growth opportunities. Successful networkers view every conversation as an interview and understand that conducting themselves professionally at all times is essential for making a great first impression.
Show them you have what it takes to solve their problems
When networking with other business owners or potential clients, emphasize how you can add value to their organization. Help them understand why it makes sense for them to invest in your products or services by focusing on your value proposition or what makes you stand out.
Don't oversell your business
Focus on building relationships and mutually beneficial connections. Don't oversell your products or services; this can make you seem pushy or unrelenting. Instead, ask questions to determine if there might be a possibility of working together. Be sure to follow up on conversations, be gracious and focus on the relationship, not the outcome.
Be someone they're excited to hear from
Being kind, charismatic and considerate when communicating with others can increase your chances of getting a callback. Show your contacts that you value them by listening attentively and responding thoughtfully. Once you connect with the other party, they'll naturally look forward to hearing from you.
Take steps to keep the relationship thriving
Successful business networking requires a long-term commitment and strategy. Taking someone's business card and sending them a follow-up email is just the start of a relationship that must be nurtured over time.
To stay in touch with your network, add them on LinkedIn or follow their public social media accounts, if appropriate. You could also ask for their consent to receive general communications from you, such as newsletters on topics they might be interested in.
Don't lose touch, and meet in person when possible
If you manage to successfully stay in touch with your new business contacts online, take any opportunity to keep up with them in person as well. Sometimes having coffee or lunch together can go much further than just exchanging emails and can lead to a better working relationship. Just be sure to be mindful of their time and let them know how much you appreciate the opportunity of meeting up in person.
Appreciate the value others add to your life
While you should certainly communicate the value of your business, it's also important to recognize and appreciate the value your contacts bring to the table. Be complimentary of their business and consider investing in their products or services if they align with your needs and goals. This can strengthen and demonstrate your commitment to the business relationship.
Treat people well and practice gratitude
The last and most important networking business tip is to remember you are dealing with fellow humans. Always be kind and show appreciation whenever you have the opportunity.
Besides keeping in touch online and in person and showing a genuine interest in their business, you can also send your contacts a gift, share positive feedback about their work with others or on social media, share your contacts and invite them to networking opportunities or events that align with their interests.
Build business relationships successfully with the right approach
Business networking is a powerful tool that can help you form beneficial connections, both professionally and personally. As a business owner or professional, you can leverage those connections to find new clients, acquire talent and access helpful advice and industry insights, among other benefits. Giving back to your contacts is also important, as it will help to build and strengthen working relationships.